Abstract
Angiotensin II (Ang II) increases adhesion molecules, cytokines and chemokines and exerts a proinflammatory effect on leucocytes, endothelial cells and vascular smooth muscle cells. Acting via the type 1 receptor, Ang II initiates an inflammatory cascade of reduced nicotinamide-adenine dinucleotide phosphate oxidase, reactive oxygen species (ROS) and nuclear factor-κB, which mediates transcription and gene expression and increases adhesion molecules and chemokines. An excess of ROS decreases nitric oxide bioavailability, causes endothelial dysfunction, and promotes atherosclerosis. Moreover, Ang II interrupts the anti-inflammatory effects of insulin. Together, these effects promote a prothrombotic state as well as plaque rupture. Ang II receptor blockers suppress mediators of inflammation, including ROS and C-reactive protein, and they increase expression of inhibitory κB (an inhibitor of nuclear factor-κB). These anti-inflammatory and antioxidative effects, which are probably due in part to unopposed stimulation of the Ang II type 2 receptor, may be beneficial in acute coronary syndromes and may also contribute to the prevention of type II diabetes mellitus, as insulin resistance is mediated by inflammatory processes.
Relevant articles
Open Access articles citing this article.
Marcin Zeman

,

Władysław Skałba

…

Agnieszka Czarniecka

BMC Cancer Open Access 25 July 2022

Marcin Zeman

,

Władysław Skałba

…

Agnieszka Czarniecka

BMC Gastroenterology Open Access 26 March 2022

Zsuzsanna Z. A. Kovács

,

Gergő Szűcs

…

Márta Sárközy

Scientific Reports Open Access 01 September 2021
Access options
Subscribe to Journal
Get full journal access for 1 year
$119.00
only $9.92 per issue
All prices are NET prices.
VAT will be added later in the checkout.
Tax calculation will be finalised during checkout.
Buy article
Get time limited or full article access on ReadCube.
$32.00
All prices are NET prices.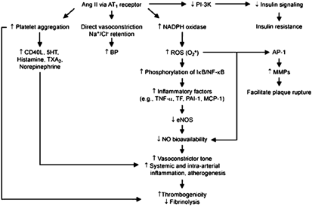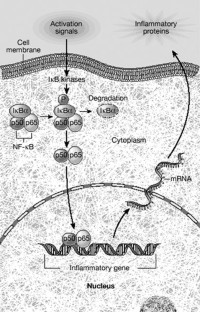 References
Siragy HM . The role of the AT2 receptor in hypertension. Am J Hypertens 2000; 13: 62S–67S.

Ichiki T, Labosky PA, Shiota C, Okuyama S, Imagawa Y, Fogo A et al. Effects on blood pressure and exploratory behaviour of mice lacking angiotensin II type-2 receptor. Nature 1995; 377: 748–750.

Gohlke P, Pees C, Unger T . AT2 receptor stimulation increases aortic cyclic GMP in SHRSP by a kinin-dependent mechanism. Hypertension 1998; 31: 349–355.

Strawn WB, Ferrario CM . Mechanisms linking angiotensin II and atherogenesis. Curr Opin Lipidol 2002; 13: 505–512.

Behrendt D, Ganz P . Endothelial function. From vascular biology to clinical applications. Am J Cardiol 2002; 90: 40L–48L.

Kubes P, Suzuki M, Granger DN . Nitric oxide: an endogenous modulator of leukocyte adhesion. Proc Natl Acad Sci USA 1991; 88: 4651–4655.

Cornwell TL, Arnold E, Boerth NJ, Lincoln TM . Inhibition of smooth muscle cell growth by nitric oxide and activation of cAMP-dependent protein kinase by cGMP. Am J Physiol 1994; 267: C1405–C1413.

de Graaf JC, Banga JD, Moncada S, Palmer RM, de Groot PG, Sixma JJ . Nitric oxide functions as an inhibitor of platelet adhesion under flow conditions. Circulation 1992; 85: 2284–2290.

Vincent MA, Barrett EJ, Lindner JR, Clark MG, Rattigan S . Inhibiting NOS blocks microvascular recruitment and blunts muscle glucose uptake in response to insulin. Am J Physiol Endocrinol Metab 2003; 285: E123–E129.

Ruiz-Ortega M, Lorenzo O, Ruperez M, Konig S, Wittig B, Egido J . Angiotensin II activates nuclear transcription factor kappaB through AT(1) and AT(2) in vascular smooth muscle cells: molecular mechanisms. Circ Res 2000; 86: 1266–1272.

Pueyo ME, Gonzalez W, Nicoletti A, Savoie F, Arnal JF, Michel JB . Angiotensin II stimulates endothelial vascular cell adhesion molecule-1 via nuclear factor-kappaB activation induced by intracellular oxidative stress. Arterioscler Thromb Vasc Biol 2000; 20: 645–651.

Zahradka P, Werner JP, Buhay S, Litchie B, Helwer G, Thomas S . NF-kappaB activation is essential for angiotensin II-dependent proliferation and migration of vascular smooth muscle cells. J Mol Cell Cardiol 2002; 34: 1609–1621.

Kranzhofer R, Browatzki M, Schmidt J, Kubler W . Angiotensin II activates the proinflammatory transcription factor nuclear factor-kappaB in human monocytes. Biochem Biophys Res Commun 1999; 257: 826–828.

Dzau VJ . Theodore Cooper Lecture: tissue angiotensin and pathobiology of vascular disease: a unifying hypothesis. Hypertension 2001; 37: 1047–1052.

Ruiz-Ortega M, Lorenzo O, Ruperez M, Esteban V, Suzuki Y, Mezzano S et al. Role of the renin–angiotensin system in vascular diseases: expanding the field. Hypertension 2001; 38: 1382–1387.

Griendling KK, Minieri CA, Ollerenshaw JD, Alexander RW . Angiotensin II stimulates NADH and NADPH oxidase activity in cultured vascular smooth muscle cells. Circ Res 1994; 74: 1141–1148.

Zhang H, Schmeisser A, Garlichs CD, Plotze K, Damme U, Mugge A et al. Angiotensin II-induced superoxide anion generation in human vascular endothelial cells: role of membrane-bound NADH−/NADPH-oxidases. Cardiovasc Res 1999; 44: 215–222.

Leusen JH, Verhoeven AJ, Roos D . Interactions between the components of the human NADPH oxidase: intrigues in the phox family. J Lab Clin Med 1996; 128: 461–476.

Halliwell B . Free radicals, antioxidants, and human disease: curiosity, cause, or consequence? Lancet 1994; 344: 721–724.

Barnes PJ, Karin M . Nuclear factor-kappaB: a pivotal transcription factor in chronic inflammatory diseases. N Engl J Med 1997; 336: 1066–1071.

Baldwin Jr AS . The NF-kappa B and I kappa B proteins: new discoveries and insights. Annu Rev Immunol 1996; 14: 649–683.

Venugopal SK, Devaraj S, Yuhanna I, Shaul P, Jialal I . Demonstration that C-reactive protein decreases eNOS expression and bioactivity in human aortic endothelial cells. Circulation 2002; 106: 1439–1441.

Pepys MB, Hirschfield GM . C-reactive protein: a critical update. J Clin Invest 2003; 111: 1805–1812.

Griselli M, Herbert J, Hutchinson WL, Taylor KM, Sohail M, Krausz T et al. C-reactive protein and complement are important mediators of tissue damage in acute myocardial infarction. J Exp Med 1999; 190: 1733–1740.

Devaraj S, Du Clos TW, Jialal I . Binding and internalization of C-reactive protein by Fcgamma receptors on human aortic endothelial cells mediates biological effects. Arterioscler Thromb Vasc Biol 2005; 25: 1359–1363.

Folli F, Kahn CR, Hansen H, Bouchie JL, Feener EP . Angiotensin II inhibits insulin signaling in aortic smooth muscle cells at multiple levels. A potential role for serine phosphorylation in insulin/angiotensin II crosstalk. J Clin Invest 1997; 100: 2158–2169.

Dandona P, Aljada A, Mohanty P . The anti-inflammatory and potential anti-atherogenic effect of insulin: a new paradigm. Diabetologia 2002; 45: 924–930.

Yang BC, Phillips MI, Mohuczy D, Meng H, Shen L, Mehta P et al. Increased angiotensin II type 1 receptor expression in hypercholesterolemic atherosclerosis in rabbits. Arterioscler Thromb Vasc Biol 1998; 18: 1433–1439.

James IM, Dickenson EJ, Burgoyne W, Jeremy JY, Barradas MA, Mikhailidis DP et al. Treatment of hypertension with captopril: preservation of regional blood flow and reduced platelet aggregation. J Hum Hypertens 1988; 2: 21–25.

Gill J, Fonseca V, Dandona P, Jeremy JY . Lisinopril and nifedipine administration inhibits the ex vivo uptake of [45Ca2+] by platelets from hypertensive diabetic patients. Br J Clin Pharmacol 1992; 33: 161–165.

Lopez-Farre A, Sanchez de Miguel L, Monton M, Jimenez A, Lopez-Bloya A, Gomez J et al. Angiotensin II AT(1) receptor antagonists and platelet activation. Nephrol Dial Transplant 2001; 16(Suppl 1): 45–49.

Skurk T, van Harmelen V, Hauner H . Angiotensin II stimulates the release of interleukin-6 and interleukin-8 from cultured human adipocytes by activation of NF-kappaB. Arterioscler Thromb Vasc Biol 2004; 24: 1199–1203.

Skurk T, Lee YM, Hauner H . Angiotensin II and its metabolites stimulate PAI-1 protein release from human adipocytes in primary culture. Hypertension 2001; 37: 1336–1340.

Libby P, Ridker PM, Maseri A . Inflammation and atherosclerosis. Circulation 2002; 105: 1135–1143.

Dandona P, Kumar V, Aljada A, Ghanim H, Syed T, Hofmayer D et al. Angiotensin II receptor blocker valsartan suppresses reactive oxygen species generation in leukocytes, nuclear factor-kappa B, in mononuclear cells of normal subjects: evidence of an antiinflammatory action. J Clin Endocrinol Metab 2003; 88: 4496–4501.

Anan F, Takahashi N, Ooie T, Hara M, Yoshimatsu H, Saikawa T . Candesartan, an angiotensin II receptor blocker, improves left ventricular hypertrophy and insulin resistance. Metabolism 2004; 53: 777–781.

Koh KK, Ahn JY, Han SH, Kim DS, Jin DK, Kim HS et al. Pleiotropic effects of angiotensin II receptor blocker in hypertensive patients. J Am Coll Cardiol 2003; 42: 905–910.

Sola S, Mir MQ, Cheema FA, Khan-Merchant N, Menon RG, Parthasarathy S et al. Irbesartan and lipoic acid improve endothelial function and reduce markers of inflammation in the metabolic syndrome: results of the Irbesartan and Lipoic Acid in Endothelial Dysfunction (ISLAND) study. Circulation 2005; 111: 343–348.

Rosei EA, Rizzoni D, Muiesan ML, Sleiman I, Salvetti M, Monteduro C et al. Effects of candesartan cilexetil and enalapril on inflammatory markers of atherosclerosis in hypertensive patients with non-insulin-dependent diabetes mellitus. J Hypertens 2005; 23: 435–444.

Rueckschloss U, Quinn MT, Holtz J, Morawietz H . Dose-dependent regulation of NAD(P)H oxidase expression by angiotensin II in human endothelial cells: protective effect of angiotensin II type 1 receptor blockade in patients with coronary artery disease. Arterioscler Thromb Vasc Biol 2002; 22: 1845–1851.

Navalkar S, Parthasarathy S, Santanam N, Khan BV . Irbesartan, an angiotensin type 1 receptor inhibitor, regulates markers of inflammation in patients with premature atherosclerosis. J Am Coll Cardiol 2001; 37: 440–444.

Khan BV, Navalkar S, Khan QA, Rahman ST, Parthasarathy S . Irbesartan, an angiotensin type 1 receptor inhibitor, regulates the vascular oxidative state in patients with coronary artery disease. J Am Coll Cardiol 2001; 38: 1662–1667.

Anand IS, Latini R, Florea VG, Kuskowski MA, Rector T, Masson S et al. C-reactive protein in heart failure: prognostic value and the effect of valsartan. Circulation 2005; 112: 1428–1434.

Tsutamoto T, Wada A, Maeda K, Mabuchi N, Hayashi M, Tsutsui T et al. Angiotensin II type 1 receptor antagonist decreases plasma levels of tumor necrosis factor alpha, interleukin-6 and soluble adhesion molecules in patients with chronic heart failure. J Am Coll Cardiol 2000; 35: 714–721.

Ridker PM, Danielson E, Rifai N, Glynn RJ . Valsartan, blood pressure reduction, and C-reactive protein: primary report of the Val-MARC trial. Hypertension 2006; 48: 73–79.

Lauten WB, Khan QA, Rajagopalan S, Lerakis S, Rahman ST, Parthasarathy S et al. Usefulness of quinapril and irbesartan to improve the anti-inflammatory response of atorvastatin and aspirin in patients with coronary heart disease. Am J Cardiol 2003; 91: 1116–1119.

Nishikawa H, Miura S, Shimomura H, Tsujita K, Okamura K, Zhang B et al. Combined treatment with statin and angiotensin-receptor blocker after stenting as a useful strategy for prevention of coronary restenosis. J Cardiol 2005; 45: 107–113.

Lindholm LH, Ibsen H, Dahlof B, Devereux RB, Beevers G, de Faire U et al. Cardiovascular morbidity and mortality in patients with diabetes in the Losartan Intervention For Endpoint reduction in hypertension study (LIFE): a randomised trial against atenolol. Lancet 2002; 359: 1004–1010.

Yusuf S, Sleight P, Pogue J, Bosch J, Davies R, Dagenais G . Effects of an angiotensin-converting-enzyme inhibitor, ramipril, on cardiovascular events in high-risk patients. The Heart Outcomes Prevention Evaluation Study Investigators. N Engl J Med 2000; 342: 145–153.

Heart Outcomes Prevention Evaluation Study Investigators. Effects of ramipril on cardiovascular and microvascular outcomes in people with diabetes mellitus: results of the HOPE study and MICRO-HOPE substudy. Lancet 2000; 355: 253–259.

Vaughan DE, Rouleau JL, Ridker PM, Arnold JM, Menapace FJ, Pfeffer MA . Effects of ramipril on plasma fibrinolytic balance in patients with acute anterior myocardial infarction. HEART Study Investigators. Circulation 1997; 96: 442–447.

Hollenberg NK, Fisher ND, Price DA . Pathways for angiotensin II generation in intact human tissue: evidence from comparative pharmacological interruption of the renin system. Hypertension 1998; 32: 387–392.

Petrie MC, Padmanabhan N, McDonald JE, Hillier C, Connell JM, McMurray JJ . Angiotensin converting enzyme (ACE) and non-ACE dependent angiotensin II generation in resistance arteries from patients with heart failure and coronary heart disease. J Am Coll Cardiol 2001; 37: 1056–1061.

Weber MA . Interrupting the renin–angiotensin system: the role of angiotensin-converting enzyme inhibitors and angiotensin II receptor antagonists in the treatment of hypertension. Am J Hypertens 1999; 12: 189S–194S.

Iwai M, Chen R, Li Z, Shiuchi T, Suzuki J, Ide A et al. Deletion of angiotensin II type 2 receptor exaggerated atherosclerosis in apolipoprotein E-null mice. Circulation 2005; 112: 1636–1643.

Mohanty P, Aljada A, Ghanim H, Hofmeyer D, Tripathy D, Syed T et al. Evidence for a potent antiinflammatory effect of rosiglitazone. J Clin Endocrinol Metab 2004; 89: 2728–2735.

Ghanim H, Garg R, Aljada A, Mohanty P, Kumbkarni Y, Assian E et al. Suppression of nuclear factor-kappaB and stimulation of inhibitor kappaB by troglitazone: evidence for an anti-inflammatory effect and a potential antiatherosclerotic effect in the obese. J Clin Endocrinol Metab 2001; 86: 1306–1312.

Diep QN, El Mabrouk M, Cohn JS, Endemann D, Amiri F, Virdis A et al. Structure, endothelial function, cell growth, and inflammation in blood vessels of angiotensin II-infused rats: role of peroxisome proliferator-activated receptor-gamma. Circulation 2002; 105: 2296–2302.

Takeda K, Ichiki T, Tokunou T, Funakoshi Y, Iino N, Hirano K et al. Peroxisome proliferator-activated receptor gamma activators downregulate angiotensin II type 1 receptor in vascular smooth muscle cells. Circulation 2000; 102: 1834–1839.

Tuck ML . Angiotensin-receptor blocking agents and the peroxisome proliferator-activated receptor-gamma system. Curr Hypertens Rep 2005; 7: 240–243.

Clasen R, Schupp M, Foryst-Ludwig A, Sprang C, Clemenz M, Krikov M et al. PPARgamma-activating angiotensin type-1 receptor blockers induce adiponectin. Hypertension 2005; 46: 137–143.

Nomura S, Shouzu A, Omoto S, Nishikawa M, Fukuhara S, Iwasaka T . Effect of valsartan on monocyte/endothelial cell activation markers and adiponectin in hypertensive patients with type 2 diabetes mellitus. Thromb Res 2006; 117: 385–392.

Leiter LA, Lewanczuk RZ . Of the renin–angiotensin system and reactive oxygen species type 2 diabetes and angiotensin II inhibition. Am J Hypertens 2005; 18: 121–128.

Graninger M, Reiter R, Drucker C, Minar E, Jilma B . Angiotensin receptor blockade decreases markers of vascular inflammation. J Cardiovasc Pharmacol 2004; 44: 335–339.

Schieffer B, Bunte C, Witte J, Hoeper K, Boger RH, Schwedhelm E et al. Comparative effects of AT1-antagonism and angiotensin-converting enzyme inhibition on markers of inflammation and platelet aggregation in patients with coronary artery disease. J Am Coll Cardiol 2004; 44: 362–368.

Tsikouris JP, Suarez JA, Simoni JS, Ziska M, Meyerrose GE . Exploring the effects of ACE inhibitor tissue penetration on vascular inflammation following acute myocardial infarction. Coron Artery Dis 2004; 15: 211–217.

Neri Serneri GG, Boddi M, Modesti PA, Coppo M, Cecioni I, Toscano T et al. Cardiac angiotensin II participates in coronary microvessel inflammation of unstable angina and strengthens the immunomediated component. Circ Res 2004; 94: 1630–1637.
Additional information
Search strategy: PubMed was used to review literature related to the effect of ACE inhibition and angiotensin II receptor blockade on inflammation. Keywords angiotensin, inflammation, ARB and ACE were used in the search. Search was limited to humans.
About this article
Cite this article
Dandona, P., Dhindsa, S., Ghanim, H. et al. Angiotensin II and inflammation: the effect of angiotensin-converting enzyme inhibition and angiotensin II receptor blockade. J Hum Hypertens 21, 20–27 (2007). https://doi.org/10.1038/sj.jhh.1002101
Received:

Revised:

Accepted:

Published:

Issue Date:

DOI: https://doi.org/10.1038/sj.jhh.1002101
Keywords
angiotensin II

angiotensin II receptor blockers

inflammation

oxidative stress

nuclear factor-κB

reactive oxygen species