Abstract
Although arterial stiffness is an independent cardiovascular risk factor associated with both aging and hypertension, relatively little is known regarding the structural changes in the vessel wall that occur with vessel stiffening. We determined if collagen type-I metabolism is related to arterial stiffening in both hypertensive and normotensive subjects. Arterial stiffness was assessed by aortic pulse wave velocity (PWV) and augmentation index (AIx) in 46 subjects (48.7±2 years, 32 hypertensives) and related to circulating markers of collagen type-I turnover. Collagen synthesis was assessed by the measurement of carboxy-terminal peptide of procollagen type-I (PIP) and collagen degradation by the measurement of carboxy-terminal telopeptide of collagen type-I (ICTP), by quantitative immunoassay. Matrix metalloproteinase-1 (MMP-1) and the tissue inhibitor of metalloproteinase-1 (TIMP-1) were also quantified by immunoassay. The ratio of collagen type-I synthesis to degradation was negatively correlated with both PWV (P<0.05) and AIx (P<0.05), whereas plasma MMP-1 levels displayed a positive correlation with both PWV (P<0.01) and AIx (P<0.01), after adjustment for age and mean arterial pressure. The relationship between collagen type-I turnover and arterial stiffness was similar in both the normotensive and hypertensive subjects. Although circulating markers of collagen synthesis were increased in the hypertensive subjects, this was not related to arterial stiffness. Collagen type-I degradation is increased in relation to collagen type-I synthesis in subjects with stiffer arteries. Matrix metalloproteinase-1, the enzyme responsible for collagen type-I degradation, is positively related to both large elastic and muscular artery stiffness in normotensive and hypertensive subjects.
Relevant articles
Open Access articles citing this article.
Stijn A. Peeters

,

Lian Engelen

…

Coen D. A. Stehouwer

Cardiovascular Diabetology Open Access 25 October 2017

Yvonne L. Dorland

&

Stephan Huveneers

Cellular and Molecular Life Sciences Open Access 09 August 2016
Access options
Subscribe to Journal
Get full journal access for 1 year
$119.00
only $9.92 per issue
All prices are NET prices.
VAT will be added later in the checkout.
Tax calculation will be finalised during checkout.
Buy article
Get time limited or full article access on ReadCube.
$32.00
All prices are NET prices.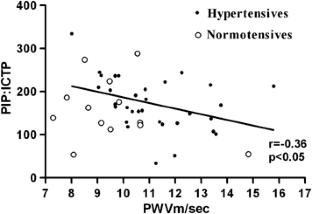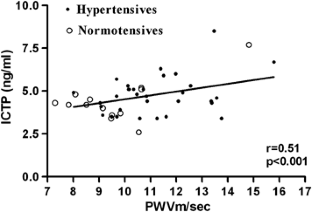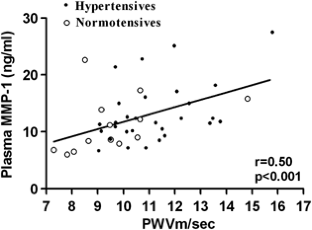 References
Avolio AP, Chen S, Wang R, Zhang C, Li M, O'Rourke MF . Effects of aging on changing arterial compliance and left ventricular load in a northern Chinese urban community. Circulation 1983; 68: 50–58.

Michel JB, Heudes D, Michel O, Poitevin P, Philippe M, Scalbert E et al. Effect of chronic ANG I-converting enzyme inhibition on aging processes. II. Large arteries. Am J Physiol 1994; 267 (1 Part 2): R124–R135.

Liu ZR, Ting CT, Zhu SX, Yin FC . Aortic compliance in human hypertension. Hypertension 1989; 14: 129–136.

Lehmann ED, Gosling RG, Sonsken PH . Arterial wall compliance in diabetes. Diabetic Med 1992; 9: 114–119.

London GM, Marchais SJ, Safar ME, Genest AF, Guerin AP, Metivier F et al. Aortic and large artery compliance in end-stage renal failure. Kidney Int 1990; 37: 137–142.

Mahmud A, Feely J . Divergent effects of acute and chronic alcohol on arterial stiffness. Am J Hypertens 2002; 15: 240–243.

Mahmud A, Feely J . Effect of smoking on arterial stiffness and pulse pressure amplification. Hypertension 2003; 41 (1): 183–187.

Lehmann ED . Clinical value of aortic pulse-wave velocity measurement. Lancet 1999; 354: 528–529.

Shoji T, Emoto M, Shinohara K, Kakiya R, Tsujimoto Y, Kishimoto H et al. Diabetes mellitus, aortic stiffness and cardiovascular mortality in end stage renal disease. J Am Soc Nephrol 2001; 12 (10): 2117–2124.

Blacher J, Guerin A, Pannier B, Marchais S, Safar M, London G . Impact of aortic stiffness on survival in end stage renal disease. Circulation 1999; 99: 2434–2439.

Laurent S, Boutouyrie P, Asmar R, Gautier I, Laloux B, Guize L et al. Aortic stiffness is an independent predictor of all-cause and cardiovascular mortality in hypertensive patients. Hypertension 2001; 37: 1236–1241.

London GM, Blacher J, Pannier B, Guerin AP, Marchais SJ, Safar ME . Arterial wave reflections and survival in end-stage renal failure. Hypertension 2001; 38 (3): 434–438.

Weber T, Auer J, O'Rourke MF, Kvas E, Lassnig E, Berent R et al. Arterial stiffness, wave reflections, and the risk of coronary artery disease. Circulation 2004; 109: 184–189.

Barnes MJ, Farndale RW . Collagens and atherosclerosis. Exp Gerontol 1999; 34: 513–525.

Bashey RI, Cox R, McCann J, Jimenez SA . Changes in collagen biosynthesis, types, and mechanics of aorta in hypertensive rats. J Lab Clin Med 1989; 113: 604–611.

Chamiot Clerc P, Renaud JF, Blacher J, Legrand M, Samuel JL, Levy BI et al. Collagen I and III and mechanical properties of conduit arteries in rats with genetic hypertension. J Vasc Res 1999; 36 (2): 139–146.

Mahmud A, Feely J . Effect of angiotensin II receptor blockade on arterial stiffness: beyond blood pressure reduction. Am J Hypertens 2002; 15: 1092–1095.

O'Rourke M, Staessen JA . Clinical application of arterial stiffness: definitions and reference values. Am J Hypertens 2002; 15: 426–444.

Benetos A, Levy BI, Lacolley P, Taillard F, Duriez M, Safar ME . Role of angiotensin II and bradykinin on aortic collagen following converting enzyme inhibition in spontaneously hypertensive rats. Arterioscl Thromb Vasc Biol 1997; 17 (11): 3196–3201.

Bruel A, Oxlund H . Changes in biomechanical properties, composition of collagen and elastin, and advanced glycation end products of the rat aorta in relation to age. Atherosclerosis 1996; 127: 155–165.

Cattell MA, Anderson JC, Hasleton PS . Age-related changes in amounts and concentrations of collagen and elastin in normotensive human thoracic aorta. Clinica Chimica Acta 1996; 245: 73–84.

Diez J, Laviades C, Mayor G, Jesus Gil M, Monreal I . Increased serum concentrations of procollagen peptides in essential hypertension. Relation to cardiac alterations. Circulation 1995; 91: 1450–1456.

Querejeta R, Varo N, Lopez B, Larman M, Artinano E, Etayo JC et al. Serum carboxy-terminal propeptide of procollagen type 1 is a marker of myocardial fibrosis in hypertensive heart disease. Circulation 2000; 101: 1729–1735.

Noji I, Kajinami K, Kawashiri MA, Todo Y, Horita T, Nohara A et al. Circulating matrix metalloproteinases and their inhibitors in premature coronary atherosclerosis. Clin Chem Lab Med 2001; 39: 380–384.

Redmond EM, Cahill PA, Hirsch M, Wang YN, Sitzmann JV, Okada SS . Effect of pulse pressure n vascular smooth muscle migration: the role of urokinase and matrix metalloproteinase. Thromb Haemost 1999; 81: 293–300.

Johnson JL, van Eys GJJM, Angelina GD, George SJ . Injury induces dedifferentiation of smooth muscle cells and increased matrix-degrading metalloproteinase activity in human saphenous vein. Arteriocl Thromb Vasc Biol 2001; 21: 1146–1151.

Sierevogel MJ, Pasterkamp G, Velema E, de Jaegere PP, de Smet BJ, Verheijen JH et al. Oral matrix metalloproteinase inhibition and arterial remodeling after balloon dilation. An intravascular ultrasound study in the pig. Circulation 2001; 103: 302–307.

Abbruzzese TA, Guzman RJ, Martin RL, Yee C, Zarin K, Dalman RL . Matrix metalloproteinase inhibition limits arterial enlargement in a rodent arteriovenous fistula model. Surgery 1998; 124: 328–335.

Savolainen ER, Goldberg B, Leo MA, Velez M, Lieber CS . Diagnostic value of serum procollagen peptide measurements in alcoholic liver disease. Alcohol Clin Exp Res 1984; 8: 384–389.

Kanayama N, Terao T . Relationship of serum levels of pro-type I collagen peptide, pro-type III collagen peptide and type IV 7S collagen with cervical maturation. Gynecol Obstet Invest 1992; 34: 24–26.

Fabris C, Falleti E, Federico E, Toniutto P, Pirisi M . A comparison of four serum markers of fibrosis in the diagnosis of cirrhosis. Ann Clin Biochem 1997; 34: 151–155.

Tayebjee MH, Lim HS, Nadar S, MacFadyen RJ, Lip GY . Tissue inhibitor of metalloproteinase-1 is a marker of diastolic dysfunction using tissue doppler in patients with type 2 diabetes and hypertension. Eur J Clin Invest 2005; 35: 8–12.

Tayebjee MH, Nadar SK, MacFadyen RJ, Lip GY . Tissue inhibitor of metalloproteinase-1 and matrix metalloproteinase-9 levels in patients with hypertension. Relationship to tissue doppler indices of diastolic dysfunction. Am J Hypertens 2004; 17: 770–774.
Acknowledgements
We thank the Royal City of Dublin Hospital Trust (Baggot Street Fund) for the sponsorship of this work.
About this article
Cite this article
McNulty, M., Mahmud, A., Spiers, P. et al. Collagen type-I degradation is related to arterial stiffness in hypertensive and normotensive subjects. J Hum Hypertens 20, 867–873 (2006). https://doi.org/10.1038/sj.jhh.1002015
Received:

Accepted:

Published:

Issue Date:

DOI: https://doi.org/10.1038/sj.jhh.1002015
Keywords
arterial stiffness

collagen turnover

matrix metalloproteinases

pulse wave velocity