Abstract
The prevalence of cardiovascular diseases has been shown to be on the increase in Africa based on hospital-based information and limited national surveys. A recent report on analysis of data from Health Information Management Systems (HIMS) highlighted an increasing burden of noncommunicable diseases (NCDs) in Eritrea, with the incidence of hypertension doubling in a space of 6 years. HMIS data are only a proxy of national prevalence rates, necessitating the conduct of national surveys. The WHO STEPwise approach to surveillance of NCDs was used for the national NCD risk factor survey in 2004. This report focuses on blood pressure (BP) and obesity (body mass index (BMI)>30 kg/m2) as NCD risk factors in Eritrea. A total of 2352 people in age groups 15 to 64 years participated in the survey. The prevalence of hypertension defined as BP>140/90 mmHg was 15.9% in the general population, with 16.4% in urban and 14.5% in rural areas, 17% of whom were males while 15% were females. BMI was positively associated with systolic (SBP), diastolic and mean arterial pressure. Although the prevalence of obesity (3.3%) was higher in females, the effect of BMI on BP was higher in males than in females (regression coefficient 0.64 and 0.38, respectively, P⩽0.05), especially in those >45 years. BMI did not have a significant effect on BP in lean people (BMI<19) and in those with high BMI, but was positively correlated to SBP in those with normal BMI (P⩽0.02). BMI and age appear to play a synergistic role in creating a strong association with BP.
Relevant articles
Open Access articles citing this article.
Gemechis Teshome Geleta

,

Melese Chego Cheme

&

Elias Merdassa Roro

BMC Research Notes Open Access 21 November 2019

Dickson A. Amugsi

,

Zacharie T. Dimbuene

…

Catherine Kyobutungi

Scientific Reports Open Access 04 June 2018

Saeed M. Omar

,

Osama Elnour

…

Ishag Adam

BMC Cardiovascular Disorders Open Access 07 February 2018
Access options
Subscribe to this journal
Receive 12 digital issues and online access to articles
$119.00 per year
only $9.92 per issue
Rent or buy this article
Get just this article for as long as you need it
$39.95
Prices may be subject to local taxes which are calculated during checkout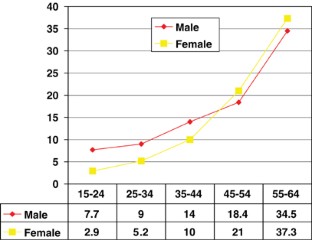 References
Pobee JO . Community-based high blood pressure programs in sub-Saharan Africa. Ethn Dis 1993; 3: S38–S45.

Bonita R, de Courten M, Dwyer T, Jamrozik K, Winkelmann R . Surveillance of Risk Factors for Non Communicable Disease. The WHO Stepwise approach: WHO, 2001.

Murray CJL, Lopez AD . The global burden of disease. In: Murray CJL, Lopez AD (eds). The global burden of disease: A Comprehensive Assessment of Mortality and disability from disease, Injuries and Risk in 1990 and projected to 2020. USA: Harvard School of Health, 1996, pp. 1–52.

Kaufman JS, Owoaje EE, James SA, Rotimi CN, Cooper RS . Determinants of hypertension in West Africa: contribution of anthropometric and dietary factors to urban–rural and socio-economic gradients. Am J Epidemiol 1996; 143 (12): 1203–1218.

Forrester T, Cooper RS, Weatherall D . Emergence of Western diseases in the tropical world: the experience with chronic cardiovascular diseases. Br Med Bull 1998; 54 (2): 463–473.

Mensah GA, Barkey NL, Cooper RS . Spectrum of hypertensive target organ damage in Africa: a review of published studies. J Hum Hypertens 1994; 8: 799–808.

Seedat YK, Mayet FG, Latiff GH, Joubert G . Study of risk factors leading to coronary heart disease in urban Zulus. J Hum Hypertens 1993; 7: 529–532.

Davidson MH . Emerging therapeutic strategies for the management of dyslipidemias in patients with the metabolic syndrome. Am J Cardiol 2004; 93: 3c–11c.

Domanski M, Proschan M . The metabolic syndrome. J Am Coll Cardiol 2004; 43: 138–139.

Seedat YK, Seedat MA, Hackland DB . Prevalence of hypertension in the urban and rural Zulu. J Epidemiol Commun Health 1982; 36 (4): 256–261.

Pauletto P, Caroli M, Pessina AC, Dal Palu C . Hypertension prevalence and age-related changes of blood pressure in semi-nomadic and urban Oromos of Ethiopia. Eur J Epidemiol 1994; 10 (2): 159–164.

Sparks BT, Mufunda J, Musabayane C, Sparks HV, Mahomed K, Hunter JM . Prevalence of hypertension among women in rural Zimbabwe: a comparison of pregnant and non-pregnant women. Cent Afr J Med 1996; 42 (4): 93–97.

Mufunda J, Chifamba J, Somova L, Sparks Jr HV . Hypertension and cardiovascular disease in migrating population. Migration within Africa. High Blood Pressure 1995; 4: 46–49.

Mufunda J, Fink GD, Sparks HV . Blood pressure responses to dietary salt in rural and urban African men. Ethn Dis 1993; 3: S46–S58.

Mufunda J, Chifamba J, Chitate N, Vengesa PM . Salt sensitivity is not associated with hyperinsulinemia in a sample of rural black Zimbabweans. S Afr Med J 1998; 88 (3): 361–364.

Mufunda J, Scott LJ, Chifamba J, Matenga J, Sparks B, Cooper RS et al. Correlates of blood pressure in an urban Zimbabwean population and comparison to other populations of African region. J Hum Hypertens 2000; 14: 65–73.

Mufunda J, Sigola LB, Chifamba J, Vengesa PM . Hyperinsulinemia: possible cause of high blood pressure in unemployed urban black women. High Blood Pressure 1995; 4: 137–140.

Diamanti-Kandaraski E, Kaili C, Alexandraki K, Spina G . Failure of mathematical indices to accurately assess insulin resistance in lean, overweight or obese women with polycystic ovary syndrome. J Clin Endocrinol Metab 2004; 89: 1273–1276.

Simmons D, Barbour G, Congelton J, Levy J, Meacher P, Saul H et al. Blood pressure and salt intake in Malawi: an urban rural study. J Epidemiol Community Health 1986; 40 (2): 188–192.

M'Buyamba-Kabangu JR, Fagard R, Staessen J, Lijnen P, Amery A . Correlates of blood pressure in rural and urban Zaire. J Hypertens 1987; 5 (3): 371–375.

Nair P, Nyamphisi M, Yarnell JW . Lack of difference in blood pressure between the urban and rural population in Lesotho, Africa. Cent Afr J Med 1994; 40 (10): 278–281.

Strogatz DS, Cruft JB, James SA, Keenan NL, Browning SR, Garrett JM et al. Social support, stress and blood pressure in black adults. Epidemiology 1997; 8: 482–497.

Dressler WW, Santos JED, Viteri FE . Blood pressure, ethnicity and psycho-social resources. Psychosom Med 1986; 48: 509–519.

Kelemen L, Jain M, Anand S, Yusuf S . Dietary differences in ethnic groups in Canada. Can J Cardiol 1997; 13: 13–24.

Mufunda J, Nyarango P, Kosia A, Ogbamariam A, Mebrahtu G, Usman A et al. Non-communicable diseases in Africa: a silent hypertension epidemic in Eritrea. J Hum Hypertens 2004; 19: 1–2.

Cooper R, Rotimi C . Hypertension in blacks. Am J Hypertens 1997; 10: 804–812.

Ibrahim MM, Rizk H, Appel LJ, el Arousy W, Helmy S, Sharaf Y et al. Hypertension prevalence, awareness, treatment, and control in Egypt. Results from the Egyptian National Hypertension Program (NHP). NHP Investigative team. Hypertension 1995; 26: 886–890.

Matenga JA, Allain TJ, Gomo Z, Wilson AO, Ndemera B, Adamchak DJ et al. Hypertension management in Zimbabwe-awareness, treatment and blood pressure control. A community based study. S Afr Med J 1997; 10: 1371–1373.

Steyn K, Gaziano TA, Bradshaw D, Laubscher R, Fourie J . Hypertension in South African adults: results from the Demographic and Health survey, 1998. J Hypertens 2001; 19: 1717–1725.

Whelton PK, Muntner P . Prevalence, awareness, treatment and control of hypertension in North Africa and Asia. J Hum Hypertens 2004; 18: 545–551.

Kaufman JS, Asuzu MC, Mufunda J, Forrester T, Wilks R, Luke A et al. The relationship between blood pressure and body mass index in lean populations. Hypertension 1997; 30: 1511–1516.

Tazi MA . Prevalence of the main cardiovascular risk factors in Morocco. Results of a National Survey, 2000. J Hypertens 2003; 21: 897–903.

Luke A, Durazo-Arvizu R, Rotimi C, Prewett TE, Forrester T, Wilks R et al. Relation between body mass index and body fat in black population samples from Nigeria, Jamaica and the United State. Am J Epidemiol 1997; 145: 620–628.

Ruiz L, Renaloza D . Altitude and hypertension. Mayo Clin Proc 1977; 52: 442–445.

Arsalan S, Arsalan N, Soylu A, Akgun C, Tepebasili I, Turkmen M et al. High altitude and blood pressure in children. Yale J Biol Med 2003; 76: 145–148.
Acknowledgements
We are indebted to the Ministry of Health of the State Eritrea for permission to conduct the survey and publish this manuscript. We acknowledge with thanks the provision of the financial resources provided by the Italian Government through the WHO Country Office to facilitate the survey. The contribution of the Orotta School of Medicine and Asmara University for providing the research assistants is recognized. We are appreciative of the financial assistance for the survey, received from the Public Health And Rehabitation Programme for Eritrea (PHARPE) funded by the Italian Government through The World Health Organization.
About this article
Cite this article
Mufunda, J., Mebrahtu, G., Usman, A. et al. The prevalence of hypertension and its relationship with obesity: results from a national blood pressure survey in Eritrea. J Hum Hypertens 20, 59–65 (2006). https://doi.org/10.1038/sj.jhh.1001924
Received:

Revised:

Accepted:

Published:

Issue Date:

DOI: https://doi.org/10.1038/sj.jhh.1001924
Keywords
National Blood Pressure Survey

NCDs

BP

obesity

Eritrea

Africa