Abstract
Obesity, as defined by bodily weight (body weight) and by bodily conformation-derived variables, accompanies hypertension in many patients. Both conditions are independent cardiovascular risk factors. In a formal survey carried out in the adult general population of Uruguay (LATIR Study, 575 adult and elderly subjects of whom 41.6% were males), we found the prevalence of hypertension to be 28.5% (95% CI: 24.9–32.4%) and that 74.4% of hypertensive individuals had a body mass index (BMI) higher than 25 kg/m2 (95% CI: 67.0–80.8%). This association between obesity and hypertension forms part of a broader relationship between body weight and blood pressure (BP). In the general population, BP bears a positive linear correlation with BMI and waist-to-hip ratio over the continuous ranges of normal and unfavourable values of these three variables (r = 0.42, P < 0.001 for the correlation between BMI and mean BP, LATIR Study). Patients who present hypertension and obesity usually present other unfavourable conditions for cardiovascular prognosis, including changes in carbohydrate and lipid metabolism, hyperuricaemia, left ventricular hypertrophy, and/or the obstructive sleep apnoea syndrome. On average, hypertension is salt-sensitive in obese patients, and plasma volume and cardiac index are increased. Adequate control of body weight results in substantial reductions in total blood volume, cardiac output, BP and left ventricular mass, and in an amelioration or the disappearance of sleep apnoea. Adequate sodium intake restriction must form part of any diet prescribed to obese hypertensive patients. Various drug classes may be used to treat hypertension efficaciously in patients who also present obesity.
Access options
Subscribe to Journal
Get full journal access for 1 year
$119.00
only $9.92 per issue
All prices are NET prices.
VAT will be added later in the checkout.
Tax calculation will be finalised during checkout.
Buy article
Get time limited or full article access on ReadCube.
$32.00
All prices are NET prices.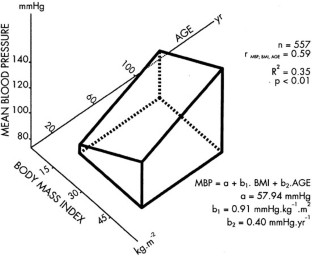 References
Dustan HP . Hipertensión y obesidad Boone J InterAmericana Clin Atenc Prim Hipertensión Madrid 1991 3: 525–540

Bray GA . Complications of obesity Ann Internal Med 1985 103: 1052–1062

Pi-Sunyer FX . Medical hazards of obesity Ann Internal Med 1993 119: 655–660

Rosengren A, Wedel H, Wilhelmsen L . Weight and weight gain and coronary heart disease mortality Eur Heart J 1999 20: 246–248

Rosengren A et al. Body weight and weight gain during adult life in men in relation to coronary heart disease and mortality Eur Heart J 1999 20: 269–277

Gunnell DJ, Smith GD . Weight, weight gain and coronary heart disease mortality Eur Heart J 1999 20: 246–248

Peiris AN et al. Adiposity, fat distribution and cardiovascular risk Ann Intern Med 1989 110: 867–872

Stallones RA . Epidemiologic studies of obesity Ann Intern Med 1985 103: 1003–1005

Harrison GG . Height-weight tables Ann Internal Med 1958 103: 989–994

Havlik RJ et al. Weight and hypertension Ann Internal Med 1983 98: 855–859

Ali SS, Lester MA, Sowers JR . Metabolic abnormalities in hypertension In: Oparil S, Weber MA (eds) Hypertension: A Companion to Brenner and Rector's The Kidney W.B. Saunders: St Louis 2000 pp 110–118

Williams PT et al. Associations of dietary fat, regional adiposity and BP in men JAMA 1987 257: 3251–3256

Björntorp P . Regional patterns of fat distribution Ann Internal Med 1985 103: 994–995

Boyko EJ et al. Visceral adiposity, fasting plasma insulin, and BP in Japanese-americans Diabetes Care 1995 18: 174–181

Kannel WB . Risk stratification in hypertension: new insight from the Framingham study Am J Hypertens 2000 13: 3S–10S

Reaven GM, Laws A . Insulin resistance, compensatory hyperinsulinaemia, and coronary heart disease Diabetología 1994 37: 948–952

Manicardi V et al. Evidence for an association of high BP and hyperinsulinaemia in obese man J Clin Endocrinol Metab 1986 62: 1302–1304

Hall JE . Renal and cardiovascular mechanisms of hypertension in obesity Hypertension 1994 23: 381–94

Ashley FW Jr, Kannel WB . Relation of weight change to changes in atherogenic traits: Framinghan Study J Chronica Dis 1974 27: 103–104

Stevens VJ et al. Weight loss Intervention in phase 1 of the trials of hypertension prevention Arch Intern Med 1993 153: 849

Harlan WR et al. Blood pressure and nutrion in adults. The National Health and Nutrition Examination Survey Am J Epidemiol 1984 120: 17–28

Jiang H et al. Dietary sodium intake and incidence of congestive heart failure in overweight u.s. men and women: Nhanes I. Epidemiologic follow-up study (NHEFS) Am J Hypertens 2000 13: 6A

Phillips BG et al. Recent weight gain inpatients with newly diagnosed obstructive sleep apnea J Hypertens 1999 17: 297–300

Millman RP et al. Body fat distribution and sleep apnea severity in women Chest 1995 107: 362–66

Levinson PD et al. Adiposity and cardiovascular risk factors in men with obstructive sleep apnea Chest 1993 103: 1336–1342

Díaz M, Dighiero M, Ghío R . Relationships between BP, the body mass index and the waist-hip ratio in Uruguay Am J Hypertens 1996 9: S75

Wardle J . Obesity and behavior change: matching problems to practice Intern J Obesity 1996 20: S1–S8

Moller DE, Bjorbaek C, Vidal-Puig A . Candidate genes for insuline resistance Diabetes Care 1996 19: 396–400

Huey-Herng Sheu W, Lee WJ, Chen YT . High plasma leptin concentrations in hypertensive men but not in hypertensive women J Hypertens 1999 17: 1289–1295

Sarzani R et al. A novel promoter variant of the natriuretic peptide clearance receptor gene is associated with lower atrial natriuretic peptide and higher BP in obese hypertensives J Hypertens 1999 17: 1301–1305

Rumantir M et al. Neural mechanisms in human obesity-related hypertension J Hypertens 1999 17: 1125–1133

Grassi G . Obesity, sympathetic activity, sleep apnea J Hypertens 1999 17: 1059–1060

Bao G, Metreveli N, Fletcher EC . Acute and chronic BP response to recurrent acoustic arousal in rats AJH 1999 12: 504–510

Messerli FH et al. Obesity and essential hypertension Arch Intern Med 1981 141: 81–85

Frohlich ED . Obesity hypertension. Converting enzyme inhibitors and calcium antagonists Hypertension 1992 19: 119–123

Giles TD . Antihypertensive therapy and cardiovascular risk Are all antihypertensives equal? Hypertension 1992 19: 124–129

Reisin E, Hutchinson HG . Obesity-hypertension: effects on the cardiovascular and renal system – the therapeutic approach In: Oparil S, Weber MA (eds) A Companion to Brenner and Rector's The Kidney W.B. Saunders: St Louis 2000 pp 206–211

Reyes AJ, Taylor SH . Diuretics in cardiovascular medicine: the new clinicopharmacological bases that matter Cardiovasc Drugs Ther 1999 13: 371–398

Lithell H . Metabolic aspects of the treatment of hypertension J Hypertens 1995 13: S77–S80

Lithell H . Hyperinsulinemia. Insulin resistance and the treatment of hypertension Am J Hypertens 1996 9: 150S–154S

Langford HG et al. For the TAIM Research Group. Effect of drug and diet treatment of mild hypertension on diastolic BP Hypertension 1991 17: 211–217

The ALLHAT Officers and Coordinators for the ALLHAT Collaborative Research Group. Major cardiovascular events in hypertensivepatients randomized to doxazosin vs chlorthalidone. The antihypertensive and lipid-lowering treatment to prevent heart attack trial (ALLHAT) JAMA 2000 283: 15: 1967–1975

Díaz M, Dighiero M, Ghio R . Relationship between blood Pressure, the body mass index and the waist-hip ratio in Uruguay, LATIR study Am J Hypertens 1996 9: S75
About this article
Cite this article
Díaz, M. Hypertension and obesity. J Hum Hypertens 16 (Suppl 1), S18–S22 (2002). https://doi.org/10.1038/sj.jhh.1001335
Published:

Issue Date:

DOI: https://doi.org/10.1038/sj.jhh.1001335
Keywords
hypertension

obesity

risk factors