Abstract
Background:
Evidence suggests that people who are more responsive to psychological stress are at an increased risk of developing obesity. However, the biological mechanisms underlying this phenomenon are poorly understood. The cytokines leptin, interleukin-1 receptor antagonist (IL-1Ra) and interleukin-6 (IL-6) play a key role in fat metabolism and abnormal circulating levels of these proteins have been reported in obese people and in individuals subject to stress.
Objective:
This study investigated whether cytokine responses to acute mental stress are associated with adiposity in healthy young women.
Design and Subjects:
A laboratory study of 67 women, aged 18–25 years, recruited from University College London.
Measurements:
Height, weight and waist circumference were measured and body fat mass was estimated by bioelectrical impedance body composition analysis. Laboratory mental stress testing was carried out and blood pressure and heart rate were recorded at baseline, during two moderately challenging tasks (Stroop and speech) and during recovery 40–45 min post-stress. Blood samples taken at baseline, immediately post-stress and 45 min post-stress, were used for assessment of circulating cytokines. Saliva samples taken throughout the session were assessed for cortisol.
Results:
Women who had larger cytokine responses to stress were more abdominally obese than women with smaller cytokine stress responses. Specifically, there was a positive correlation between waist circumference and stress-induced increases in plasma levels of leptin (r=0.35, P<0.05) and IL-1Ra responses (r=0.29, P<0.05). There was also a significant positive correlation between prolonged diastolic blood pressure responses to stress and measures of total and abdominal obesity (r=0.28–0.33, P<0.05).
Conclusion:
Increased cytokine production could be a mechanism linking stress and abdominal obesity.
Relevant articles
Open Access articles citing this article.
Stefan Koelsch

,

Albrecht Boehlig

…

Ulrich Sack

Scientific Reports Open Access 29 March 2016
Access options
Subscribe to this journal
Receive 12 print issues and online access
$259.00 per year
only $21.58 per issue
Rent or buy this article
Get just this article for as long as you need it
$39.95
Prices may be subject to local taxes which are calculated during checkout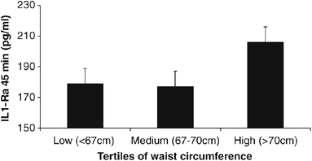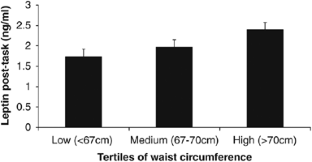 References
Seidell JC . Epidemiology of obesity. Semin Vasc Med 2005; 5: 3–14.

Bray GA . Medical consequences of obesity. J Clin Endocrinol Metab 2004; 89: 2583–2589.

Lee YH, Pratley RE . The evolving role of inflammation in obesity and the metabolic syndrome. Curr Diab Rep 2005; 5: 70–75.

Black PH . The inflammatory consequences of psychologic stress: relationship to insulin resistance, obesity, atherosclerosis and diabetes mellitus, type II. Med Hypotheses 2006; 67: 879–891.

Bjorntorp P . Do stress reactions cause abdominal obesity and comorbidities? Obes Rev 2001; 2: 73–86.

Steptoe A, Kunz-Ebrecht SR, Brydon L, Wardle J . Central adiposity and cortisol responses to waking in middle-aged men and women. Int J Obes Relat Metab Disord 2004; 28: 1168–1173.

Wallerius S, Rosmond R, Ljung T, Holm G, Bjorntorp P . Rise in morning saliva cortisol is associated with abdominal obesity in men: a preliminary report. J Endocrinol Invest 2003; 26: 616–619.

Therrien F, Drapeau V, Lalonde J, Lupien SJ, Beaulieu S, Tremblay A et al. Awakening cortisol response in lean, obese, and reduced obese individuals: effect of gender and fat distribution. Obesity (Silver Spring) 2007; 15: 377–385.

Epel ES, McEwen B, Seeman T, Matthews K, Castellazzo G, Brownell KD et al. Stress and body shape: stress-induced cortisol secretion is consistently greater among women with central fat. Psychosom Med 2000; 62: 623–632.

Pasquali R, Ambrosi B, Armanini D, Cavagnini F, Uberti ED, Del Rio G et al. Cortisol and ACTH response to oral dexamethasone in obesity and effects of sex, body fat distribution, and dexamethasone concentrations: a dose–response study. J Clin Endocrinol Metab 2002; 87: 166–175.

Ljung T, Andersson B, Bengtsson BA, Bjorntorp P, Marin P . Inhibition of cortisol secretion by dexamethasone in relation to body fat distribution: a dose–response study. Obes Res 1996; 4: 277–282.

Davis MC, Twamley EW, Hamilton NA, Swan PD . Body fat distribution and hemodynamic stress responses in premenopausal obese women: a preliminary study. Health Psychol 1999; 18: 625–633.

Waldstein SR, Burns HO, Toth MJ, Poehlman ET . Cardiovascular reactivity and central adiposity in older African Americans. Health Psychol 1999; 18: 221–228.

Pflieger KL, Treiber FA, Davis H, McCaffrey FM, Raunikar RA, Strong WB . The effect of adiposity on children's left ventricular mass and geometry and haemodynamic responses to stress. Int J Obes Relat Metab Disord 1994; 18: 117–122.

Steptoe A, Wardle J . Cardiovascular stress responsivity, body mass and abdominal adiposity. Int J Obes (London) 2005; 29: 1329–1337.

Jayo JM, Shively CA, Kaplan JR, Manuck SB . Effects of exercise and stress on body fat distribution in male cynomolgus monkeys. Int J Obes Relat Metab Disord 1993; 17: 597–604.

Brunner EJ, Marmot MG, Nanchahal K, Shipley MJ, Stansfeld SA, Juneja M et al. Social inequality in coronary risk: central obesity and the metabolic syndrome. Evidence from the Whitehall II study. Diabetologia 1997; 40: 1341–1349.

Brunner EJ, Chandola T, Marmot MG . Prospective effect of job strain on general and central obesity in the Whitehall II Study. Am J Epidemiol 2007; 165: 828–837.

Cooke L, Wardle J . Depression and obesity.In: Steptoe A (ed). Depression and Physical Illness. Cambridge University Press: Cambridge, 2007,pp. 238–261.

Kahl KG, Bester M, Greggersen W, Rudolf S, Dibbelt L, Stoeckelhuber BM et al. Visceral fat deposition and insulin sensitivity in depressed women with and without comorbid borderline personality disorder. Psychosom Med 2005; 67: 407–412.

Considine RV, Sinha MK, Heiman ML, Kriauciunas A, Stephens TW, Nyce MR et al. Serum immunoreactive-leptin concentrations in normal-weight and obese humans. N Engl J Med 1996; 334: 292–295.

Meier CA, Bobbioni E, Gabay C, Assimacopoulos-Jeannet F, Golay A, Dayer JM . IL-1 receptor antagonist serum levels are increased in human obesity: a possible link to the resistance to leptin? J Clin Endocrinol Metab 2002; 87: 1184–1188.

Bastard JP, Jardel C, Bruckert E, Blondy P, Capeau J, Laville M et al. Elevated levels of interleukin 6 are reduced in serum and subcutaneous adipose tissue of obese women after weight loss. J Clin Endocrinol Metab 2000; 85: 3338–3342.

Otsuka R, Yatsuya H, Tamakoshi K, Matsushita K, Wada K, Toyoshima H . Perceived psychological stress and serum leptin concentrations in Japanese men. Obesity (Silver Spring) 2006; 14: 1832–1838.

Steptoe A, Brydon L . Psychosocial factors and coronary heart disease: the role of psychoneuroimmunological processes.In: Ader R (ed). Psychoneuroimmunology,4th edn. Academic Press: San Diego, 2006,pp. 945–974.

Raison CL, Capuron L, Miller AH . Cytokines sing the blues: inflammation and the pathogenesis of depression. Trends Immunol 2006; 27: 24–31.

Liao SC, Lee MB, Lee YJ, Huang TS . Hyperleptinemia in subjects with persistent partial posttraumatic stress disorder after a major earthquake. Psychosom Med 2004; 66: 23–28.

Sandoval DA, Davis SN . Leptin: metabolic control and regulation. J Diabetes Complications 2003; 17: 108–113.

Hardie L, Trayhurn P, Abramovich D, Fowler P . Circulating leptin in women: a longitudinal study in the menstrual cycle and during pregnancy. Clin Endocrinol (Oxf) 1997; 47: 101–106.

Kershaw EE, Flier JS . Adipose tissue as an endocrine organ. J Clin Endocrinol Metab 2004; 89: 2548–2556.

Juge-Aubry CE, Somm E, Giusti V, Pernin A, Chicheportiche R, Verdumo C et al. Adipose tissue is a major source of interleukin-1 receptor antagonist: upregulation in obesity and inflammation. Diabetes 2003; 52: 1104–1110.

Weisberg SP, McCann D, Desai M, Rosenbaum M, Leibel RL, Ferrante Jr AW . Obesity is associated with macrophage accumulation in adipose tissue. J Clin Invest 2003; 112: 1796–1808.

Gabay C, Dreyer M, Pellegrinelli N, Chicheportiche R, Meier CA . Leptin directly induces the secretion of interleukin 1 receptor antagonist in human monocytes. J Clin Endocrinol Metab 2001; 86: 783–791.

Lemieux I, Pascot A, Prud'homme D, Almeras N, Bogaty P, Nadeau A et al. Elevated C-reactive protein: another component of the atherothrombotic profile of abdominal obesity. Arterioscler Thromb Vasc Biol 2001; 21: 961–967.

Davi G, Guagnano MT, Ciabattoni G, Basili S, Falco A, Marinopiccoli M et al. Platelet activation in obese women: role of inflammation and oxidant stress. JAMA 2002; 288: 2008–2014.

Considine RV . Human leptin: an adipocyte hormone with weight-regulatory and endocrine functions. Semin Vasc Med 2005; 5: 15–24.

Luheshi GN, Gardner JD, Rushforth DA, Loudon AS, Rothwell NJ . Leptin actions on food intake and body temperature are mediated by IL-1. Proc Natl Acad Sci USA 1999; 96: 7047–7052.

Houseknecht KL, Spurlock ME . Leptin regulation of lipid homeostasis: dietary and metabolic implications. Nutr Res Rev 2003; 16: 83–96.

Wagoner B, Hausman DB, Harris RB . Direct and indirect effects of leptin on preadipocyte proliferation and differentiation. Am J Physiol Regul Integr Comp Physiol 2006; 290: R1557–R1564.

Hardardottir I, Doerrler W, Feingold KR, Grunfeld C . Cytokines stimulate lipolysis and decrease lipoprotein lipase activity in cultured fat cells by a prostaglandin independent mechanism. Biochem Biophys Res Commun 1992; 186: 237–243.

Suzawa M, Takada I, Yanagisawa J, Ohtake F, Ogawa S, Yamauchi T et al. Cytokines suppress adipogenesis and PPAR-gamma function through the TAK1/TAB1/NIK cascade. Nat Cell Biol 2003; 5: 224–230.

Juge-Aubry CE, Somm E, Chicheportiche R, Burger D, Pernin A, Cuenod-Pittet B et al. Regulatory effects of interleukin (IL)-1, interferon-beta, and IL-4 on the production of IL-1 receptor antagonist by human adipose tissue. J Clin Endocrinol Metab 2004; 89: 2652–2658.

Somm E, Henrichot E, Pernin A, Juge-Aubry CE, Muzzin P, Dayer JM et al. Decreased fat mass in interleukin-1 receptor antagonist-deficient mice: impact on adipogenesis, food intake, and energy expenditure. Diabetes 2005; 54: 3503–3509.

Masuzaki H, Ogawa Y, Hosoda K, Miyawaki T, Hanaoka I, Hiraoka J et al. Glucocorticoid regulation of leptin synthesis and secretion in humans: elevated plasma leptin levels in Cushing's syndrome. J Clin Endocrinol Metab 1997; 82: 2542–2547.

Ueland T, Kristo C, Godang K, Aukrust P, Bollerslev J . Interleukin-1 receptor antagonist is associated with fat distribution in endogenous Cushing's syndrome: a longitudinal study. J Clin Endocrinol Metab 2003; 88: 1492–1496.

Dickerson SS, Kemeny ME . Acute stressors and cortisol responses: a theoretical integration and synthesis of laboratory research. Psychol Bull 2004; 130: 355–391.

Ren J . Leptin and hyperleptinemia—from friend to foe for cardiovascular function. J Endocrinol 2004; 181: 1–10.

Narkiewicz K, Somers VK, Mos L, Kato M, Accurso V, Palatini P . An independent relationship between plasma leptin and heart rate in untreated patients with essential hypertension. J Hypertens 1999; 17: 245–249.

Kuo LE, Kitlinska JB, Tilan JU, Li L, Baker SB, Johnson MD et al. Neuropeptide Y acts directly in the periphery on fat tissue and mediates stress-induced obesity and metabolic syndrome. Nat Med 2007; 13: 803–811.

Tersman Z, Collins A, Eneroth P . Cardiovascular responses to psychological and physiological stressors during the menstrual cycle. Psychosom Med 1991; 53: 185–197.

Weidner G, Helmig L . Cardiovascular stress reactivity and mood during the menstrual cycle. Women Health 1990; 16: 5–21.
Acknowledgements
This research was funded by the British Heart Foundation and Cancer Research UK. We are grateful to Bev Murray for her involvement in data collection.
About this article
Cite this article
Brydon, L., Wright, C., O'Donnell, K. et al. Stress-induced cytokine responses and central adiposity in young women. Int J Obes 32, 443–450 (2008). https://doi.org/10.1038/sj.ijo.0803767
Received:

Revised:

Accepted:

Published:

Issue Date:

DOI: https://doi.org/10.1038/sj.ijo.0803767
Keywords
psychological stress

cytokines

inflammation

adiposity