Abstract
Objective:
Weight gain is a risk factor for metabolic syndrome (MS). However, it is not known whether weight fluctuations (WF) have a deleterious effect upon MS risk. In the present study, we investigated this association in subjects participating in the SU.VI.MAX cohort.
Methods:
MS status was assessed at baseline (1994/1995) and at the end of follow-up (2001/2002) using the National Cholesterol Education Program-Adult Treatment Panel III criteria. WF were estimated with four weight measures during follow-up. Odds ratio (OR, 95% confidence interval (CI)) for incident MS cases was evaluated according to four WF groups (no WF and tertiles of WF) in 3553 middle-aged subjects.
Results:
The OR (95% CI) for MS was 2.06 (1.20–3.52) for the third WF tertile compared to the first tertile. This association was independent of confounding variables, especially relative weight change during follow-up. Subjects without WF had a 2.72-fold increase (1.64–4.53) for MS risk compared to the first tertile of WF. For MS components taken separately, similar associations were found for raised blood pressure, low high-density lipoprotein-cholesterol and increased waist circumference.
Conclusion:
Our results showed that WF was an independent risk factor for MS after 7 years of follow-up. Moreover, subjects without WF were also at risk for MS, due to the highest weight gain during follow-up. These results support the benefits of weight stability and emphasize the importance of weight gain prevention starting from early adulthood.
Relevant articles
Open Access articles citing this article.
Young Ran Chin

&

Eun Sun So

Archives of Public Health Open Access 18 February 2021

Ludimila Garcia Souza

,

Thiago Veiga Jardim

…

Paulo César Brandão Veiga Jardim

Nutrition Journal Open Access 15 January 2018

M. Bot

,

A. M. W. Spijkerman

…

W. M. M. Verschuren

European Journal of Epidemiology Open Access 21 January 2010
Access options
Subscribe to this journal
Receive 12 print issues and online access
$259.00 per year
only $21.58 per issue
Rent or buy this article
Get just this article for as long as you need it
$39.95
Prices may be subject to local taxes which are calculated during checkout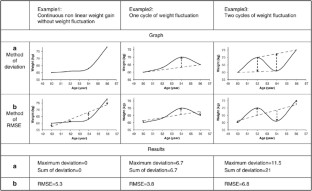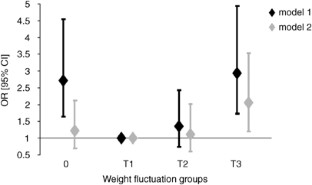 References
Obesity: preventing and managing the global epidemic. Report of a WHO consultation. World Health Organ Tech Rep Ser 2000; 894: 1–253.

Expert Panel on Detection, Evaluation, and Treatment of High Blood Cholesterol in Adults. Executive Summary of the Third Report of the National Cholesterol Education Program (NCEP) Expert Panel on Detection, Evaluation, and Treatment of High Blood Cholesterol in Adults (Adult Treatment Panel III). JAMA 2001; 285: 2486–2497.

Serdula MK, Mokdad AH, Williamson DF, Galuska DA, Mendlein JM, Heath GW . Prevalence of attempting weight loss and strategies for controlling weight. JAMA 1999; 282: 1353–1358.

Kramer FM, Jeffery RW, Forster JL, Snell MK . Long-term follow-up of behavioral treatment for obesity: patterns of weight regain among men and women. Int J Obes 1989; 13: 123–136.

Lahti-Koski M, Mannisto S, Pietinen P, Vartiainen E . Prevalence of weight cycling and its relation to health indicators in Finland. Obes Res 2005; 13: 333–341.

Goldstein DJ . Beneficial health effects of modest weight loss. Int J Obes Relat Metab Disord 1992; 16: 397–415.

Dulloo AG, Jacquet J, Seydoux J, Montani JP . The thrifty 'catch-up fat' phenotype: its impact on insulin sensitivity during growth trajectories to obesity and metabolic syndrome. Int J Obes (Lond) 2006; 30 (Suppl 4): S23–S35.

Montani JP, Viecelli AK, Prevot A, Dulloo AG . Weight cycling during growth and beyond as a risk factor for later cardiovascular diseases: the 'repeated overshoot' theory. Int J Obes (Lond) 2006; 30 (Suppl 4): S58–S66.

Dyer AR, Stamler J, Greenland P . Associations of weight change and weight variability with cardiovascular and all-cause mortality in the Chicago Western Electric Company Study. Am J Epidemiol 2000; 152: 324–333.

Lissner L, Andres R, Muller DC, Shimokata H . Body weight variability in men: metabolic rate, health and longevity. Int J Obes 1990; 14: 373–383.

Wannamethee SG, Shaper AG, Walker M . Weight change, weight fluctuation, and mortality. Arch Intern Med 2002; 162: 2575–2580.

Folsom AR, French SA, Zheng W, Baxter JE, Jeffery RW . Weight variability and mortality: the Iowa Women's Health Study. Int J Obes Relat Metab Disord 1996; 20: 704–709.

French SA, Folsom AR, Jeffery RW, Zheng W, Mink PJ, Baxter JE . Weight variability and incident disease in older women: the Iowa Women's Health Study. Int J Obes Relat Metab Disord 1997; 21: 217–223.

Hamm P, Shekelle RB, Stamler J . Large fluctuations in body weight during young adulthood and twenty-five-year risk of coronary death in men. Am J Epidemiol 1989; 129: 312–318.

Iribarren C, Sharp DS, Burchfiel CM, Petrovitch H . Association of weight loss and weight fluctuation with mortality among Japanese American men. N Engl J Med 1995; 333: 686–692.

Lissner L, Odell PM, D'Agostino RB, Stokes III J, Kreger BE, Belanger AJ et al. Variability of body weight and health outcomes in the Framingham population. N Engl J Med 1991; 324: 1839–1844.

Peters ET, Seidell JC, Menotti A, Arayanis C, Dontas A, Fidanza F et al. Changes in body weight in relation to mortality in 6441 European middle-aged men: the Seven Countries Study. Int J Obes Relat Metab Disord 1995; 19: 862–868.

Czernichow S, Bruckert E, Bertrais S, Galan P, Hercberg S, Oppert JM . Hypertriglyceridemic waist and 7.5-year prospective risk of cardiovascular disease in asymptomatic middle-aged men. Int J Obes (Lond) 2007; 31: 791–796.

Hu G, Qiao Q, Tuomilehto J, Balkau B, Borch-Johnsen K, Pyorala K . Prevalence of the metabolic syndrome and its relation to all-cause and cardiovascular mortality in nondiabetic European men and women. Arch Intern Med 2004; 164: 1066–1076.

Isomaa B, Almgren P, Tuomi T, Forsen B, Lahti K, Nissen M et al. Cardiovascular morbidity and mortality associated with the metabolic syndrome. Diabetes Care 2001; 24: 683–689.

Klein BE, Klein R, Lee KE . Components of the metabolic syndrome and risk of cardiovascular disease and diabetes in beaver dam. Diabetes Care 2002; 25: 1790–1794.

Czernichow S, Bertrais S, Blacher J, Oppert JM, Galan P, Ducimetiere P et al. Metabolic syndrome in relation to structure and function of large arteries: a predominant effect of blood pressure. A report from the SU.VI.MAX. Vascular Study. Am J Hypertens 2005; 18: 1154–1160.

Zhang H, Tamakoshi K, Yatsuya H, Murata C, Wada K, Otsuka R et al. Long-term body weight fluctuation is associated with metabolic syndrome independent of current body mass index among Japanese men. Circ J 2005; 69: 13–18.

Hercberg S, Preziosi P, Briancon S, Galan P, Triol I, Malvy D et al. A primary prevention trial using nutritional doses of antioxidant vitamins and minerals in cardiovascular diseases and cancers in a general population: the SU.VI.MAX study—design, methods, and participant characteristics. SUpplementation en VItamines et Mineraux AntioXydants. Control Clin Trials 1998; 19: 336–351.

Hercberg S, Galan P, Preziosi P, Bertrais S, Mennen L, Malvy D et al. The SU.VI.MAX Study: a randomized, placebo-controlled trial of the health effects of antioxidant vitamins and minerals. Arch Intern Med 2004; 164: 2335–2342.

Czernichow S, Bertrais S, Preziosi P, Galan P, Hercberg S, Oppert JM . Indicators of abdominal adiposity in middle-aged participants of the SU.VI.MAX study: relationships with educational level, smoking status and physical inactivity. Diabetes Metab 2004; 30: 153–159.

Weight cycling. National task force on the prevention and treatment of obesity. JAMA 1994; 272: 1196–1202.

Rebuffe-Serive M, Hendler R, Bracero N, Cummunigs N, McCarthy S, Rodin J . Biobehavioral effects of weight cycling. Int J Obes Relat Metab Disord 1994; 18: 651–658.

Niedhammer I, Bugel I, Bonenfant S, Goldberg M, Leclerc A . Validity of self-reported weight and height in the French GAZEL cohort. Int J Obes Relat Metab Disord 2000; 24: 1111–1118.

Itoh T, Horie S, Takahashi K, Okubo T . An evaluation of various indices of body weight change and their relationship with coronary risk factors. Int J Obes Relat Metab Disord 1996; 20: 1089–1096.

Field AE, Byers T, Hunter DJ, Laird NM, Manson JE, Williamson DF et al. Weight cycling, weight gain, and risk of hypertension in women. Am J Epidemiol 1999; 150: 573–579.

Field AE, Manson JE, Laird N, Williamson DF, Willett WC, Colditz GA . Weight cycling and the risk of developing type 2 diabetes among adult women in the United States. Obes Res 2004; 12: 267–274.

Lee JS, Kawakubo K, Kobayashi Y, Mori K, Kasihara H, Tamura M . Effects of ten year body weight variability on cardiovascular risk factors in Japanese middle-aged men and women. Int J Obes Relat Metab Disord 2001; 25: 1063–1067.

Guagnano MT, Ballone E, Pace-Palitti V, Vecchia RD, D'Orazio N, Manigrasso MR et al. Risk factors for hypertension in obese women. The role of weight cycling. Eur J Clin Nutr 2000; 54: 356–360.

Kajioka T, Tsuzuku S, Shimokata H, Sato Y . Effects of intentional weight cycling on non-obese young women. Metabolism 2002; 51: 149–154.

Schulz M, Liese AD, Boeing H, Cunningham JE, Moore CG, Kroke A . Associations of short-term weight changes and weight cycling with incidence of essential hypertension in the EPIC-Potsdam Study. J Hum Hypertens 2005; 19: 61–67.

Wing RR, Jeffery RW, Hellerstedt WL . A prospective study of effects of weight cycling on cardiovascular risk factors. Arch Intern Med 1995; 155: 1416–1422.

Bertrais S, Beyeme-Ondoua JP, Czernichow S, Galan P, Hercberg S, Oppert JM . Sedentary behaviors, physical activity, and metabolic syndrome in middle-aged French subjects. Obes Res 2005; 13: 936–944.

Balkau B, Vernay M, Mhamdi L, Novak M, Arondel D, Vol S et al. The incidence and persistence of the NCEP (National Cholesterol Education Program) metabolic syndrome. The French D.E.S.I.R. study. Diabetes Metab 2003; 29: 526–532.

Ford ES, Giles WH, Dietz WH . Prevalence of the metabolic syndrome among US adults: findings from the third National Health and Nutrition Examination Survey. JAMA 2002; 287: 356–359.

Stevens J, Keil JE, Waid LR, Gazes PC . Accuracy of current, 4-year, and 28-year self-reported body weight in an elderly population. Am J Epidemiol 1990; 132: 1156–1163.

French SA, Jeffery RW, Folsom AR, Williamson DF, Byers T . History of intentional and unintentional weight loss in a population-based sample of women aged 55–69 years. Obes Res 1995; 3: 163–170.

Williamson DF . Intentional weight loss: patterns in the general population and its association with morbidity and mortality. Int J Obes Relat Metab Disord 1997; 21 (Suppl 1): S14–S19.
Acknowledgements
We thank Pr Avner Bar-Hen for his help with statistical analyses and Stacie Chat-Yung for her help with English translation. The SU.VI.MAX project received support from public and private sectors. This project was supported by a research grant from the French 'Fondation Coeur et Artères'.
About this article
Cite this article
Vergnaud, AC., Bertrais, S., Oppert, JM. et al. Weight fluctuations and risk for metabolic syndrome in an adult cohort. Int J Obes 32, 315–321 (2008). https://doi.org/10.1038/sj.ijo.0803739
Received:

Revised:

Accepted:

Published:

Issue Date:

DOI: https://doi.org/10.1038/sj.ijo.0803739
Keywords
weight fluctuation

metabolic syndrome

cohort study