Abstract
Objective:
We examined having a TV in the bedroom as a risk factor for child overweight.
Design:
Cross-sectional study.
Setting:
School- and telephone-based surveys in New Hampshire and Vermont between 2002 and 2004.
Participants:
Two thousand three hundred and forty-three children enrolled in public schools, aged 9–12 years, and one of their parents.
Main exposures:
The child having a TV in the bedroom.
Main outcome measures:
Age- and gender-standardized child body mass index (zBMI). Overweight was defined as equal to or above the 95th percentile for zBMI.
Results:
Overall, 22.3% (N=523) of the children were overweight, and almost half of all children (48.2%, N=1130) had a TV in their bedroom. Children with a TV in their bedroom had a higher zBMI and were significantly more likely to be overweight compared to those without a TV in their bedroom (27.3 versus 17.7%, respectively; P<0.05). After controlling for sociodemographics, physical activity, frequency of TV or movie watching and internet use, children with a TV in their bedroom who watched at least one session of TV or movies per day were more likely to be overweight compared to those without a TV in their bedroom (odds ratio=1.32, 95% confidence interval: 1.03, 1.70).
Conclusions:
Having a TV in the bedroom is a risk factor for child overweight, independent of reported physical activity, participation in team sports, TV or movie watching time and internet use at home. Further study is needed to fully understand the mechanism by which having a TV in the bedroom increases children's risk for overweight.
Relevant articles
Open Access articles citing this article.
Alice R. Kininmonth

,

Stephanie Schrempft

…

Alison Fildes

International Journal of Obesity Open Access 24 June 2022

Emilie L. M. Ruiter

,

Gerdine A. J. Fransen

…

Rutger C. M. E. Engels

BMC Public Health Open Access 18 February 2022

Alice R. Kininmonth

,

Stephanie Schrempft

…

Alison Fildes

International Journal of Behavioral Nutrition and Physical Activity Open Access 23 December 2021
Access options
Subscribe to this journal
Receive 12 print issues and online access
$259.00 per year
only $21.58 per issue
Rent or buy this article
Prices vary by article type
from$1.95
to$39.95
Prices may be subject to local taxes which are calculated during checkout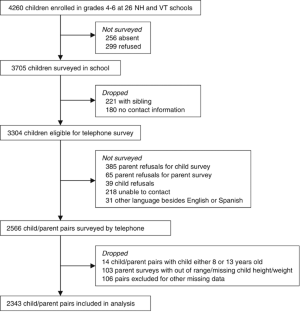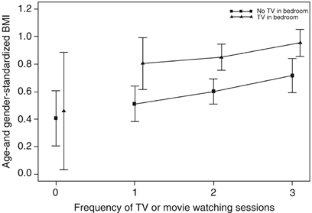 References
US Department of Health and Human Services. The Surgeon General's Call to Action to Prevent and Decrease Overweight and Obesity. Public Health Service, Office of the Surgeon General: Rockville, MD, 2001.

Roberts D, Foehr UG, Rideout V . Generation M: Media in the Lives of 8–18 Year-olds. Kaiser Family Foundation: Menlo Park, March 2005.

Dietz Jr WH, Gortmaker SL . Do we fatten our children at the television set? Obesity and television viewing in children and adolescents. Pediatrics 1985; 75: 807.

Andersen RE, Crespo CJ, Bartlett SJ, Cheskin LJ, Pratt M . Relationship of physical activity and television watching with body weight and level of fatness among children: results from the Third National Health and Nutrition Examination Survey. JAMA 1998; 279: 938–942.

Hernandez B, Gortmaker SL, Colditz GA, Peterson KE, Laird NM, Parra-Cabrera S . Association of obesity with physical activity, television programs and other forms of video viewing among children in Mexico City. Int J Obes Relat Metab Disord 1999; 23: 845.

Salmon J, Bauman A, Crawford D, Timperio A, Owen N . The association between television viewing and overweight among Australian adults participating in varying levels of leisure-time physical activity. Int J Obes Relat Metab Disord 2000; 24: 600.

Borzekowski DL, Robinson TN . The remote, the mouse, and the No. 2 pencil: the household media environment and academic achievement among third grade students. Arch Pediatr Adolesc Med 2005; 159: 607–613.

Hancox RJ, Milne BJ, Poulton R . Association of television viewing during childhood with poor educational achievement. Arch Pediatr Adolesc Med 2005; 159: 614–618.

Owens J, Maxim R, McGuinn M, Nobile C, Msall M, Alario A . Television-viewing habits and sleep disturbance in school children. Pediatrics 1999; 104: e27.

Medrich EA . Constant television: a background to daily life. J Commun 1979; 29: 171–176.

Taras HL, Sallis JF, Patterson TL, Nader PR, Nelson JA . Television's influence on children's diet and physical activity. J Dev Behav Pediatr 1989; 10: 176–180.

Coon KA, Goldberg J, Rogers BL, Tucker KL . Relationships between use of television during meals and children's food consumption patterns. Pediatrics 2001; 107: E7.

Matheson DM, Killen JD, Wang Y, Varady A, Robinson TN . Children's food consumption during television viewing. Am J Clin Nutr Jun 2004; 79: 1088–1094.

Jeffery RW, French SA . Epidemic obesity in the United States: are fast foods and television viewing contributing? Am J Public Health 1998; 88: 277.

Dietz Jr WH . Health consequences of obesity in youth: childhood predictors of adult disease. Pediatrics 1998; 101 (Suppl): 518–525.

Johnston FE . Health implications of childhood obesity. Ann Intern Med 1985; 103: 1068–1072.

Dietz WH, Robinson TN . Clinical practice. Overweight children and adolescents. N Engl J Med 2005; 352: 2100–2109.

Serdula MK, Ivery D, Coates RJ, Freedman DS, Williamson DF, Byers T . Do obese children become obese adults? A review of the literature. Prev Med 1993; 22: 167–177.

Guo SS, Roche AF, Chumlea WC, Gardner JD, Siervogel RM . The predictive value of childhood body mass index values for overweight at age 35 y. Am J Clin Nutr 1994; 59: 810–819.

Robinson TN, Hammer LD, Killen JD, Kraemer HC, Wilson DM, Hayward C et al. Does television viewing increase obesity and reduce physical activity? Cross-sectional and longitudinal analyses among adolescent girls. Pediatrics 1993; 91: 273–280.

Dennison BA, Erb TA, Jenkins PL . Television viewing and television in bedroom associated with overweight risk among low-income preschool children. Pediatrics 2002; 109: 1028–1035.

Armstrong CA, Sallis JF, Alcaraz JE, Kolody B, McKenzie TL, Hovell MF . Children's television viewing, body fat, and physical fitness. Am J Health Promot 1998; 12: 363–368.

Bernard-Bonnin AC, Gilbert S, Rousseau E, Masson P, Maheux B . Television and the 3- to 10-year-old child. Pediatrics 1991; 88: 48–54.

Stanger JD . Television in the Home 1998. The Third Annual National Survey of Parents and Children. Annenberg Public Policy Center, University of Pennsylvania: Philadelphia, PA, 1998.

Woodard EH, Gridina N . Media in the Home 2000. The Fifth Annual Survey of Parents and Children. Annenberg Public Policy Center of the University of Pennsylvania: Philadelphia, PA, 2000.

Wiecha JL, Sobol AM, Peterson KE, Gortmaker SL . Household television access: associations with screen time, reading, and homework among youth. Ambulatory Pediatr 2001; 1: 244–251.

Saelens BE, Sallis JF, Nader PR, Broyles SL, Berry CC, Taras HL . Home environmental influences on children's television watching from early to middle childhood. J Dev Behav Pediatr 2002; 23: 127–132.

Kuczmarski RJ, Ogden CL, Grummer-Strawn LM, Flegal KM, Guo SS, Wei R et al. CDC growth charts: United States. Adv Data Jun 8; 2000: 1–27.

SAS [computer program] Version 9.1. SAS Institute, Inc.: Cary, NC, 2002.

S-PLUS. [computer program] Version 6.1. Insightful Corporation: Seattle, WA, 2002.

Goodman E, Hinden BR, Khandelwal S . Accuracy of teen and parental reports of obesity and body mass index. Pediatrics 2000; 106: 52–58.

Boutelle K, Fulkerson JA, Neumark-Sztainer D, Story M . Mothers' perceptions of their adolescents' weight status: are they accurate? Obes Res. Nov 2004; 12: 1754–1757.

Strauss RS, Knight J . Influence of the home environment on the development of obesity in children. Pediatrics 1999; 103: 1278.

Dietz WH . Overweight in childhood and adolescence. N Engl J Med 2004; 350: 855–857.

Stice E, Presnell K, Shaw H, Rohde P . Psychological and behavioral risk factors for obesity onset in adolescent girls: a prospective study. J Consult Clin Psychol 2005; 73: 195–202.

Hill JO, Melanson EL . Overview of the determinants of overweight and obesity: current evidence and research issues. Med Sci Sports Exerc 1999; 31 (Suppl): S515–S521.

Ellis L, Haman D . Population increases in obesity appear to be partly due to genetics. J Biosoc Sci 2004; 36: 547–559.

Lefebvre PJ, Scheen AJ . Obesity: causes and new treatments. Exp Clin Endocrinol Diabetes 2001; 109 (Suppl 2): S215–S224.

Lowe MR . Self-regulation of energy intake in the prevention and treatment of obesity: is it feasible? Obes Res 2003; 11 (Suppl): 44S–59S.

Muller MJ, Asbeck I, Mast M, Langnase K, Grund A . Prevention of obesity – more than an intention. Concept and first results of the Kiel Obesity Prevention Study (KOPS). Int J Obes Relat Metab Disord 2001; 25 (Suppl 1): S66–S74.

Klesges RC, Shelton ML, Klesges LM . Effects of television on metabolic rate: potential implications for childhood obesity. Pediatrics 1993; 91: 281–286.

Halford JC, Gillespie J, Brown V, Pontin EE, Dovey TM . Effect of television advertisements for foods on food consumption in children. Appetite 2004; 42: 221–225.

Lobstein T, Dibb S . Evidence of a possible link between obesogenic food advertising and child overweight. Obes Rev 2005; 6: 203–208.

Locard E, Mamelle N, Billette A, Miginiac M, Munoz F, Rey S . Risk factors of obesity in a five year old population. Parental versus environmental factors. Int J Obes Relat Metab Disord 1992; 16: 721–729.

Sekine M, Yamagami T, Handa K, Saito T, Nanri S, Kawaminami K et al. A dose–response relationship between short sleeping hours and childhood obesity: results of the Toyama Birth Cohort Study. Child Care Health Dev 2002; 28: 163–170.

Robinson TN . Reducing children's television viewing to prevent obesity: a randomized controlled trial. JAMA 1999; 282: 1561–1567.

Epstein LH, Paluch RA, Gordy CC, Dorn J . Decreasing sedentary behaviors in treating pediatric obesity. Arch Pediatr Adolesc Med 2000; 154: 220–226.

Gortmaker SL, Peterson K, Wiecha J, Sobol AM, Dixit S, Fox MK et al. Reducing obesity via a school-based interdisciplinary intervention among youth: Planet Health. Arch Pediatr Adolesc Med 1999; 153: 409–418.

Epstein LH, Valoski AM, Vara LS, McCurley J, Wisnicwski L, Kalarchian MA et al. Effects of decreasing sedentary behavior and increasing activity on weight change in obese children. Health Psychol 1995; 14: 109–115.

Jason LA, Brackshaw E . Access to TV contingent on physical activity: effects on reducing TV-viewing and body-weight. J Behav Ther Exp Psychiatry 1999; 30: 145–151.

Marshall SJ, Biddle SJ, Gorely T, Cameron N, Murdey I . Relationships between media use, body fatness and physical activity in children and youth: a meta-analysis. Int J Obes Relat Metab Disord 2004; 28: 1238–1246.

American Academy of Pediatrics. Children, adolescents, and television. Pediatrics 2001; 107: 423–426.
Acknowledgements
This study was funded by a grant from the National Cancer Institute CA-94273. We thank Holly LL Pierce, Cynthia J Patch and Susan K Martin for their work on the study.
About this article
Cite this article
Adachi-Mejia, A., Longacre, M., Gibson, J. et al. Children with a TV in their bedroom at higher risk for being overweight. Int J Obes 31, 644–651 (2007). https://doi.org/10.1038/sj.ijo.0803455
Received:

Revised:

Accepted:

Published:

Issue Date:

DOI: https://doi.org/10.1038/sj.ijo.0803455
Keywords
television

children

overweight

bedroom