Abstract
Objective:
To investigate cross-sectional and longitudinal relationships among exercise, sleep, ghrelin and leptin.
Methods:
We randomly assigned 173 post-menopausal sedentary overweight (body mass index ⩾24.0 kg/m2 and >33% body fat) women aged 50–75 years living in western Washington State to either a facility- and home-based moderate-intensity physical activity intervention or a stretching control group. Fasting plasma ghrelin, leptin, measured height, weight and self-reported sleep were assessed at baseline and 12 months.
Results:
There were no consistent cross-sectional patterns between self-reported sleep measures and ghrelin or leptin at baseline. The weight loss differences between exercisers and stretchers were greater for those who slept less at follow-up than at baseline compared to those whose sleep duration did not change (−3.2 kg, 95% confidence interval (CI) −5.8, −0.5). Improvements in sleep quality were associated with significantly greater differences between exercisers and stretchers for ghrelin increases (improved vs same sleep quality: +115 pg/ml, 95% CI +25, +206) and leptin decreases (improved vs worsened sleep quality: −5.7 ng/ml, 95% CI −9.5, −1.5).
Conclusion:
There was only limited evidence that changes in sleep duration or quality modified exercise-induced changes in weight, ghrelin or leptin. Moreover, the observed differences were not in the directions hypothesized. Future longitudinal studies including population-based samples using objective measures of sleep and long follow-up may help to clarify these relationships.
Relevant articles
Open Access articles citing this article.
J. Vanderlinden

,

F. Boen

&

J. G. Z. van Uffelen

International Journal of Behavioral Nutrition and Physical Activity Open Access 05 February 2020
Access options
Subscribe to this journal
Receive 12 print issues and online access
$259.00 per year
only $21.58 per issue
Rent or buy this article
Prices vary by article type
from$1.95
to$39.95
Prices may be subject to local taxes which are calculated during checkout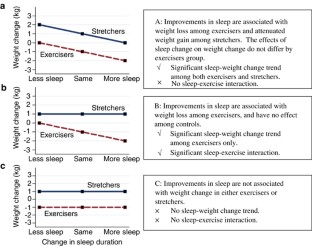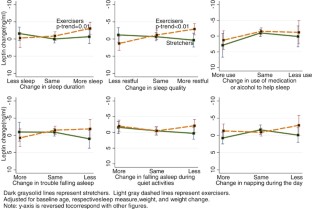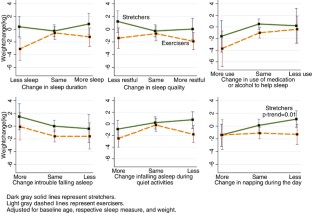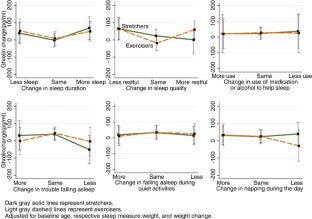 References
Foundation NS. Sleep in America' Poll. National Sleep Foundation: Washington, DC, 2002.

Foundation NS. Sleep in America Poll. National Sleep Foundation: Washington, DC, 2005.

Kripke DF, Simons RN, Garfinkel L, Hammond EC . Short and long sleep and sleeping pills. Is increased mortality associated? Arch Gen Psychiatry 1979; 36: 103–116.

Hedley AA, Ogden CL, Johnson CL, Carroll MD, Curtin LR, Flegal KM . Prevalence of overweight and obesity among US children, adolescents, and adults, 1999–2002. JAMA 2004; 291: 2847–2850.

Hill JO, Wyatt HR . Role of physical activity in preventing and treating obesity. J Appl Physiol 2005; 99: 765–770.

Vioque J, Torres A, Quiles J . Time spent watching television, sleep duration and obesity in adults living in Valencia, Spain. Int J Obes Relat Metab Disord 2000; 24: 1683–1688.

Flier JS, Elmquist JK . A good night's sleep: future antidote to the obesity epidemic? Ann Intern Med 2004; 141: 885–886.

Hasler G, Buysse DJ, Klaghofer R, Gamma A, Ajdacic V, Eich D et al. The association between short sleep duration and obesity in young adults: a 13-year prospective study. Sleep 2004; 27: 661–666.

Prinz P . Sleep, appetite, and obesity – what is the link? PLoS Med 2004; 1: e61.

von Kries R, Toschke AM, Wurmser H, Sauerwald T, Koletzko B . Reduced risk for overweight and obesity in 5- and 6-y-old children by duration of sleep – a cross-sectional study. Int J Obes Relat Metab Disord 2002; 26: 710–716.

Spiegel K, Tasali E, Penev P, Van Cauter E . Brief communication: sleep curtailment in healthy young men is associated with decreased leptin levels, elevated ghrelin levels, and increased hunger and appetite. Ann Intern Med 2004; 141: 846–850.

Taheri S, Lin L, Austin D, Young T, Mignot E . Short sleep duration is associated with reduced leptin, elevated ghrelin, and increased body mass index. PLoS Med 2004; 1: e62.

Cummings DE, Frayo RS, Marmonier C, Aubert R, Chapelot D . Plasma ghrelin levels and hunger scores in humans initiating meals voluntarily without time- and food-related cues. Am J Physiol Endocrinol Metab 2004; 287: E297–E304.

Cummings DE, Shannon MH . Roles for ghrelin in the regulation of appetite and body weight. Arch Surg 2003; 138: 389–396.

Badman MK, Flier JS . The gut and energy balance: visceral allies in the obesity wars. Science 2005; 307: 1909–1914.

Leibel RL . The role of leptin in the control of body weight. Nutr Rev 2002; 60: S15–S19; discussion S68–S84, 85–87.

Williams DL, Grill HJ, Cummings DE, Kaplan JM . Vagotomy dissociates short- and long-term controls of circulating ghrelin. Endocrinology 2003; 144: 5184–5187.

Mantzoros CS, Qu D, Frederich RC, Susulic VS, Lowell BB, Maratos-Flier E et al. Activation of beta(3) adrenergic receptors suppresses leptin expression and mediates a leptin-independent inhibition of food intake in mice. Diabetes 1996; 45: 909–914.

Gangwisch JE, Malaspina D, Boden-Albala B, Heymsfield SB . Inadequate sleep as a risk factor for obesity: analyses of the NHANES I. Sleep 2005; 28: 1289–1296.

McTiernan A, Ulrich C, Yancey D, Slate S, Nakamura H, Oestreicher N et al. The Physical Activity for Total Health (PATH) Study: rationale and design. Med Sci Sports Exerc 1999; 31: 1307–1312.

Burnam MA, Wells KB, Leake B, Landsverk J . Development of a brief screening instrument for detecting depressive disorders. Med Care 1988; 26: 775–789.

Levine DW, Kripke DF, Kaplan RM, Lewis MA, Naughton MJ, Bowen DJ et al. Reliability and validity of the Women's Health Initiative Insomnia Rating Scale. Psychol Assess 2003; 15: 137–148.

Levine DW, Kaplan RM, Kripke DF, Bowen DJ, Naughton MJ, Shumaker SA . Factor structure and measurement invariance of the Women's Health Initiative Insomnia Rating Scale. Psychol Assess 2003; 15: 123–136.

Buysse DJ, Reynolds III CF, Monk TH, Berman SR, Kupfer DJ . The Pittsburgh Sleep Quality Index: a new instrument for psychiatric practice and research. Psychiatry Res 1989; 28: 193–213.

Murakami N, Hayashida T, Kuroiwa T, Nakahara K, Ida T, Mondal MS et al. Role for central ghrelin in food intake and secretion profile of stomach ghrelin in rats. J Endocrinol 2002; 174: 283–288.

Ariyasu H, Takaya K, Hosoda H, Iwakura H, Ebihara K, Mori K et al. Delayed short-term secretory regulation of ghrelin in obese animals: evidenced by a specific RIA for the active form of ghrelin. Endocrinology 2002; 143: 3341–3350.

Nakai Y, Hosoda H, Nin K, Ooya C, Hayashi H, Akamizu T et al. Plasma levels of active form of ghrelin during oral glucose tolerance test in patients with anorexia nervosa. Eur J Endocrinol 2003; 149: R1–R3.

Irwin ML, Yasui Y, Ulrich CM, Bowen D, Rudolph RE, Schwartz RS et al. Effect of exercise on total and intra-abdominal body fat in postmenopausal women: a randomized controlled trial. JAMA 2003; 289: 323–330.

Foster-Schubert KE, McTiernan A, Frayo RS, Schwartz RS, Rajan KB, Yasui Y et al. Human plasma ghrelin levels increase during a one-year exercise program. J Clin Endocrinol Metab 2005; 90: 820–825.

Kripke DF, Garfinkel L, Wingard DL, Klauber MR, Marler MR . Mortality associated with sleep duration and insomnia. Arch Gen Psychiatry 2002; 59: 131–136.

Locard E, Mamelle N, Billette A, Miginiac M, Munoz F, Rey S . Risk factors of obesity in a five year old population. Parental versus environmental factors. Int J Obes Relat Metab Disord 1992; 16: 721–729.

Sekine M, Yamagami T, Handa K, Saito T, Nanri S, Kawaminami K et al. A dose-response relationship between short sleeping hours and childhood obesity: results of the Toyama Birth Cohort Study. Child Care Health Dev 2002; 28: 163–170.

Shigeta H, Shigeta M, Nakazawa A, Nakamura N, Yoshikawa T . Lifestyle, obesity, and insulin resistance. Diabetes Care 2001; 24: 608.

Vorona RD, Winn MP, Babineau TW, Eng BP, Feldman HR, Ware JC . Overweight and obese patients in a primary care population report less sleep than patients with a normal body mass index. Arch Intern Med 2005; 165: 25–30.

Coates TJ, Killen JD, George J, Marchini E, Silverman S, Thoresen C . Estimating sleep parameters: a multitrait–multimethod analysis. J Consult Clin Psychol 1982; 50: 345–352.

Carskadon MA, Dement WC, Mitler MM, Guilleminault C, Zarcone VP, Spiegel R . Self-reports versus sleep laboratory findings in 122 drug-free subjects with complaints of chronic insomnia. Am J Psychiatry 1976; 133: 1382–1388.

Cummings DE, Purnell JQ, Frayo RS, Schmidova K, Wisse BE, Weigle DS . A preprandial rise in plasma ghrelin levels suggests a role in meal initiation in humans. Diabetes 2001; 50: 1714–1719.
Acknowledgements
Dr Littman was partially funded by a training grant in cancer epidemiology R25 CA94880 through the National Cancer Institute. Dr Tworoger was partially supported by a training grant in cancer epidemiology T32 CA090001 from the National Cancer Institute.
About this article
Cite this article
Littman, A., Vitiello, M., Foster-Schubert, K. et al. Sleep, ghrelin, leptin and changes in body weight during a 1-year moderate-intensity physical activity intervention. Int J Obes 31, 466–475 (2007). https://doi.org/10.1038/sj.ijo.0803438
Received:

Revised:

Accepted:

Published:

Issue Date:

DOI: https://doi.org/10.1038/sj.ijo.0803438
Keywords