Abstract
Objective:
The effects of obesity phenotype on fat metabolism during endurance exercise are unclear. This study aimed to investigate in obese men whether body fat distribution would influence plasma fat availability and oxidation during endurance exercise.
Design:
Fourteen sedentary men (body mass index (BMI)>25 kg/m2) were divided into two groups by visceral fat (VF) area: VF obese (VF-Ob) (n=7, age; 52.0±2.5 (s.e.) years) and abdominal subcutaneous fat obese (SF-Ob) (n=7, age; 57.3±2.8 (s.e.) years). All participants performed stationary cycling exercise for 60 min at 50% of peak oxygen uptake.
Measurements:
Blood and respiratory gas samples were taken for analysis of hormone, metabolite and substrate oxidation in each participant at rest and during exercise.
Results:
There is a significant group × time interaction in the plasma concentration of free fatty acid (FFA) (P<0.05) and glycerol (P<0.05) during the exercise bout. In addition, total plasma concentration of FFA (area under the curve) was 59.2% higher in VF-Ob compared with SF-Ob men during endurance exercise (1.99±0.24 and 1.25±0.13 mEq/l/min, respectively; P<0.05). Total plasma concentration of glycerol (area under the curve) was 102.3% higher in VF-Ob than SF-Ob men during the exercise (69.6±12.5 and 34.4±5.1 mg/dl/min, respectively; P<0.05). However, fat oxidation was not different throughout the exercise between VF-Ob and SF-Ob men (176.5±25.7 and 183.0±12.8 kcal/60 min, respectively).
Conclusion:
During moderate endurance exercise, plasma fat availability may be higher in men with VF obesity compared to men with SF obesity. However, total fat oxidation is similar between obesity phenotype.
Relevant articles
Open Access articles citing this article.
Keisuke Ueda

,

Chiaki Sanbongi

…

Satoshi Fujita

Journal of the International Society of Sports Nutrition Open Access 12 September 2017
Access options
Subscribe to this journal
Receive 12 print issues and online access
$259.00 per year
only $21.58 per issue
Rent or buy this article
Get just this article for as long as you need it
$39.95
Prices may be subject to local taxes which are calculated during checkout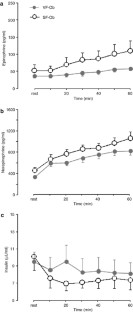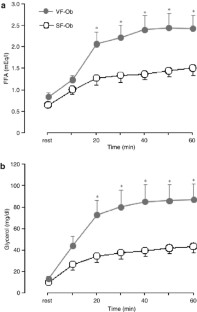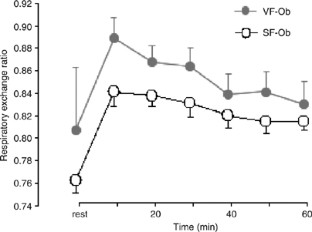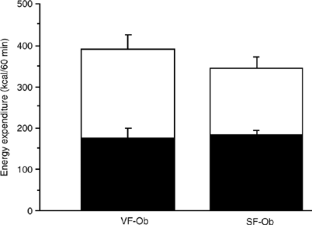 References
Matsuzawa Y, Shimomura I, Nakamura T, Keno Y, Tokunaga K . Pathophysiology and pathogenesis of visceral fat obesity. Diabetes Res Clin Pract 1994; 24: S111–S116.

Kissebah AH, Vydelingum N, Murray R, Evans DJ, Hartz AJ, Kalkhoff RK et al. Relation of body fat distribution to metabolic complications of obesity. J Clin Endocrinol Metab 1982; 54: 254–260.

Lapidus L, Bengtsson C, Larsson B, Pennert K, Rybo E, Sjostrom L . Distribution of adipose tissue and risk of cardiovascular disease and death: a 12 year follow up of participants in the population study of women in Gothenburg, Sweden. BMJ (Clin Res Ed) 1984; 289: 1257–1261.

Larsson B, Svardsudd K, Welin L, Wilhelmsen L, Bjorntorp P, Tibblin G . Abdominal adipose tissue distribution, obesity, and risk of cardiovascular disease and death: 13 year follow up of participants in the study of men born in 1913. BMJ (Clin Res Ed) 1984; 288: 1401–1404.

Fujioka S, Matsuzawa Y, Tokunaga K, Tarui S . Contribution of intra-abdominal fat accumulation to the impairment of glucose and lipid metabolism in human obesity. Metabolism 1987; 36: 54–59.

Rebuffe-Scrive M, Anderson B, Olbe L, Bjorntorp P . Metabolism of adipose tissue in intraabdominal depots in severely obese men and women. Metabolism 1990; 39: 1021–1025.

Richelsen B, Pedersen SB, Moller-Pedersen T, Bak JF . Regional differences in triglyceride breakdown in human adipose tissue: effects of catecholamines, insulin, and prostaglandin E2. Metabolism 1991; 40: 990–996.

Busetto L, Digito M, Dalla Monta P, Carraro R, Enzi G . Omental and epidastric adipose tissue lipolytic activity in human obesity. Effect of abdominal fat distribution and relationship with hyperinsulinemia. Horm Metab Res 1993; 25: 365–371.

Hoffstedt J, Arner P, Hellers G, Lonnqvist F . Variation in adrenergic regulation of lipolysis between omental and subcutaneous adipocytes from obese and non-obese men. J Lipid Res 1997; 38: 795–804.

Iwao N, Oshida Y, Sato Y . Regional difference in lipolysis caused by a beta-adrenergic agonist as determined by the microdialysis technique. Acta Physiol Scand 1997; 161: 481–487.

Bolinder J, Kager L, Ostman J, Arner P . Differences at the receptor and postreceptor levels between human omental and subcutaneous adipose tissue in the action of insulin on lipolysis. Diabetes 1983; 32: 117–123.

Galbo H, Holst JJ, Christensen NJ . Glucagon and plasma catecholamine responses to graded and prolonged exercise in man. J Appl Physiol 1975; 38: 70–76.

Friedmann B, Kindermann W . Energy metabolism and regulatory hormones in women and men during endurance exercise. Eur J Appl Physiol Occup Physiol 1989; 59: 1–9.

Romijn JA, Coyle EF, Sidossis LS, Gastaldelli A, Horowitz JF, Endert E et al. Regulation of endogenous fat and carbohydrate metabolism in relation to exercise intensity and duration. Am J Physiol 1993; 265: E380–E391.

Romijn JA, Coyle EF, Sidossis LS, Rosenblatt J, Wolfe RR . Substrate metabolism during different exercise intensities in endurance-trained women. J Appl Physiol 2000; 88: 1707–1714.

Galster AD, Clutter WE, Cryer PE, Collins JA, Bier DM . Epinephrine plasma thresholds for lipolytic effects in man: measurements of fatty acid transport with [L-13C] palmitic acid. J Clin Invest 1981; 67: 1729–1738.

Wahrenberg H, Engfeldt P, Bolinder J, Arner P . Acute adaptation in adrenergic control of lipolysis during physical exercise in humans. Am J Physiol 1987; 253: E383–E390.

Kanaley JA, Cryer PE, Jensen MD . Fatty acid kinetic responses to exercise. Effects of obesity, body fat distribution, and energy-restricted diet. J Clin Invest 1993; 92: 255–261.

Van Aggel-Leijssen DP, Saris WH, Wagenmakers AJ, Hul GB, van Baak MA . The effect of low-intensity exercise training on fat metabolism of obese women. Obes Res 2001; 9: 86–96.

Gray DS, Fujioka K, Colletti PM, Kim H, Devine uyegkeng T, Pappas T . Magnetic-resonance imaging used for determining fat distribution in obesity and diabetes. Am J Clin Nutr 1991; 54: 623–627.

Van der Kooy K, Leenen R, Seidell JC, Deurenberg P, Droop A, Bakker CJ . Waist-hip ratio is a poor predictor of changes in visceral fat. Am J Clin Nutr 1993; 57: 327–333.

The Examination Committee of Criteria for 'Obesity Disease' in Japan, Japan Society for the Study of Obesity. New Criteria for 'Obesity Disease' in Japan. Circ J 2002; 66: 987–992.

Borkan GA, Gerzof SG, Robbins AH, Hults DE, Silbert CK, Silbert JE . Assessment of abdominal fat content by computed tomography. Am J Clin Nutr 1982; 36: 172–177.

Yoshizumi T, Nakamura T, Yamane M, Islam AH, Menju M, Yamasaki K et al. Abdominal fat: standardized technique for measurement at CT. Radiology 1999; 211: 283–286.

Tanaka K, Takeshim N, Kato T, Niihata S, Ueda K . Critical determinants of endurance performance in middle-aged and elderly endurance runners with heterogeneous training habits. Eur J Appl Physiol Occup Physiol 1990; 59: 443–449.

Peronnet F, Massicotte D . Table of nonprotein respiratory quotient: an update. Can J Sport Sci 1991; 16: 23–29.

Matthews JN, Altman DG, Campbell MJ, Royston P . Analysis of serial measurements in medical research. BMJ 1990; 300: 230–235.

Mittendorfer B, Fields DA, Klein S . Excess body fat in men decreases plasma fatty acid availability and oxidation during endurance exercise. Am J Physiol Endocrinol Metab 2004; 286: E354–E362.

Arner P, Kriegholm E, Engfeldt P, Bolinder J . Adrenergic regulation of lipolysis in situ at rest and during exercise. J Clin Invest 1990; 85: 893–898.

Hellmer J, Marcus C, Sonnenfeld T, Arner P . Mechanisms for differences in lipolysis between human subcutaneous and omental fat cells. J Clin Endocrinol Metab 1992; 75: 15–20.

Mauriege P, Galitzky J, Berlan M, Lafontan M . Heterogeneous distribution of beta and alpha-2 adrenoceptor binding sites in human fat cells from various fat deposits: functional consequences. Eur J Clin Invest 1987; 17: 156–165.

Vikman HL, Savola JM, Raasmaja A, Ohisalo JJ . Alpha 2A-adrenergic regulation of cyclic AMP accumulation and lipolysis in human omental and subcutaneous adipocytes. Int J Obes Relat Metab Disord 1996; 20: 185–189.

Lefebvre AM, Laville M, Vega N, Riou JP, van Gaal L, Auwerx J et al. Depot-specific differences in adipose tissue gene expression in lean and obese subjects. Diabetes 1998; 47: 98–103.

Zierath JR, Livingston JN, Thorne A, Bolinder J, Reynisdottir S, Lonnqvist F et al. Regional difference in insulin inhibition of non-esterified fatty acid release from human adipocytes: relation to insulin receptor phosphorylation and intracellular signalling through the insulin receptor substrate-1 pathway. Diabetologia 1998; 41: 1343–1354.

Ashwell M, Cole TJ, Dixon AK . Obesity: new insight into the anthropometric classification of fat distribution shown by computed tomography. BMJ (Clin Res Ed) 1985; 290: 1692–1694.

Ferland M, Despres JP, Tremblay A, Pinault S, Nadeau A, Moorjani S et al. Assessment of adipose tissue distribution by computed axial tomography in obese women: association with body density and anthropometric measurements. Br J Nutr 1989; 61: 139–148.

Lonnqvist F, Thorne A, Large V, Arner P . Sex differences in visceral fat lipolysis and metabolic complications of obesity. Arterioscler Thromb Vasc Biol 1997; 17: 1472–1480.

Van Loon LJ, Jeukendrup AE, Saris WH, Wagenmakers AJ . Effect of training status on fuel selection during submaximal exercise with glucose ingestion. J Appl Physiol 1999; 87: 1413–1420.

Friedlander AL, Casazza GA, Horning MA, Huie MJ, Piacentini MF, Trimmer JK et al. Training-induced alterations of carbohydrate metabolism in women: women respond differently from men. J Appl Physiol 1998; 85: 1175–1186.

Gollnick PD, Saltin B . Significance of skeletal muscle oxidative enzyme enhancement with endurance training. Clin Physiol 1982; 2: 1–12.

Coyle EF, Coggan AR, Hemmert MK, Lowe RC, Walters TJ . Substrate usage during prolonged exercise following a preexercise meal. J Appl Physiol 1985; 59: 429–433.

Tonkonogi M, Walsh B, Svensson M, Sahlin K . Mitochondrial function and antioxidative defence in human muscle: effects of endurance training and oxidative stress. J Physiol 2000; 528: 379–388.

Hargreaves M, Kiens B, Richter EA . Effect of increased plasma free fatty acid concentrations on muscle metabolism in exercising men. J Appl Physiol 1991; 70: 194–201.

Odland LM, Heigenhauser GJ, Wong D, Hollidge-Horvat MG, Spriet LL . Effects of increased fat availability on fat–carbohydrate interaction during prolonged exercise in men. Am J Physiol 1998; 274: R894–R902.

Ravussin E, Bogardus C, Scheidegger K, LaGrange B, Horton ED, Horton ES . Effect of elevated FFA on carbohydrate and lipid oxidation during prolonged exercise in humans. J Appl Physiol 1986; 60: 893–900.

Swan PD, Howley ET . Substrate utilization during prolonged exercise in obese women differing in body fat distribution. Int J Obes Relat Metab Disord 1993; 18: 263–268.

Kanaley JA, Weatherup-Dentes MM, Alvarado CR, Whitehead G . Substrate oxidation during acute exercise and with exercise training in lean and obese women. Eur Appl Physiol 2001; 85: 68–73.

Deriaz O, Dumont M, Bergeron N, Despres JP, Brochu M, Prud'homme D . Skeletal muscle low attenuation area and maximal fat oxidation rate during submaximal exercise in male obese individuals. Int J Obes Relat Metab Disord 2001; 25: 1579–1584.

Goodpaster BH, Wolfe RR, Kelley DE . Effects of obesity on substrate utilization during exercise. Obes Res 2002; 10: 575–584.

Horowitz JF, Klein S . Oxidation of nonplasma fatty acids during exercise is increased in women with abdominal obesity. J Appl Physiol 2000; 89: 2276–2282.

van Hall G, Gonzalez-Alonso J, Sacchetti M, Saltin B . Skeletal muscle substrate metabolism during exercise: methodological considerations. Proc Nutr Soc 1999; 58: 899–912.

Jeukendrup AE, Wallis GA . Measurement of substrate oxidation during exercise by means of gas exchange measurements. Int J Sports Med 2005; 26 (Suppl 1): S28–S37.
Acknowledgements
This research was supported in part by the twenty-first century COE (Center of Excellence) program (2002–2003 Project: Promotion of Health and Sport Scientific Research), Ministry of Education, Culture, Sports, Science and Technology.
About this article
Cite this article
Numao, S., Hayashi, Y., Katayama, Y. et al. Effects of obesity phenotype on fat metabolism in obese men during endurance exercise. Int J Obes 30, 1189–1196 (2006). https://doi.org/10.1038/sj.ijo.0803282
Received:

Revised:

Accepted:

Published:

Issue Date:

DOI: https://doi.org/10.1038/sj.ijo.0803282
Keywords
visceral fat obesity

fat availability

fat oxidation

computed tomography

catecholamine
This article is cited by
Keisuke Ueda
Chiaki Sanbongi
Satoshi Fujita

Journal of the International Society of Sports Nutrition (2017)

K Ohkawara
S Tanaka
I Tabata

International Journal of Obesity (2007)