Abstract
Objective:
The lower rates of adherence to physical activity commonly found among overweight adults compared to their normal-weight counterparts might be due to the activity being experienced as more laborious and less pleasant, particularly when its intensity is prescribed (or imposed) rather than self-selected.
Design:
Within-subject design, with two 20-min sessions of treadmill exercise, one at self-selected speed and one at imposed speed, 10% higher than the self-selected.
Subjects:
A total of 16 overweight (BMI: 31 kg/m2) and 9 normal-weight (BMI: 22 kg/m2) previously sedentary but healthy women (age: 43 years).
Measurements:
Heart rate, oxygen uptake relative to body weight, and ratings of perceived exertion and pleasure–displeasure were assessed every 5 min.
Results:
The overweight women showed higher oxygen uptake and perceived exertion than the normal-weight women during both sessions. Although the two groups did not differ in ratings of pleasure–displeasure during the session at self-selected speed, only the overweight women showed a significant decline when the speed was imposed.
Conclusions:
Imposing a speed that is just 10% higher than what overweight women would have self-selected led to a significant decline in reported pleasure. Over time, this could diminish the enjoyment of and intrinsic motivation for physical activity, reducing adherence.
Relevant articles
Open Access articles citing this article.
Jarle Berge

,

Jøran Hjelmesæth

…

Tomm Bernklev

Health and Quality of Life Outcomes Open Access 24 February 2022

P. Moghetti

,

S. Balducci

…

E. Rossi

Sport Sciences for Health Open Access 15 October 2020

Tim M. Benning

,

Benedict G. C. Dellaert

&

Theo A. Arentze

BMC Public Health Open Access 30 March 2020
Access options
Subscribe to Journal
Get full journal access for 1 year
$119.00
only $9.92 per issue
All prices are NET prices.
VAT will be added later in the checkout.
Tax calculation will be finalised during checkout.
Buy article
Get time limited or full article access on ReadCube.
$32.00
All prices are NET prices.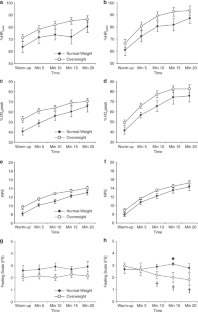 References
National Heart, Lung, and Blood Institute. Clinical guidelines on the identification, evaluation, and treatment of overweight and obesity in adults: the evidence report. National Institutes of Health: Rockville, MD, 1998.

Centers for Disease Control and Prevention. Prevalence of leisure-time physical activity among overweight adults: United States, 1998. MMWR 2000; 49: 326–330.

Tryon WW, Goldberg JL, Morrison DF . Activity decreases as percentage overweight increases. Int J Obes Relat Metab Disord 1992; 16: 591–595.

Bautista-Castaño I, Molina-Cabrillana J, Montoya-Alonso JA, Serra-Majem L . Variables predictive of adherence to diet and physical activity recommendations in the treatment of obesity and overweight, in a group of Spanish subjects. Int J Obes Relat Metab Disord 2004; 28: 697–705.

Dishman RK, Gettman LR . Psychobiologic influences on exercise adherence. J Sport Psychol 1980; 2: 295–310.

Epstein LH, Koeske R, Wing RR . Adherence to exercise in obese children. J Cardiac Rehabil 1984; 4: 185–195.

King AC, Kiernan M, Oman RF, Kraemer HC, Hull M, Ahn D . Can we identify who will adhere to long-term physical activity? Signal detection methodology as a potential aid to clinical decision making. Health Psychol 1997; 16: 380–389.

Kriska AM, Bayles C, Cauley JA, LaPorte RE, Black Sandler R, Pambianco G . A randomized exercise trial in older women: increased activity over two years and the factors associated with compliance. Med Sci Sports Exerc 1986; 18: 557–562.

Desharnais R, Bouillon J, Godin G . Self-efficacy and outcome expectations as determinants of exercise adherence. Psychol Rep 1986; 59: 1155–1159.

Sears SR, Stanton AL . Expectancy-value constructs and expectancy violation as predictors of exercise adherence in previously sedentary women. Health Psychol 2001; 20: 326–333.

Wing RR . Physical activity in the treatment of the adulthood overweight and obesity: current evidence and research issues. Med Sci Sports Exerc 1999; 31 (Suppl.): S547–S552.

Schoeller DA, Shay K, Kushner RF . How much physical activity is needed to minimize weight gain in previously obese women? Am J Clin Nutr 1997; 66: 551–556.

Institute of Medicine of the National Academies. Dietary reference intakes for energy, carbohydrate, fiber, fat, fatty acids, cholesterol, protein, and amino acids. National Academies Press: Washington, DC, 2002.

Saris WHM, Blair SN, van Baak MA, Eaton SB, Davies PSW, Di Pietro L et al. How much physical activity is enough to prevent unhealthy weight gain? Outcome of the IASO 1st stock conference and consensus statement. Obes Rev 2003; 4: 101–114.

American College of Sports Medicine. Appropriate intervention strategies for weight loss and prevention of weight regain for adults. Med Sci Sports Exerc 2001; 33: 2145–2156.

Blair SN, LaMonte MJ, Nichaman MZ . The evolution of physical activity recommendations: how much is enough? Am J Clin Nutr 2004; 79 (Suppl.): 913S–920S.

Fogelholm M, Kukkonen-Harjula K, Nenonen A, Pasanen M . Effects of walking training on weight maintenance after a very-low-energy diet in premenopausal obese women. Arch Intern Med 2000; 160: 2177–2184.

King AC, Castro C, Wilcox S, Eyler AA, Sallis JF, Brownson RC . Personal and environmental factors associated with physical inactivity among different racial-ethnic groups of U.S. middle-aged and older-aged women. Health Psychol 2000; 19: 354–364.

Cox KL, Burke V, Gorely TJ, Beilin LJ, Puddey IB . Controlled comparison of retention and adherence in home- vs center-initiated exercise interventions in women ages 40–65 years: The S.W.E.A.T. Study (Sedentary Women Exercise Adherence Trial). Prev Med 2003; 36: 17–29.

Lee JY, Jensen BE, Oberman A, Fletcher GF, Fletcher BJ, Raczynski JM . Adherence in the training levels comparison trial. Med Sci Sports Exerc 1996; 28: 47–52.

Perri MG, Anton SD, Durning PE, Ketterson TU, Sydeman SJ, Berlant NE et al. Adherence to exercise prescriptions: effects of prescribing moderate versus higher levels of intensity and frequency. Health Psychol 2002; 21: 452–458.

Jakicic JM, Marcus BH, Gallagher KI, Napolitano M, Lang W . Effect of exercise duration and intensity on weight loss in overweight, sedentary women: a randomized trial. JAMA 2003; 290: 1323–1330.

Slentz CA, Duscha BD, Johnson JL, Ketchum K, Aiken LB, Samsa GP et al. Effects of the amount of exercise on body weight, body composition, and measures of central obesity: STRRIDE – a randomized controlled study. Arch Intern Med 2004; 164: 31–39.

Hootman JM, Macera CA, Ainsworth BE, Martin M, Addy CL, Blair SN . Association among physical activity level, cardiorespiratory fitness, and risk of muculoskeletal injury. Am J Epidemiol 2001; 154: 251–258.

Hootman JM, Macera CA, Ainsworth BE, Addy CL, Martin M, Blair SN . Epidemiology of musculoskeltal injuries among sedentary and physically active adults. Med Sci Sports Exerc 2002; 34: 838–844.

Jeffery RW, Wing RR, Sherwood NE, Tate DF . Physical activity and weight loss: does prescribing higher physical activity goals improve outcome? Am J Clin Nutr 2003; 78: 684–689.

Emmons RA, Diener E . A goal-affect analysis of everyday situational choices. J Res Pers 1986; 20: 309–326.

Ekkekakis P, Petruzzello SJ . Acute aerobic exercise and affect: current status, problems and prospects regarding dose-response. Sports Med 1999; 28: 337–374.

Donnelly JE, Jacobsen DJ, Jakicic JM, Whatley J, Gunderson S, Gillespie WJ et al. Estimation of peak oxygen consumption from a sub-maximal half mile walk in obese females. Int J Obes Relat Metab Disord 1992; 16: 585–589.

Mattsson E, Larsson UE, Rossner S . Is walking for exercise too exhausting for obese women? Int J Obes Relat Metab Disord 1997; 21: 380–386.

Hulens M, Vansant G, Claessens AL, Lysens R, Muls E . Predictors of 6-minute walk test results in lean, obese and morbidly obese women. Scand J Med Sci Sports 2003; 13: 98–105.

Marinov B, Kostianev S, Turnovska T . Ventilatory efficiency and rate of perceived exertion in obese and non-obese children performing standardized exercise. Clin Physiol Funct Imaging 2002; 22: 254–260.

Perri MG, Martin AD, Leermakers EA, Sears SF, Notelovitz M . Effects of group- versus home-based exercise in the treatment of obesity. J Consult Clin Psychol 1997; 65: 278–285.

Weyer C, Linkeschowa R, Heise T, Giesen HT, Spraul M . Implications of the traditional and the new ACSM physical activity recommendations on weight reduction in dietary treated obese subjects. Int J Obes Relat Metab Disord 1998; 22: 1071–1078.

Blair SN, Haskell WL, Ho P, Paffenbarger Jr RS, Vranizan KM, Farquhar JW et al. Assessment of habitual physical activity by a seven-day recall in a community survey and controlled experiments. Am J Epidemiol 1985; 122: 794–804.

Pate RR, Pratt M, Blair SN, Haskell WL, Macera CA, Bouchard C et al. Physical activity and public health. A recommendation from the Centers for Disease Control and Prevention and the American College of Sports Medicine. JAMA 1995; 273: 402–407.

American College of Sports Medicine. ACSM's guidelines for exercise testing and prescription, 6th edn. Lippincott, Williams, & Wilkins: Philadelphia, PA, 2000.

United States Department of Health and Human Services. Physical activity and health: a report of the Surgeon General. Department of Health and Human Services, Centers for Disease Control and Prevention. National Center for Chronic Disease Prevention and Health Promotion: Atlanta, GA, 1996.

Thomas S, Reading J, Shephard RJ . Revision of the Physical Activity Readiness Questionnaire (PAR-Q). Can J Sport Sci 1992; 17: 338–345.

Léger L, Thivierge M . Heart rate monitors: validity, stability, and functionality. Physician Sportsmed 1988; 16 (5): 143–151.

Seaward BL, Sleamaker RH, McAuliffe T, Clapp III JF . The precision and accuracy of a portable heart rate monitor. Biomed Instr Technol 1990; 24: 37–41.

Treiber FA, Musante L, Hartdagan S, Davis H, Levy M, Strong WB . Validation of a heart rate monitor with children in laboratory and field settings. Med Sci Sports Exerc 1989; 21: 338–342.

Bassett Jr DR, Howley ET, Thompson DL, King GA, Strath SJ, McLaughlin JE et al. Validity of inspiratory and expiratory methods of measuring gas exchange with a computerized system. J Appl Physiol 2001; 91: 218–224.

Hardy CJ, Rejeski WJ . Not what, but how one feels: the measurement of affect during exercise. J Sport Exerc Psychol 1989; 11: 304–317.

Borg G . Borg's perceived exertion and pain scales. Human Kinetics: Champaign, IL, 1998.

Chen MJ, Fan X, Moe ST . Criterion-related validity of the Borg ratings of perceived exertion scale in healthy individuals: a meta-analysis. J Sports Sci 2002; 20: 873–899.

Dishman RK, Farquhar RP, Cureton KJ . Responses to preferred intensities of exertion in men differing in activity levels. Med Sci Sports Exerc 1994; 26: 783–790.

Lind E, Joens-Matre RR, Ekkekakis P . What intensity of physical activity do previously sedentary middle-aged women select? Evidence of a coherent pattern from physiological, perceptual, and affective markers. Prev Med 2005; 40: 407–419.

Acevedo EO, Kraemer RR, Haltom RW, Tryniecki JL . Perceptual responses proximal to the onset of blood lactate accumulation. J Sports Med Phys Fitness 2003; 43: 267–273.

Bixby WR, Spalding TW, Hatfield BD . Temporal dynamics and dimensional specificity of the affective response to exercise of varying intensity: differing pathways to a common outcome. J Sport Exerc Psychol 2001; 23: 171–190.

Ekkekakis P, Hall EE, Petruzzello SJ . Practical markers of the transition from aerobic to anaerobic metabolism during exercise: rationale and a case for affect-base exercise prescription. Prev Med 2004; 38: 149–159.

Hall EE, Ekkekakis P, Petruzzello SJ . The affective beneficence of vigorous exercise revisited. Br J Health Psychol 2002; 7: 47–66.

Martin KA, Rejeski WJ, Leary MR, McAuley E, Bane S . Is the Social Physique Anxiety Scale really multidimensional? Conceptual and statistical arguments for a unidimensional model. J Sport Exerc Psychol 1997; 19: 360–368.

Anderson GS . Human morphology and temperature regulation. Int J Biometerorol 1999; 43: 99–109.

Bar-Or O, Lundegren HM, Buskirk ER . Heat tolerance of exercising obese and lean women. J Appl Physiol 1969; 26: 403–409.

Haymes EM, McCormick RJ, Buskirk ER . Heat tolerance of exercising lean and obese prepubertal boys. J Appl Physiol 1975; 39: 457–461.

Selkirk GA, McLellan TM . Influence of aerobic fitness and body fatness on tolerance to uncompensable heat stress. J Appl Physiol 2001; 91: 2055–2063.

Maw GJ, Boutcher SH, Taylor NAS . Ratings of perceived exertion and affect in hot and cool environments. Eur J Appl Physiol 1993; 67: 174–179.

Hulens M, Vansant G, Lysens R, Claessens AL, Muls E . Exercise capacity in lean versus obese women. Scand J Med Sci Sports 2001; 11: 305–309.

Ryan RM, Deci EL . Self-determination theory and the facilitation of intrinsic motivation, social development, and well-being. Am Psychol 2000; 55: 68–78.

Ryan RM, Frederick CM, Lepes D, Rubio N, Sheldon KM . Intrinsic motivation and exercise adherence. Int J Sport Psychol 1997; 28: 335–354.

Caserta MS, Gillett PA . Older women's feelings about exercise and their adherence to an aerobic regimen over time. Gerontologist 1998; 38: 602–609.

Ajzen I . Nature and operation of attitudes. Ann Rev Psychol 2001; 52: 27–58.

Godin G . Importance of the emotional aspect of attitude to predict intention. Psychol Rep 1987; 61: 719–723.

Godin G, Desharnais R, Valois P, Bradet R . Combining behavioral and motivational dimensions to identify and characterize the stages in the process of adherence to exercise. Psychol Health 1995; 10: 333–344.

Biddle SJH, Fox KR . Motivation for physical activity and weight management. Int J Obes Relat Metab Disord 1998; 22 (Suppl. 2): S39–S47.

Brownell KD . Exercise and obesity treatment: psychological aspects. Int J Obes Relat Metab Disord 1995; 19 (Suppl. 4): S122–S125.

Castellani W, Ianni L, Ricca V, Mannucci E, Rotella CM . Adherence to structured physical exercise in overweight and obese subjects: a review of psychological models. Eating Weight Disord 2003; 8: 1–11.
Acknowledgements
This research study was supported by a Special Research Initiation Grant (SPRIG) from Iowa State University (Office of the Vice Provost for Research and Advanced Studies) and a Behavioral Science Track Award for Rapid Transition (B/START) from the National Institute of Mental Health (R03 MH069724).
About this article
Cite this article
Ekkekakis, P., Lind, E. Exercise does not feel the same when you are overweight: the impact of self-selected and imposed intensity on affect and exertion. Int J Obes 30, 652–660 (2006). https://doi.org/10.1038/sj.ijo.0803052
Received:

Revised:

Accepted:

Published:

Issue Date:

DOI: https://doi.org/10.1038/sj.ijo.0803052
Keywords
exercise prescription

self-determination theory

theory of planned behavior