Abstract
BACKGROUND:
The prevalence of overweight and obesity has increased among children and adolescents, as well as among adults, and television viewing has been suggested as one cause. Playing digital games (video, computer and console games), or using computer may be other sedentary behaviors related to the development of overweight and obesity.
OBJECTIVE:
To study the relationships of times spent on viewing television, playing digital games and using computer to overweight among Finnish adolescents.
DESIGN:
Mailed cross-sectional survey.
SUBJECTS:
Nationally representative samples of 14-, 16-, and 18-y-old (N=6515, response rate 70%) in 2001.
METHODS:
Overweight and obesity were assessed by body mass index (BMI). The respondents reported times spent daily on viewing television, playing digital games (video, computer and console games) and using computer (for e-mail, writing and surfing). Data on timing of biological maturation, intensity of weekly physical activity and family's socio economic status were taken into account in the statistical analyses.
RESULTS:
Increased times spent on viewing television and using computer were associated with increased prevalence of overweight (obesity inclusive) among girls: compared to girls viewing television <1 h daily, the adjusted odds ratio (OR) for being overweight was 1.4 when spending 1–3 h, and 2.0 when spending ≥4 h daily on viewing television. In girls using computer ≥1 h daily, the OR for being overweight was 1.5 compared to girls using computer <1 h daily. The results were similar in boys, although not statistically significant. Time spent on playing digital games was not associated with overweight.
CONCLUSION:
Overweight was associated with using information and communication technology (ICT), but only with certain forms of ICT. Increased use of ICT may be one factor explaining the increased prevalence of overweight and obesity at the population level, at least in girls. Playing digital games was not related to overweight, perhaps by virtue of game playing being less sedentary or related to a different lifestyle than viewing television and using computer.
This is a preview of subscription content
Access options
Subscribe to Journal
Get full journal access for 1 year
$119.00
only $9.92 per issue
All prices are NET prices.
VAT will be added later in the checkout.
Tax calculation will be finalised during checkout.
Buy article
Get time limited or full article access on ReadCube.
$32.00
All prices are NET prices.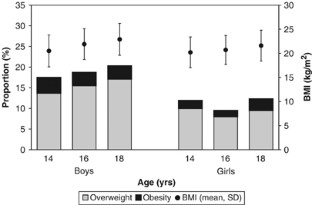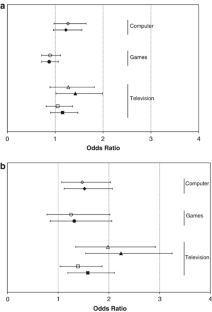 References
Dietz WH . Critical periods in childhood for the development of obesity. Am J Clin Nutr 1994; 59: 955–959.

Reilly JJ, Methven E, McDowell ZC, Hacking B, Alexander D, Stewart L, Kelnar CJ . Health consequences of obesity. Arch Dis Child 2003; 88: 748–752.

Laitinen J, Power C, Jarvelin M . Family social class, maternal body mass index, childhood body mass index, and age at menarche as predictors of adult obesity. Am J Clin Nutr 2001; 74: 287–294.

Must A, Strauss RS . Risks and consequences of childhood and adolescent obesity. Int J Obes Relat Metab Disord 1999; 23: S2–S11.

Must A, Anderson SE . Effects of obesity on morbidity in children and adolescents. Nutr Clin Care 2003; 6: 4–12.

Rosenbaum M, Leibel RL, Hirsch J . Obesity. N Engl J Med 1997; 337: 396–407.

Livingstone B . Epidemiology of childhood obesity in Europe. Eur J Pediatr 2000; 159: S14–S34.

Lobstein T, Baur L, Uauy R, IASO International Obesity TaskForce. Obesity in children and young people: a crisis in public health. Obes Rev 2004; 5: S4–S104.

Niemi I, Pääkkönen H . Time use Changes in Finland Through the 1990s. Statistics Finland: Helsinki; 2001.

Subrahmanyam K, Kraut RE, Greenfield PM, Gross EF . The impact of home computer use on children's activities and development. Future Child 2000; 10: 123–144.

Dietz WH, Gortmaker SL . Do we fatten our children at the television set? Obesity and television viewing in children and adolescents. Pediatrics 1985; 75: 807–812.

Andersen RE, Crespo CJ, Bartlett SJ, Cheskin LJ, Pratt M . Relationship of physical activity and television watching with body weight and level of fatness among children: results from the Third National Health and Nutrition Examination Survey. JAMA 1998; 279: 938–942.

Eisenmann JC, Bartee RT, Wang MQ . Physical activity, TV viewing, and weight in US youth: 1999 Youth Risk Behavior Survey. Obes Res 2002; 10: 379–385.

Gortmaker SL, Must A, Sobol AM, Peterson K, Colditz GA, Dietz WH . Television viewing as a cause of increasing obesity among children in the United States, 1986–1990. Arch Pediatr Adolesc Med 1996; 150: 356–362.

Hernandez B, Gortmaker SL, Colditz GA, Peterson KE, Laird NM, Parra-Cabrera S . Association of obesity with physical activity, television programs and other forms of video viewing among children in Mexico city. Int J Obes Relat Metab Disord 1999; 23: 845–854.

Hanley AJ, Harris SB, Gittelsohn J, Wolever TM, Saksvig B, Zinman B . Overweight among children and adolescents in a Native Canadian community: prevalence and associated factors. Am J Clin Nutr 2000; 71: 693–700.

Kaur H, Choi WS, Mayo MS, Harris KJ . Duration of television watching is associated with increased body mass index. J Pediatr 2003; 143: 506–511.

Tucker LA . The relationship of television viewing to physical fitness and obesity. Adolescence 1986; 21: 797–806.

Van den Bulck J . Is television bad for your health? Behavior and body image of the adolescent 'couch potato'. J Youth Adolesc 2000; 29: 273–288.

Robinson TN, Hammer LD, Killen JD, Kraemer HC, Wilson DM, Hayward C, Taylor CB . Does television viewing increase obesity and reduce physical activity? Cross-sectional and longitudinal analyses among adolescent girls. Pediatrics 1993; 91: 273–280.

Robinson TN, Killen JD . Ethnic and gender differences in the relationships between television viewing and obesity, physical activity, and dietary fat intake. J Health Educ 1995; 26: S91–S98.

McMurray RG, Harrell JS, Deng S, Bradley CB, Cox LM, Bangdiwala SI . The influence of physical activity, socioeconomic status, and ethnicity on the weight status of adolescents. Obes Res 2000; 8: 130–139.

Ma GS, Li YP, Hu XQ, Ma WJ, Wu J . Effect of television viewing on pediatric obesity. Biomed Environ Sci 2002; 15: 291–297.

Lowry R, Wechsler H, Galuska DA, Fulton JE, Kann L . Television viewing and its associations with overweight, sedentary lifestyle, and insufficient consumption of fruits and vegetables among US high school students: differences by race, ethnicity, and gender. J Sch Health 2002; 72: 413–421.

Crespo CJ, Smit E, Troiano RP, Bartlett SJ, Macera CA, Andersen RE . Television watching, energy intake, and obesity in US children: results from the third National Health and Nutrition Examination Survey, 1988–1994. Arch Pediatr Adolesc Med 2001; 155: 360–365.

Dowda M, Ainsworth BE, Addy CL, Saunders R, Riner W . Environmental influences, physical activity, and weight status in 8- to 16-year-olds. Arch Pediatr Adolesc Med 2001; 155: 711–717.

Gordon-Larsen P, Adair LS, Popkin BM . Ethnic differences in physical activity and inactivity patterns and overweight status. Obes Res 2002; 10: 141–149.

Berkey CS, Rockett HR, Field AE, Gillman MW, Frazier AL, Camargo Jr CA, Colditz GA . Activity, dietary intake, and weight changes in a longitudinal study of preadolescent and adolescent boys and girls. Pediatrics 2000; 105: E56.

O'Loughlin J, Gray-Donald K, Paradis G, Meshefedjian G . One- and two-year predictors of excess weight gain among elementary schoolchildren in multiethnic, low-income, inner-city neighborhoods. Am J Epidemiol 2000; 152: 739–746.

Cole TJ, Bellizzi MC, Flegal KM, Dietz WH . Establishing a standard definition for child overweight and obesity worldwide: international survey. BMJ 2000; 320: 1240–1243.

National Center for Health Statistics. National Health and Nutrition Examination Survey. CDC Growth Charts: United States. Percentile data files with LMS values; BMI-for-age. 2004. Retrieved from http://www.cdc.gov/nchs/data/nhanes/growthcharts/bmiage.txt.

Fleiss JL . Statistical Methods for Rates and Proportions, 2nd edn. John Wiley & Sons: New York; 1981.

Kautiainen S, Rimpela A, Vikat A, Virtanen SM . Secular trends in overweight and obesity among Finnish adolescents in 1977–1999. Int J Obes Relat Metab Disord 2002; 26: 544–552.

Koivusilta L . Health-related selection into educational tracks. A mechanism producing socio-economic health differences. Annales Universitatis Turkuensis. Ser. D. Tom. 394. Medica Odontologica. Painosalama Oy: Turku; 2000.

Lintonen T . Drinking patterns among Finnish fourteen year-olds from 1977 to 1999. Acta Universitatis Tamperensis, Vol. 832. Tampere: Tampere University Press; 2001.

Krassas GE, Tzotzas T, Tsametis C, Konstantinidis T . Determinants of body mass index in Greek children and adolescents. J Pediatr Endocrinol Metab 2001; 14: 1327–1333.

Tanasescu M, Ferris AM, Himmelgreen DA, Rodriguez N, Perez-Escamilla R . Biobehavioral factors are associated with obesity in Puerto Rican children. J Nutr 2000; 130: 1734–1742.

Gortmaker SL, Peterson K, Wiecha J, Sobol AM, Dixit S, Fox MK, Laird N . Reducing obesity via a school-based interdisciplinary intervention among youth: Planet Health. Arch Pediatr Adolesc Med 1999; 153: 409–418.

Stettler N, Signer TM, Suter PM . Electronic games and environmental factors associated with childhood obesity in Switzerland. Obes Res 2004; 12: 896–903.

Giammattei J, Blix G, Marshak HH, Wollitzer AO, Pettitt DJ . Television watching and soft drink consumption: associations with obesity in 11- to 13-year-old schoolchildren. Arch Pediatr Adolesc Med 2003; 157: 882–886.

Wake M, Hesketh K, Waters E . Television, computer use and body mass index in Australian primary school children. J Paediatr Child Health 2003; 39: 130–134.

Vandewater EA, Shim M, Caplovitz AG . Linking obesity and activity level with children's television and video game use. J Adolesc 2004; 27: 71–85.

Hammond KM, Wyllie A, Casswell S . The extent and nature of televised food advertising to New Zealand children and adolescents. Aust N Z J Public Health 1999; 23: 49–55.

Coon KA, Tucker KL . Television and children's consumption patterns. A review of the literature. Minerva Pediatr 2002; 54: 423–436.

Dietz WH . Television, obesity, and eating disorders. Adolesc Med 1993; 4: 543–549.

Janz KF, Mahoney LT . Maturation, gender, and video game playing are related to physical activity intensity in adolescents: The Muscatine Study. Pediatr Exerc Sci 1997; 9: 353–363.

Klesges RC, Shelton ML, Klesges LM . Effects of television on metabolic rate: potential implications for childhood obesity. Pediatrics 1993; 91: 281–286.

Dietz WH, Bandini LG, Morelli JA, Peers KF, Ching PL . Effect of sedentary activities on resting metabolic rate. Am J Clin Nutr 1994; 59: 556–559.

Segal KR, Dietz WH . Physiologic responses to playing a video game. Am J Dis Child 1991; 145: 1034–1036.

Ridley K, Olds T . Video center games: energy cost and children's behaviours. Pediatr Exerc Sci 2001; 13: 413–421.

Ho SM, Lee TM . Computer usage and its relationship with adolescent lifestyle in Hong Kong. J Adolesc Health 2001; 29: 258–266.

Crawley HF, Portides G . Self-reported versus measured height, weight and body mass index amongst 16–17 year old British teenagers. Int J Obes Relat Metab Disord 1995; 19: 579–584.

Giacchi M, Mattei R, Rossi S . Correction of the self-reported BMI in a teenage population. Int J Obes Relat Metab Disord 1998; 22: 673–677.

Stewart AL . The reliability and validity of self-reported weight and height. J Chronic Dis 1982; 35: 295–309.

Nordic Council of Ministers, Statistics Denmark, Statistics Finland, Statistics Iceland, Statistics Norway, Statistics Sweden. Nordic Information Society Statistics 2002. Yliopistopaino: Helsinki; 2002. Retrieved from http://www.tilastokeskus.fi/tk/yr/tietoyhteiskunta/Nordic_iss_02.pdf.

Wartella EA, Lee JH, Caplovitz AG . Children and Interactive Media—Research Compendium Update. Markle Foundation; 2002. Retrieved from http://www.markle.org/downloadable_assets/cimcomp_update.pdf.

Borzekowski DLG, Rickert VI . Adolescents, the Internet, and health. Issues of access and content. J Appl Dev Psychol 2001; 22: 49–59.

Robinson TN . Does television cause childhood obesity? JAMA 1998; 279: 959–960.

Dietz WH . The role of lifestyle in health: the epidemiology and consequences of inactivity. Proc Nutr Soc 1996; 55: 829–840.
Acknowledgements
We thank all the participants of the Adolescent Health and Lifestyle Survey. Financial support for the study was obtained from the Health Promotion Research Programme of the Academy of Finland, the Ministry of Social Affairs and Health, the Ministry of Education through the Doctoral Programs in Public Health, The Medical Research Fund of Tampere University Hospital, and the Juho Vainio Foundation, Finland. We express our gratitude to Mr Lasse Pere for data management, and to Mrs Marja Vajaranta for revising the language.
About this article
Cite this article
Kautiainen, S., Koivusilta, L., Lintonen, T. et al. Use of information and communication technology and prevalence of overweight and obesity among adolescents. Int J Obes 29, 925–933 (2005). https://doi.org/10.1038/sj.ijo.0802994
Received:

Revised:

Accepted:

Published:

Issue Date:

DOI: https://doi.org/10.1038/sj.ijo.0802994
Keywords
overweight

television

digital games

computer

adolescence