Abstract
Following the withdrawal of ephedrine from the dietary supplement marketplace sales of products containing Citrus aurantium (CA) (bitter orange) for weight loss are believed to have increased dramatically. CA contains a number of constituents speculated to lead to weight loss, of which the most frequently cited constituent is synephrine. Concerns have been raised about the safety of products containing synephrine. To develop an adequate basis for clinical and public health recommendations, it is necessary to understand the nature of the synephrine alkaloids in CA. There are six possible isomers of synephrine (para, meta, ortho; and for each a d or l form). Some authors have stated that CA contains only p-synephrine, whereas other authors have stated that CA contains m-synephrine. This is an important distinction because the two molecules have different pharmacologic properties, which may differentially affect safety and efficacy. We are unable to identify published data that explicitly show whether CA contains p-synephrine, m-synephrine, or both. In this brief report, we show that at least one product purportedly containing synephrine alkaloids from CA contains both p-synephrine and m-synephrine. We believe this justifies further investigation into which synephrine alkaloids are present in CA and products purportedly containing synephrine alkaloids from CA and the relative quantities of each of the different isomers.
This is a preview of subscription content
Access options
Subscribe to Journal
Get full journal access for 1 year
$119.00
only $9.92 per issue
All prices are NET prices.
VAT will be added later in the checkout.
Tax calculation will be finalised during checkout.
Buy article
Get time limited or full article access on ReadCube.
$32.00
All prices are NET prices.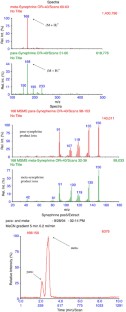 References
Niemann RA, Gay ML . Determination of ephedrine alkaloids and synephrine in dietary supplements by column-switching cation exchange high-performance liquid chromatography with scanning-wavelength ultraviolet and fluorescence detection. J Agric Food Chem 2003; 51: 5630–5638.

Schumer CE, Sweeney JE . New Us Ephedra Ban Doesn't Go Far Enough — Ephedra Copycats Dodge Ban And 15 Ephedra Clones Already On Sale In NY- Press Release and survey results from Senator Charles E. Schumer, 2004, http://www.senate.gov/~schumer/SchumerWebsite/pressroompress_releases/PR02373.html.

Schumer CE . 2004, http://schumer.senate.gov/SchumerWebsite/pressroom/press_releases/PR02363.ht.

Penzak SR, Jann MW, Cold JA, YY Hon HD, Desai BJ Gurley . Seville orange juice: synephrine content and cardiovascular effects in normotensive adults. J Clin Pharmacol 2001; 41: 1059–1063.

Crawford LM . 2004 Speech before American Society for Pharmacology and Experimental Therapeutics and American Society for Nutritional Sciences. Remarks by Lester M. Crawford, D.V.M., Ph.D. Acting Commissioner of the FDA for Public Affairs Workshop, April 19, 2004. http://www.fda.gov/oc/speeches/2004/aspet0419.html.

Preuss HG, DiFerdinando D, Bagchi M, Bagchi D . Citrus aurantium as a thermogenic, weight-reduction replacement for ephedra: an overview. J Med 2002; 33: 247–264.

National Toxicology Program. 2004 Bitter Orange (Citrus aurantium var. amara) Extracts and Constituents (±)-p-Synephrine [CAS No. 94-07-5] and (±)-p-Octopamine [CAS No. 104-14-3]. Review of Toxicological Literature. Contract No. N01-ES-35515. June 2004. pp 1–73.

Jordan S, Murty M, Pilon K . Products containing bitter orange or synephrine: suspected cardiovascular adverse reactions. CMAJ 2004; 171: 993–994.

James MI, Midgley JM, Williams CM . The metabolism and biosynthesis of (±)-o-octopamine and (±)-o-synephrine in the rat. J Pharm Pharmacol 1983; 35: 559–565.

Pellati F, Benvenuti S, Melegari M, Firenzuoli F . Determination of adrenergic agonists from extracts and herbal products of Citrus aurantium L. var. amara by LC. J Pharm Biomed 2002; 29: 1113–1119.

Starke K . A history of Nauyn-Schmiedeberg's archives of pharmacology. Arch Pharmacol 1998; 358: 1–109.

Krawczyk J, Rutkowski A . Toxicity, Cough and Cold Preparation. eMedicine 2004, http://www.emedicine.com/ped/topic2717.htm.

Penzak SR, Jann MW, Cold JA, Hon YY, Desai HD, Gurley BJ . Seville orange juice: synephrine content and cardiovascular effects in normotensive adults. J Clin Pharmacol 2001; 41: 1059–1063.

Fugh-Berman A, Myers A . Citrus aurantium, an ingredient of dietary supplements marketed for weight loss: current status of clinical and basic research. Exp Biol Med (Maywood) 2004; 229: 698–704.

Ibrahim KE, Couch MW, Williams CM, Budd MB, Yost RA, Midgley JM . Quantitative measurement of octopamines and synephrines in urine using capillary column gas chromatography negative ion chemical ionization mass spectrometry. Anal Chem 1984; 56: 1695–1699.

Evans PD, Thonoor CM, Midgley JM . Activities of octopamine and synephrine stereoisomers on octopaminergic receptor subtypes in locust skeletal muscle. J Pharm Pharmacol 1988; 40: 855–861.
Acknowledgements
This work was supported by NIH P30DK056336. Support for the purchase and installation of the Sciex API III mass spectrometer used was provided by a Shared Instrumentation grant (S10 RR06487) from the National Center for Research Resources and the UAB Office of the Provost. Ongoing support for the operation of the mass spectrometry facility has been provided by a grant (P30 CA13148) from the National Cancer Institute to the UAB Comprehensive Cancer Center (Al Lobuglio, PI).
Additional information
Editors' Note: The article below is a technical report of the constituents of bitter orange, a commonly used over-the-counter (OTC) preparation for weight loss. The US Food and Drug Administration has called for the scientific community to assess existing and future OTC weight loss preparations to determine if they contain constituents that might produce adverse events in susceptible individuals. Allison and colleagues have determined that one such preparation of bitter orange contains both p-synephrine and m-synephrine. Their report confirms that it is not possible to rely on ingredient labels of OTC weight reduction preparations, and additional studies should be performed to determine if ingredients that may cause harm are present.
About this article
Cite this article
Allison, D., Cutter, G., Poehlman, E. et al. Exactly which synephrine alkaloids does Citrus aurantium (bitter orange) contain?. Int J Obes 29, 443–446 (2005). https://doi.org/10.1038/sj.ijo.0802879
Received:

Accepted:

Published:

Issue Date:

DOI: https://doi.org/10.1038/sj.ijo.0802879
Keywords
Citrus aurantium

synephrine alkaloids

phenylephrine

bitter orange