Abstract
BACKGROUND:
Obesity is associated with insulin resistance and premature atherosclerosis. The human adipose tissue produce several adipokines including monocyte chemoattractant protein (MCP)-1, associated with cardiovascular disease and found to be involved in the pathogenesis of atherosclerosis in vitro.
OBJECTIVE:
(1) To compare mRNA levels of MCP-1, leptin and a macrophage-specific marker (CD68) in isolated adipocytes vs stromal–vascular (SV) cells, (2) to compare mRNA levels of MCP-1 in human adipose tissue to circulating MCP-1 and adiposity (eg BMI: kg/m2) and (3) investigate the effect of weight loss in obese subjects on circulating MCP-1 and leptin.
RESULTS:
(1) MCP-1 and CD68 mRNA levels in isolated adipocytes vs SV cells were 17% (P<0.01) and ∼2% (P<0.001), respectively. Leptin mRNA levels in SV cells were ∼1% of that in isolated adipocytes (P<0.01). (2) MCP-1 mRNA levels correlated with circulating MCP-1 (P<0.05) and BMI (P<0.05). (3) A 12% weight loss (P<0.001) was associated with a 25% decrease in insulin levels (P<0.01). Circulating MCP-1 and leptin decreased by 20% (P<0.001) and by 24% (P<0.001), respectively.
DISCUSSION:
The findings demonstrate that MCP-1 is produced in isolated human adipocytes. In addition, the findings suggest that MCP-1 may be involved in obesity-related health complications and support the hypothesis that weight loss is beneficial by improving the low-grade inflammation observed in obesity.
Relevant articles
Open Access articles citing this article.
Kathrine Stenberg

,

Line Gensby

…

Charlotte Reinhard Bjørnvad

Acta Veterinaria Scandinavica Open Access 05 September 2022

José Antônio Fagundes Assumpção

,

Gabriel Pasquarelli-do-Nascimento

…

Kelly Grace Magalhães

Journal of Biomedical Science Open Access 14 February 2022

Chayanne Silva Ferreira

,

Thiago Henrique Annibale Vendramini

…

Marcio Antonio Brunetto

BMC Veterinary Research Open Access 03 January 2022
Access options
Subscribe to Journal
Get full journal access for 1 year
$119.00
only $9.92 per issue
All prices are NET prices.
VAT will be added later in the checkout.
Tax calculation will be finalised during checkout.
Buy article
Get time limited or full article access on ReadCube.
$32.00
All prices are NET prices.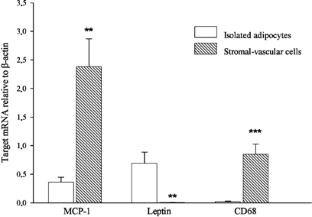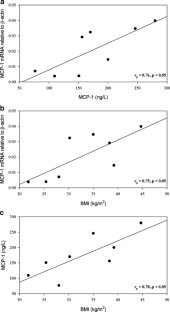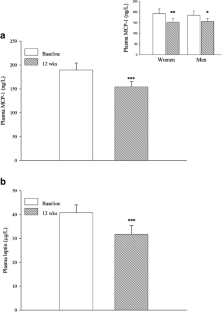 References
Despres JP, Lemieux I, Prud'homme D . Treatment of obesity: need to focus on high risk abdominally obese patients. BMJ 2001; 322: 716–720.

Lyon CJ, Law RE, Hsueh WA . Minireview: adiposity, inflammation, and atherogenesis. Endocrinology 2003; 144: 2195–2200.

Hotamisligil GS, Arner P, Caro JF, Atkinson RL, Spiegelman BM . Increased adipose tissue expression of tumor necrosis factor-alpha in human obesity and insulin resistance. J Clin Invest 1995; 95: 2409–2415.

Bastard JP, Jardel C, Bruckert E, Blondy P, Capeau J, Laville M, Vidal H, Hainque B . Elevated levels of interleukin 6 are reduced in serum and subcutaneous adipose tissue of obese women after weight loss. J Clin Endocrinol Metab 2000; 85: 3338–3342.

Bruun JM, Pedersen SB, Richelsen B . Regulation of interleukin 8 production and gene expression in human adipose tissue in vitro. J Clin Endocrinol Metab 2001; 86: 1267–1273.

Bruun JM, Verdich C, Toubro S, Astrup A, Richelsen B . Association between measures of insulin sensitivity and circulating levels of interleukin-8, interleukin-6 and tumor necrosis factor-alpha. Effect of weight loss in obese men. Eur J Endocrinol 2003; 148: 535–542.

Inoue S, Egashira K, Ni W, Kitamoto S, Usui M, Otani K, Ishibashi M, Hiasa K, Nishida K, Takeshita A . Anti-monocyte chemoattractant protein-1 gene therapy limits progression and destabilization of established atherosclerosis in apolipoprotein E-knockout mice. Circulation 2002; 106: 2700–2706.

Tabata T, Mine S, Kawahara C, Okada Y, Tanaka Y . Monocyte chemoattractant protein-1 induces scavenger receptor expression and monocyte differentiation into foam cells. Biochem Biophys Res Commun 2003; 305: 380–385.

de Lemos JA, Morrow DA, Sabatine MS, Murphy SA, Gibson CM, Antman EM, McCabe CH, Cannon CP, Braunwald E . Association between plasma levels of monocyte chemoattractant protein-1 and long-term clinical outcomes in patients with acute coronary syndromes. Circulation 2003; 107: 690–695.

Gerhardt CC, Romero IA, Cancello R, Camoin L, Strosberg AD . Chemokines control fat accumulation and leptin secretion by cultured human adipocytes. Mol Cell Endocrinol 2001; 175: 81–92.

Nomura S, Shouzu A, Omoto S, Nishikawa M, Fukuhara S . Significance of chemokines and activated platelets in patients with diabetes. Clin Exp Immunol 2000; 121: 437–443.

Sartipy P, Loskutoff DJ . Monocyte chemoattractant protein 1 in obesity and insulin resistance. Proc Natl Acad Sci USA 2003; 100: 7265–7270.

Murao K, Imachi H, Momoi A, Sayo Y, Hosokawa H, Sato M, Ishida T, Takahara J . Thiazolidinedione inhibits the production of monocyte chemoattractant protein-1 in cytokine-treated human vascular endothelial cells. FEBS Lett 1999; 454: 27–30.

Takahashi K, Mizuarai S, Araki H, Mashiko S, Ishihara A, Kanatani A, Itadani H, Kotani H . Adiposity elevates plasma MCP-1 levels leading to the increased CD11b-positive monocytes in mice. J Biol Chem 2003; 278: 46654–46660.

Bruun JM, Pedersen SB, Richelsen B . Interleukin-8 production in human adipose tissue. Inhibitory effects of anti-diabetic compounds, the thiazolidinedione ciglitazone and the biguanide metformin. Horm Metab Res 2000; 32: 537–541.

Fain JN, Cheema PS, Bahouth SW, Lloyd HM . Resistin release by human adipose tissue explants in primary culture. Biochem Biophys Res Commun 2003; 300: 674–678.

Miller GE, Stetler CA, Carney RM, Freedland KE, Banks WA . Clinical depression and inflammatory risk markers for coronary heart disease. Am J Cardiol 2002; 90: 1279–1283.

Ross R . The pathogenesis of atherosclerosis—an update. N Engl J Med 1986; 314: 488–500.

Weisberg SP, McCann D, Desai M, Rosenbaum M, Leibel RL, Ferrante Jr AW . Obesity is associated with macrophage accumulation in adipose tissue. J Clin Invest 2003; 112: 1796–1808.

Tchernof A, Nolan A, Sites CK, Ades PA, Poehlman ET . Weight loss reduces C-reactive protein levels in obese postmenopausal women. Circulation 2002; 105: 564–569.
Acknowledgements
We thank Lenette Pedersen and Pia Hornbek for their technical assistance. The study has been supported by the Novo Nordic Foundation, The Danish Diabetic Association, Aarhus University and The Danish Medical Research Council.
About this article
Cite this article
Christiansen, T., Richelsen, B. & Bruun, J. Monocyte chemoattractant protein-1 is produced in isolated adipocytes, associated with adiposity and reduced after weight loss in morbid obese subjects. Int J Obes 29, 146–150 (2005). https://doi.org/10.1038/sj.ijo.0802839
Received:

Revised:

Accepted:

Published:

Issue Date:

DOI: https://doi.org/10.1038/sj.ijo.0802839
Keywords
MCP-1

adipokines

adipose tissue

macrophages

leptin