Abstract
BACKGROUND: We have previously reported that a fat-reduced high-protein diet had more favourable effects on body weight loss over 6 months than a medium-protein diet.
OBJECTIVE: To extend this observation by a further 6–12 months less stringent intervention and a 24 months follow-up.
DESIGN: A randomised 6 months strictly controlled dietary intervention followed by 6–12 months dietary counselling period, and a subsequent 24 months follow-up, comparing an ad libitum, fat-reduced diet (30% of energy) either high in protein (25% of energy, HP) or medium in protein (12% of energy, MP).
SUBJECTS: A total of 50 overweight and obese subjects (age: 19–55 y; BMI: 26–34 kg/m2).
MEASUREMENTS: Change in body weight, body composition and blood parameters.
RESULTS: After 6 months, the HP group (n=23) achieved a greater weight loss than the MP group (n=23) (9.4 vs 5.9 kg) (P<0.01). After 12 months, 8% had dropped out in the HP vs 28% in the MP group (P<0.07). After 12 months, the weight loss was not significantly greater among the subjects in the HP group (6.2 and 4.3 kg), but they had a 10% greater reduction in intra-abdominal adipose tissue and more in the HP group (17%) lost >10 kg than in the MP (P<0.09). At 24 months, both groups tended to maintain their 12 months weight loss, but more than 50% were lost to follow-up.
CONCLUSION: A fat-reduced diet high in protein seems to enhance weight loss and provide a better long-term maintenance of reduced intra-abdominal fat stores.
Relevant articles
Open Access articles citing this article.
Sooad Alsulami

,

A. S. Aji

…

K. S. Vimaleswaran

Genes & Nutrition Open Access 12 October 2020

Heidi H. Pak

,

Nicole E. Cummings

…

Dudley W. Lamming

Scientific Reports Open Access 11 January 2019

Ana M. López-Sobaler

,

Aránzazu Aparicio

…

Rosa M. Ortega

European Journal of Nutrition Open Access 22 May 2018
Access options
Subscribe to Journal
Get full journal access for 1 year
$119.00
only $9.92 per issue
All prices are NET prices.
VAT will be added later in the checkout.
Tax calculation will be finalised during checkout.
Buy article
Get time limited or full article access on ReadCube.
$32.00
All prices are NET prices.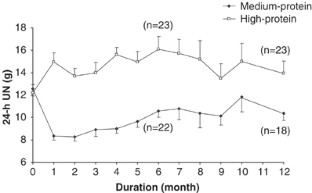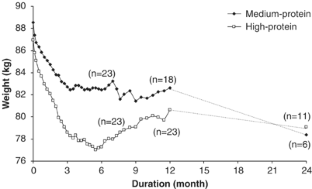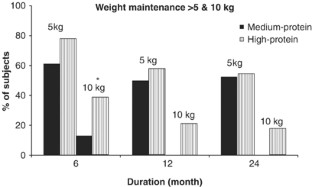 References
Astrup A, Grunwald GK, Melanson EL, Saris WH, Hill JO . The role of low-fat diets in body weight control: a meta-analysis of ad libitum dietary intervention studies. Int J Obes Relat Metab Disord 2000; 24: 1545–1552.

Bray GA, Popkin BM . Dietary fat intake does affect obesity! Am J Clin Nutr 1998; 68: 1157–1173.

Eisenstein J, Roberts SB, Dallal G, Saltzman E . High-protein weight-loss diets: are they safe and do they work? A review of the experimental and epidemiologic data. Nutr Rev 2002; 60: 189–200.

Barkeling B, Rossner S, Bjorvell H . Effects of a high-protein meal (meat) and a high-carbohydrate meal (vegetarian) on satiety measured by automated computerized monitoring of subsequent food intake, motivation to eat and food preferences. Int J Obes Relat Metab Disord 1990; 14: 743–751.

Crovetti R, Porrini M, Santangelo A, Testolin G . The influence of thermic effect of food on satiety. Eur J Clin Nutr 1998; 52: 482–488.

Poppitt SD, McCormack D, Buffenstein R . Short-term effects of macronutrient preloads on appetite and energy intake in lean women. Physiol Behav 1998; 64: 279–285.

Porrini M, Santangelo A, Crovetti R, Riso P, Testolin G, Blundell JE . Weight, protein, fat, and timing of preloads affect food intake. Physiol Behav 1997; 62: 563–570.

Rolls BJ, Hetherington M, Burley VJ . The specificity of satiety: the influence of foods of different macronutrient content on the development of satiety. Physiol Behav 1988; 43: 145–153.

Stubbs RJ, van Wyk MC, Johnstone AM, Harbron CG . Breakfasts high in protein, fat or carbohydrate: effect on within-day appetite and energy balance. Eur J Clin Nutr 1996; 50: 409–417.

Mikkelsen PB, Toubro S, Astrup A . Effect of fat-reduced diets on 24-h energy expenditure: comparisons between animal protein, vegetable protein, and carbohydrate. Am J Clin Nutr 2000; 72: 1135–1141.

Robinson SM, Jaccard C, Persaud C, Jackson AA, Jequier E, Schutz Y . Protein turnover and thermogenesis in response to high-protein and high-carbohydrate feeding in men. Am J Clin Nutr 1990; 52: 72–80.

Johnston CS, Day CS, Swan PD . Postprandial thermogenesis is increased 100% on a high-protein, low-fat diet versus a high-carbohydrate, low-fat diet in healthy, young women. J Am Coll Nutr 2002; 21: 55–61.

Skov AR, Toubro S, Ronn B, Holm L, Astrup A . Randomized trial on protein vs carbohydrate in ad libitum fat reduced diet for the treatment of obesity. Int J Obes Relat Metab Disord 1999; 23: 528–536.

Skov AR, Toubro S, Raben A, Astrup A . A method to achieve control of dietary macronutrient composition in ad libitum diets consumed by free-living subjects. Eur J Clin Nutr 1997; 51: 667–672.

Treuth MS, Hunter GR, Kekes-Szabo T . Estimating intraabdominal adipose tissue in women by dual-energy X-ray absorptiometry. Am J Clin Nutr 1995; 62: 527–532.

Despres JP, Moorjani S, Lupien PJ, Tremblay A, Nadeau A, Bouchard C . Regional distribution of body fat, plasma lipoproteins, and cardiovascular disease. Arteriosclerosis 1990; 10: 497–511.

Despres JP . Dyslipidaemia and obesity. Baillieres Clin Endocrinol Metab 1994; 8: 629–660.

Kissebah AH, Krakower GR . Regional adiposity and morbidity. Physiol Rev 1994; 74: 761–811.

Imbeault P, Almeras N, Richard D, Despres JP, Tremblay A, Mauriege P . Effect of a moderate weight loss on adipose tissue lipoprotein lipase activity and expression: existence of sexual variation and regional differences. Int J Obes Relat Metab Disord 1999; 23: 957–965.

Alford BB, Blankenship AC, Hagen RD . The effects of variations in carbohydrate, protein, and fat content of the diet upon weight loss, blood values, and nutrient intake of adult obese women. J Am Diet Assoc 1990; 90: 534–540.

DeHaven J, Sherwin R, Hendler R, Felig P . Nitrogen and sodium balance and sympathetic-nervous-system activity in obese subjects treated with a low-calorie protein or mixed diet. N Engl J Med 1980; 302: 477–482.

Hendler R, Bonde III AA . Very-low-calorie diets with high and low protein content: impact on triiodothyronine, energy expenditure, and nitrogen balance. Am J Clin Nutr 1988; 48: 1239–1247.

Piatti PM, Monti F, Fermo I, Baruffaldi L, Nasser R, Santambrogio G, Librenti MC, Galli-Kienle M, Pontiroli AE, Pozza G . Hypocaloric high-protein diet improves glucose oxidation and spares lean body mass: comparison to hypocaloric high-carbohydrate diet. Metabolism 1994; 43: 1481–1487.

Vazquez JA, Kazi U, Madani N . Protein metabolism during weight reduction with very-low-energy diets: evaluation of the independent effects of protein and carbohydrate on protein sparing. Am J Clin Nutr 1995; 62: 93–103.

Yang MU, van Itallie TB . Variability in body protein loss during protracted, severe caloric restriction: role of triiodothyronine and other possible determinants. Am J Clin Nutr 1984; 40: 611–622.

Baba NH, Sawaya S, Torbay N, Habbal Z, Azar S, Hashim SA . High protein vs high carbohydrate hypoenergetic diet for the treatment of obese hyperinsulinemic subjects. Int J Obes Relat Metab Disord 1999; 23: 1202–1206.

de Graaf C, Hulshof T, Weststrate JA, Jas P . Short-term effects of different amounts of protein, fats, and carbohydrates on satiety. Am J Clin Nutr 1992; 55: 33–38.

Little P, Barnett J, Margetts B, Kinmonth AL, Gabbay J, Thompson R, Warm D, Warwick H, Wooton S . The validity of dietary assessment in general practice. J Epidemiol Community Health 1999; 53: 165–172.

Schoeller DA . How accurate is self-reported dietary energy intake? Nutr Rev 1990; 48: 373–379.

Toubro S, Hansen DL, Hilsted JC, Porsborg PA, Astrup AV . [The effect of sibutramine for the maintenance of weight loss. A randomized controlled clinical trial]. Ugeskr Laeger 2001; 163: 2935–2940.

McCrory MA, Fuss PJ, McCallum JE, Yao M, Vinken AG, Hays NP, Roberts SB . Dietary variety within food groups: association with energy intake and body fatness in men and women. Am J Clin Nutr 1999; 69: 440–447.

Wing RR, Jeffery RW, Burton LR, Thorson C, Nissinoff KS, Baxter JE . Food provision vs structured meal plans in the behavioral treatment of obesity. Int J Obes Relat Metab Disord 1996; 20: 56–62.

Jeffery RW, Wing RR . Long-term effects of interventions for weight loss using food provision and monetary incentives. J Consult Clin Psychol 1995; 63: 793–796.

Atkins RC . Atkins' new diet revolution. Avon Books inc.: New York; 1992.

Eades MR, Eades MD . Protein power. Bantam Books: New York; 1996.

Steward HL, Bethea MC, Andrews SS, Balart LA . Sugar busters! Ballantine Publishing Group: New York; 1995.

Sears B, Lawren B . The zone. HarperCollins Publishers: New York; 1995.

Anderson JW, Konz EC, Jenkins DJ . Health advantages and disadvantages of weight-reducing diets: a computer analysis and critical review. J Am Coll Nutr 2000; 19: 578–590.

Brehm BJ, Seeley RJ, Daniels SR, D'Alessio DA . A randomized trial comparing a very low carbohydrate diet and a calorie-restricted low fat diet on body weight and cardiovascular risk factors in healthy women. J Clin Endocrinol Metab 2003; 88: 1617–1623.

Foster GD, Wyatt HR, Hill JO, McGuckin BG, Brill C, Mohammed BS, Szapary PO, Rader DJ, Edman JS, Klein S . A randomized trial of a low-carbohydrate diet for obesity. N Engl J Med 2003; 348: 2082–2090.

Skov AR, Haulrik N, Toubro S, Molgaard C, Astrup A . Effect of protein intake on bone mineralization during weight loss: a 6-month trial. Obes Res 2002; 10: 432–438.

Skov AR, Toubro S, Bulow J, Krabbe K, Parving HH, Astrup A . Changes in renal function during weight loss induced by high vs low-protein low-fat diets in overweight subjects. Int J Obes Relat Metab Disord 1999; 23: 1170–1177.

Haulrik N, Toubro S, Dyerberg J, Stender S, Skov AR, Astrup A . Effect of protein and methionine intakes on plasma homocysteine concentrations: a 6-mo randomized controlled trial in overweight subjects. Am J Clin Nutr 2002; 76: 1202–1206.
Acknowledgements
This research was supported by The Danish Research and Development Programme for Food Technology (FØTEK), The Federation of Danish Pig Producers and Slaughterhouse, Danish Dairy Research Foundation and The Danish Livestock and Meat Board. Master Food a/s, Kellogg's a/s, Daloon a/s, Hatting Brød a/s, Haribo a/s, Pingvin a/s, Galle&Jessen a/s and Malaco a/s contributed to the food selection. We thank the project staff of the Department of Human Nutrition.
About this article
Cite this article
Due, A., Toubro, S., Skov, A. et al. Effect of normal-fat diets, either medium or high in protein, on body weight in overweight subjects: a randomised 1-year trial. Int J Obes 28, 1283–1290 (2004). https://doi.org/10.1038/sj.ijo.0802767
Received:

Revised:

Accepted:

Published:

Issue Date:

DOI: https://doi.org/10.1038/sj.ijo.0802767
Keywords
high-protein diet

ad libitum diet

overweight

body composition

weight loss

weight maintenance