Abstract
OBJECTIVE: To determine parameters of weight history useful for the assessment of weight cycling and their association with psychological distress and binge eating.
DESIGN: Cross-sectional.
SUBJECTS: A total of 1889 treatment-seeking obese subjects, enrolled by 25 Italian centers (78% female subject), aged 20–65 y (median 45); 1691 reported previous efforts to lose weight (median age of first dieting, 30 y).
MEASUREMENTS: The number of yearly attempts to lose weight, weight gain since age 20 y, cumulative weight loss and gain were checked by a predefined structured interview. Psychological distress was tested by means of Symptom Check-List 90 (SCL-90), Binge Eating Scale (BES) and Three Factor Eating Questionnaire (TFEQ).
RESULTS: Differences in anthropometric, clinical and psychological parameters were observed in relation to previous attempts to lose weight. Patients in the upper quartile of parameters of weight history were considered weight cyclers. In multivariate logistic regression analysis, after correction for age, sex and BMI, a high BES score was the only factor systematically associated with a high frequency of dieting (OR, 1.70; 95% confidence interval, 1.22–2.36; P=0.022), with higher cumulative weight loss (1.42; 1.12–1.80; P=0.003) and cumulative weight gain (1.38; 1.06–1.79; P=0.017). However, the sensitivity, specificity and positive predictive value of a high BES score were very low to detect cyclers. Weight cycling did not carry a higher risk of complicating diseases.
CONCLUSIONS: Weight cycling is associated with psychological distress, and binge eating independently increases the risk, but cannot be used to predict cycling. Also, obese patients who do not experience overeating as a loss of control discontinue treatment or regain weight following therapy.
Access options
Subscribe to this journal
Receive 12 print issues and online access
$259.00 per year
only $21.58 per issue
Rent or buy this article
Prices vary by article type
from$1.95
to$39.95
Prices may be subject to local taxes which are calculated during checkout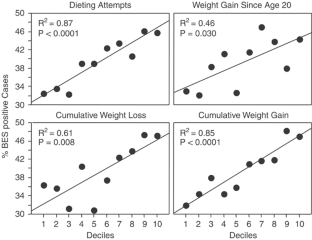 Similar content being viewed by others
References
National Task Force on the Prevention and Treatment of Obesity. Dieting and the development of eating disorders in overweight and obese adults. Arch Intern Med 2000; 160: 2581–2589.

Blackburn GL, Wilson GT, Kanders BS, Stein LJ, Lavin PT, Adler J, Brownell KD . Weight cycling: the experience of human dieters. Am J Clin Nutr 1989; 49: 1105–1109.

Smith DE, Wing RR . Diminished weight loss and behavioral compliance during repeated diets in obese patients with type II diabetes. Health Psychol 1991; 10: 378–383.

Beeson V, Ray C, Coxon A, Kreitzman S . The myth of the yo-yo: consistent rate of weight loss with successive dieting by VLCD. Int J Obes Relat Metab Disord 1989; 13: 135–139.

Kroke A, Liese AD, Schulz M, Bergmann MM, Klipstein-Grobusch K, Hoffmann K, Boeing H . Recent weight changes and weight cycling as predictors of subsequent two year weight change in a middle-aged cohort. Int J Obes Relat Metab Disord 2002; 26: 403–409.

Lissner L, Odell PM, D'Agostino RB, Stokes III J, Kreger BE, Belanger AJ, Brownell KD . Variability of body weight and health outcomes in the Framingham population. N Engl J Med 1991; 324: 1839–1844.

Lee IM, Paffenbarger Jr RS . Change in body weight and longevity. JAMA 1992; 268: 2045–2049.

Blair SN, Shaten J, Brownell K, Collins G, Lissner L . Body weight change, all-cause mortality, and cause-specific mortality in the Multiple Risk Factor Intervention Trial. Ann Intern Med 1993; 119: 749–757.

Field AE, Byers T, Hunter DJ, Laird NM, Manson JE, Williamson DF, Willett WC, Colditz GA . Weight cycling, weight gain, and risk of hypertension in women. Am J Epidemiol 1999; 150: 573–579.

Guagnano MT, Ballone E, Pace-Palitti V, Vecchia RD, D'Orazio N, Manigrasso MR, Merlitti D, Sensi S . Risk factors for hypertension in obese women. The role of weight cycling. Eur J Clin Nutr 2000; 54: 356–360.

Holbrook TL, Barrett-Connor E, Wingard DL . The association of lifetime weight and weight control patterns with diabetes among men and women in an adult community. Int J Obes Relat Metab Disord 1989; 13: 723–729.

Yanovski SZ . Diagnosis and prevalence of eating disorders in obesity. In: Ailhaud G, Guy-Grand B (eds). Progress in obesity research. John Libby & Co.: London; 1999. pp 229–236.

Yanovski SZ, Sebring NG . Recorded food intake of obese women with binge eating disorder before and after weight loss. Int J Eat Disord 1994; 15: 135–150.

Foster GD, Wadden TA, Kendall PC, Stunkard AJ, Vogt RA . Psychological effects of weight loss and regain: a prospective evaluation. J Consult Clin Psychol 1996; 64: 752–757.

Venditti EM, Wing RR, Jakicic JM, Butler BA, Marcus MD . Weight cycling, psychological health, and binge eating in obese women. J Consult Clin Psychol 1996; 64: 400–405.

Williamson DA, Martin CK . Binge eating disorder: a review of the literature after publication of DSM-IV. Eating Weight Disord 1999; 4: 103–114.

American Psychiatry Association. Diagnostic and statistical manual of mental disorders. American Psychiatry Association: Washington, DC; 2000.

Stunkard AJ, Messick S . The three-factor eating questionnaire to measure dietary restraint, disinhibition and hunger. J Psychosom Res 1985; 29: 71–83.

Gormally J, Block S, Daston S, Rardin D . The assessment of binge eating severity among obese persons. Addict Behav 1982; 7: 47–55.

Karlsson J, Sjostrom L, Sullivan M . Swedish Obese Subjects (SOS)—an intervention study of obesity. Measuring psychosocial factors and health by means of short-form questionnaires. Results from a method study. J Clin Epidemiol 1995; 48: 817–823.

Sherwood NE, Jeffery RW, Wing RR . Binge status as a predictor of weight loss treatment outcome. Int J Obes Relat Metab Disord 1999; 23: 485–493.

Fontaine KR, Barofsky I, Andersen RE, Bartlett SJ, Wiersema L, Cheskin LJ, Franckowiak SC . Impact of weight loss on health-related quality of life. Qual Life Res 1999; 8: 275–277.

Marchesini G, Bellini M, Natale S, Belsito C, Isacco S, Nuccitelli C, Pasqui F, Baraldi L, Forlani G, Melchionda N . Psychiatric distress and health-related quality of life in obesity. Diab Nutr Metab 2003; 16: 145–154.

Melchionda N, Marchesini G, Apolone G, Cuzzolaro M, Mannucci E, Grossi E, the QUOVADIS Study Group. The QUOVADIS study. Features of obese Italian patients seeking treatment at specialist centers. Diabetes Nutr Metab 2003; 16: 115–124.

Derogatis LR, Rickels K, Rock AF . The S.C.L. 90 and the M.M.P.I.: a step in the validation of a new self-report scale. Br J Psychiatry 1976; 128: 280–289.

Derogatis LR, Cleary PA . Confirmation of the dimensional structure of the SCL-90: a study in construct validity. J Clin Psychol 1977; 33: 981–989.

Spitzer RL, Yanovski S, Wadden T, Wing R, Marcus MD, Stunkard A, Devlin M, Mitchell J, Hasin D, Horne RL . Binge eating disorder: its further validation in a multisite study. Int J Eat Disord 1993; 13: 137–153.

Kuehnel RH, Wadden TA . Binge eating disorder, weight cycling, and psychopathology. Int J Eat Disord 1994; 15: 321–329.

Polivy J, Herman CP . Dieting and binging. A causal analysis. Am Psychol 1985; 40: 193–201.

Heatherton TF, Polivy J, Herman CP . Restraint, weight loss, and variability of body weight. J Abnorm Psychol 1991; 100: 78–83.

Womble LG, Williamson DA, Martin CK, Zucker NL, Thaw JM, Netemeyer R, Lovejoy JC, Greenway FL . Psychosocial variables associated with binge eating in obese males and females. Int J Eat Disord 2001; 30: 217–221.

Wadden TA, Foster GD, Letizia KA . Response of obese binge eaters to treatment by behavior therapy combined with very low calorie diet. J Consult Clin Psychol 1992; 60: 808–811.

Brownell KD, Rodin J . Medical, metabolic, and psychological effects of weight cycling. Arch Intern Med 1994; 154: 1325–1330.

Olson MB, Kelsey SF, Bittner V, Reis SE, Reichek N, Handberg EM, Merz CN . Weight cycling and high-density lipoprotein cholesterol in women: evidence of an adverse effect: a report from the NHLBI-sponsored WISE study. Women's Ischemia Syndrome Evaluation Study Group. J Am Coll Cardiol 2000; 36: 1565–1571.

Marchesini G, Pontiroli A, Salvioli G, Novi RF, Vitacolonna E, Taboga C, Ciccarone AM, Grossi E, the QUOVADIS Study Group. Snoring, hypertension and type 2 diabetes in obesity. Protection by physical activity. J Endocrinol Invest 2004; 27: 150–157.

Stunkard AJ, Rush J . Dieting and depression re-examined: a critical review of reports of untoward responses during weight reduction for obesity. Ann Intern Med 1974; 81: 526–533.

Wadden TA, Bartlett S, Letizia KA, Foster GD, Stunkard AJ, Conill A . Relationship of dieting history to resting metabolic rate, body composition, eating behavior, and subsequent weight loss. Am J Clin Nutr 1992; 56: 203S–208S.

Bartlett SJ, Wadden TA, Vogt RA . Psychosocial consequences of weight cycling. J Consult Clin Psychol 1996; 64: 587–592.

Foreyt JP, Brunner RL, Goodrick GK, Cutter G, Brownell KD, St Jeor ST . Psychological correlates of weight fluctuation. Int J Eat Disord 1995; 17: 263–275.

Ciliska D . Evaluation of two nondieting interventions for obese women. West J Nurs Res 1998; 20: 119–135.
About this article
Cite this article
Marchesini, G., Cuzzolaro, M., Mannucci, E. et al. Weight cycling in treatment-seeking obese persons: data from the QUOVADIS study. Int J Obes 28, 1456–1462 (2004). https://doi.org/10.1038/sj.ijo.0802741
Received:

Revised:

Accepted:

Published:

Issue Date:

DOI: https://doi.org/10.1038/sj.ijo.0802741
Keywords