Abstract
OBJECTIVES: To investigate the impact of irregular meal frequency on body weight, energy intake, appetite and resting energy expenditure in healthy lean women.
DESIGN: Nine healthy lean women aged 18–42 y participated in a randomised crossover trial consisting of three phases over a total of 43 days. Subjects attended the laboratory at the start and end of phases 1 and 3. In Phase 1 (14 days), subjects were asked to consume similar things as normal, but either on 6 occasions per day (regular meal pattern) or follow a variable predetermined meal frequency (between 3 and 9 meals/day) with the same total number of meals over the week. In Phase 2 (14 days), subjects continued their normal diet as a wash-out period. In Phase 3 (14 days), subjects followed the alternative meal pattern to that followed in Phase 1. Subjects recorded their food intake for three predetermined days during the irregular period when they were eating 9, 3 and 6 meals/day. They also recorded their food intake on the corresponding days during the regular meal pattern period. Subjects fasted overnight prior to each laboratory visit, at which fasting resting metabolic rate (RMR) was measured by open-circuit indirect calorimetry. Postprandial metabolic rate was then measured for 3 h after the consumption of a milkshake test meal (50% CHO, 15% protein and 35% fat of energy content). Subjects rated appetite before and after the test meal.
RESULTS: There were no significant differences in body weight and 3-day mean energy intake between the regular and irregular meal pattern. In the irregular period, the mean energy intake on the day when 9 meals were eaten was significantly greater than when 6 or 3 meals were consumed (P=0.0001). There was no significant difference between the 3 days of the regular meal pattern. Subjective appetite measurement showed no significant differences before and after the test meal in all visits. Fasting RMR showed no significant differences over the experiment. The overall thermic effect of food (TEF) over the 3 h after the test meal was significantly lower after the irregular meal pattern (P=0.003).
CONCLUSION: Irregular meal frequency led to a lower postprandial energy expenditure compared with the regular meal frequency, while the mean energy intake was not significantly different between the two. The reduced TEF with the irregular meal frequency may lead to weight gain in the long term.
Relevant articles
Open Access articles citing this article.
Solomon Gebretsadik Bereka

,

Ayele Worku Demisse

&

Genanew Kassie Getahun

BMC Nutrition Open Access 24 October 2022

Paulo Rogério Melo Rodrigues

,

Rosangela Alves Pereira

…

Cristina Padez

Nutrire Open Access 20 July 2017

Paulo Rogério Melo Rodrigues

,

Rosangela Alves Pereira

…

Cristina Padez

Nutrire Open Access 15 July 2016
Access options
Subscribe to this journal
Receive 12 print issues and online access
$259.00 per year
only $21.58 per issue
Rent or buy this article
Get just this article for as long as you need it
$39.95
Prices may be subject to local taxes which are calculated during checkout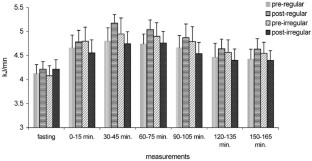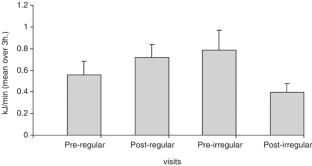 References
Fabry P, Fodor J, Hejl Z, Braun T, Zvolankova K . The frequency of meals: its relation to overweight, hypercholesterolaemia, and decreased glucose tolerance. Lancet 1964; ii: 614–615.

Fabry P, Fodor J, Hejl Z, Geizerova H, Balcarova O . Meal frequency and ischaemic heart-disease. Lancet 1968; 27: 190–191.

Edelstein S, Barrett-Connor E, Wingard D, Cohn B . Increased meal frequency associated with decreased cholesterol concentrations; Rancho Bernardo, CA, 1984–1987. Am J Clin Nutr 1992; 55: 664–669.

Kant A, Schatzkin A, Graubard B, Ballard-Barbash R . Frequency of eating occasions and weight change in the NHANES I Epidemiologic Follow-up Study. Int J Obes Relat Metab Disord 1995; 19: 468–474.

Whybrow S, Kirk T . Nutrient intakes and snacking frequency in female students. J Hum Nutr Diet 1997; 10: 237–244.

Drummond S, Crombie N, Cursiter M, Kirk T . Evidence that eating frequency is inversely related to body weight status in male, but not female, non-obese adults reporting valid dietary intakes. Int J Obes Relat Metab Disord 1998; 22: 105–112.

Dreon D, Frey-Hewitt B, Ellsworth N, Williams P, Terry R, Wood P . Dietary fat: carbohydrate ratio and obesity in middle-aged men. Am J Clin Nutr 1988; 47: 995–1000.

Bellisle F, Rolland-Cachera M, Deheeger M, Guilloud-Bataille M . Obesity and food intake in children: evidence for a role of metabolic and/or behavioral daily rhythms. Appetite 1988; 11: 111–118.

Ruxton C, Kirk T, Belton N . The contribution of specific dietary patterns to energy and nutrient intakes in 7–8-year-old Scottish schoolchildren. 2. Weekday lunches. J Hum Nutr Diet 1996; 9: 15–22.

Anderson I, Rossner S . Meal patterns in obese and normal weight men: the 'Gustaf' Study. Eur J Clin Nutr 1996; 50: 639–646.

Summerbell C, Moody R, Shanks J, Stock M, Geissler C . Relationship between feeding pattern and body mass index in 220 free-living people in four age groups. Eur J Clin Nutr 1996; 50: 513–519.

Crawley H, Summerbell C . Feeding frequency and BMI among teenagers aged 16–17 years. Int J Obes Relat Metab Disord 1997; 21: 159–161.

Fábry P, Hejda S, Cerný K, Osancová K, Pechar J . Effect of meal frequency in schoolchildren. Changes in weight-height proportion and skinfold thickness. Am J Clin Nutr 1966; 18: 358–361.

Wadhwa P, Young E, Schmidt K, Elson C, Pringle D . Metabolic consequences of feeding frequency in man. Am J Clin Nutr 1973; 26: 823–830.

Dallosso H, Murgatroyd P, James W . Feeding frequency and energy balance in adult males. Hum Nutr Clin Nutr 1982; 36C: 25–39.

Jenkins D, Wolever T, Vuksan V, Brighenti F, Cunnane S, Rao A, Jenkins A, Buckley G, Patten R, Singer W, Corey P, Josse RG . Nibbling versus gorging: metabolic advantages of increased meal frequency. N Engl J Med 1989; 5: 929–934.

Arnold L, Ball M, Duncan A, Mann J . Effect of isoenergetic intake of three or nine meals on plasma lipoproteins and glucose metabolism. Am J Clin Nutr 1993; 57: 446–451.

Basdevant A, Craplet C, Guy-Grand B . Snacking patterns in obese French women. Appetite 1993; 21: 17–23.

Yates H, Crombie N, Kirk T . Energy intake compensation during snacking intervention—a pilot study. Nutr Food Sci 1998; 98: 267–271.

Westerterp-Plantenga MS, Wijckmans-Duysens NA, Hoor FT . Food intake in the daily environment after energy-reduced lunch, related to habitual meal frequency. Appetite 1994; 22: 173–182.

Westerterp-Plantenga M, Kovacs EM, Melanson KJ . Habitual meal frequency and energy intake regulation in partially temporally isolated men. Int J Obes Relat Metab Disord 2002; 26: 102–110.

Johnstone A, Shannon E, Whybrow S, Reid C, Stubbs R . Altering the temporal distribution of energy intake with isoenergetically dense foods given as snacks does not affect total daily energy intake in normal-weight men. Br J Nutr 2000; 83: 7–14.

Taylor M, Garrow J . Compared with nibbling, neither gorging nor a morning fast affect short-term energy balance in obese patients in a chamber calorimeter. Int J Obes Relat Metab Disord 2001; 25: 519–528.

Speechly D, Buffenstein R . Greater appetite control associated with an increased frequency of eating in lean males. Appetite 1999; 33: 285–297.

Speechly D, Rogers G, Buffenstein R . Acute appetite reduction associated with an increased frequency of eating in obese males. Int J Obes Relat Metab Disord 1999; 23: 1151–1159.

Wolfram G, Kirchgessner M, Muller H, Hollomey S . Thermogenesis in humans after varying meal time frequency. Ann Nutr Metab 1987; 31: 88–97.

Verboeket-van de Venne W, Westerterp K . Influence of the feeding frequency on nutrient utilization in man: consequences for energy metabolism. Eur J Clin Nutr 1991; 45: 161–169.

Verboeket-van de Venne W, Westerterp K, Kester A . Effect of the pattern of food intake on human energy metabolism. Br J Nutr 1993; 70: 103–115.

Belko A, Barbieri T . Effect of meal size and frequency on the thermic effect of food. Nutr Res 1987; 7: 237–242.

Kinabo J, Durnin J . Effect of meal frequency on the thermic effect of food in women. Eur J Clin Nutr 1990; 44: 389–395.

Tai M, Castillo P, Pi-Sunyer F . Meal size and frequency: effect on the thermic effect of food. Am J Clin Nutr 1991; 54: 783–787.

LeBlanc J, Mercier I, Nadeau A . Components of postprandial thermogenesis in relation to meal frequency in humans. Can J Physiol Pharmacol 1993; 71: 879–883.

Hoglund D, Samuelson G, Mark A . Food habits in Swedish adolescents in relation to socioeconomic conditions. Eur J Clin Nutr 1998; 52: 784–789.

Samuelson G . Dietary habits and nutritional status in adolescents over Europe. An overview of current studies in the Nordic countries. Eur J Clin Nutr 2000; 54: S21–S28.

Kagamimori S, Yamagami T, Sokejima S, Numata N, Handa K, Nanri S, Saito T, Tokui N, Yoshimura T, Yoshida K . The relationship between lifestyle, social characteristics and obesity in 3-year-old Japanese children. Child Care Health Dev 1999; 25: 235–247.

Takahashi E, Yoshida K, Sugimori H, Miyakawa M, Izuno T, Yamagami T, Kagamimori S . Influence factors on the development of obesity in 3-year-old children based on the Toyama study. Prev Med 1999; 28: 293–296.

Murata M . Secular trends in growth and changes in eating patterns of Japanese children. Am J Clin Nutr 2000; 72: 1379S–1383S.

Garner D, Garfinkel P . The Eating Attitudes Test: an index of the symptoms of anorexia nervosa. Psychol Med 1979; 9: 273–279.

Beck A . Depression Inventory—Clinical, Experimental, and Theoretical Aspects. Staples Press: London; 1969. pp 333–335.

Farshchi H, Taylor M, Macdonald I . Regular meal frequency creates more appropriate insulin sensitivity and lipid profiles compared with irregular meal frequency in healthy lean women. Eur J Clin Nutr 2004. (in press).

Garrow J . Human Nutrition and Dietetics, 10 edn. Churchill Livingstone: London; 2000.

Flint A, Raben A, Blundell J, Astrup A . Reproducibility, power and validity of visual analogue scales in assessment of appetite sensations in single test meal studies. Int J Obes Relat Metab Disord 2000; 24: 38–48.

Frayn K . Calculation of substrate oxidation rates in vivo from gaseous exchange. J Appl Physiol 1983; 55: 628–634.

Bowen D, Grunberg N . Variations in food preference and consumption across the menstrual cycle. Physiol Behav 1990; 47: 287–291.

Buffenstein R, Poppitt S, McDevitt R, Prentice A . Food intake and the menstrual cycle: a retrospective analysis, with implications for appetite research. Physiol Behav 1995; 58: 1067–1077.

Ravussin E, Bogardus C, Schwartz RS, Robbins DC, Wolfe RR, Horton ES, Danforth Jr E, Sims EA . Thermic effect of infused glucose and insulin in man. Decreased response with increased insulin resistance in obesity and noninsulin-dependent diabetes mellitus. J Clin Invest 1983; 72: 893–902.

Ravussin E, Acheson K, Vernet O, Danforth E, Jequier E . Evidence that insulin resistance is responsible for the decreased thermic effect of glucose in human obesity. J Clin Invest 1985; 76: 1268–1273.

Segal K, Albu J, Chun A, Edano A, Legaspi B, Pi-Sunyer F . Independent effects of obesity and insulin resistance on postprandial thermogenesis in men. J Clin Invest 1992; 89: 824–833.

Lennernas M, Andersson I . Food-based classification of eating episodes (FBCE). Appetite 1999; 32: 53–65.
About this article
Cite this article
Farshchi, H., Taylor, M. & Macdonald, I. Decreased thermic effect of food after an irregular compared with a regular meal pattern in healthy lean women. Int J Obes 28, 653–660 (2004). https://doi.org/10.1038/sj.ijo.0802616
Received:

Revised:

Accepted:

Published:

Issue Date:

DOI: https://doi.org/10.1038/sj.ijo.0802616
Keywords
irregular meal frequency

energy expenditure

energy intake

thermic effects of food

regular meal pattern

appetite

hunger and satiety