Abstract
CONTEXT: Safe and effective strategies to curb rising obesity prevalence rates are urgently needed and medications may play a more prominent role in future therapeutic regimens.
OBJECTIVE: To review systematically the long-term efficacy and safety of approved antiobesity medications.
DATA SOURCES: MEDLINE, EMBASE, the Cochrane Controlled Trials Register, Current Science Meta-register of Controlled Trials, and reference lists of original studies and reviews were searched. Drug manufacturers and two obesity experts were contacted. No language restrictions were imposed.
STUDY SELECTION: Double-blind, randomized controlled studies of approved antiobesity medications with follow-up periods of 1 y or greater were eligible for inclusion.
DATA EXTRACTION: Two reviewers independently assessed all potentially relevant studies for inclusion and methodological quality using standardized abstraction forms.
RESULTS: A total of 11orlistat (n=6021) and three sibutramine (n=929) studies met inclusion criteria. Attrition rates averaged 33% in orlistat studies and 48% in sibutramine studies. A random effects model was used for meta-analysis. Compared to placebo, orlistat-treated patients displayed a 2.7 kg (95% CI: 2.3–3.1 kg) or 2.9% (95% CI: 2.3–3.4%) greater reduction in weight and patients on sibutramine displayed a 4.3 kg (95% CI: 3.6–4.9 kg) or 4.6% (95% CI: 3.8–5.4%) greater weight reduction after 1 y of follow-up. The number of patients achieving 10% or greater weight loss was 12% (95% CI: 8–16%) higher with orlistat and 15% (95% CI: 4–27%) higher with sibutramine compared to placebo. Orlistat caused gastrointestinal side effects and sibutramine increased blood pressure and pulse rate.
CONCLUSION: There is a relative paucity of long-term studies of antiobesity agents. In weight loss trials of 1-y duration, orlistat and sibutramine appear modestly effective in promoting weight loss. Longer, more methodologically rigourous studies that are powered to examine end points such as mortality and cardiovascular morbidity are required.
Relevant articles
Open Access articles citing this article.
M. J. Sharman

,

K. A. Jose

…

V. J. Cleland

BMC Obesity Open Access 06 May 2019

Giuliana Valerio

,

Claudio Maffeis

…

Eugenio Zito

Italian Journal of Pediatrics Open Access 31 July 2018
Access options
Subscribe to Journal
Get full journal access for 1 year
$119.00
only $9.92 per issue
All prices are NET prices.
VAT will be added later in the checkout.
Tax calculation will be finalised during checkout.
Buy article
Get time limited or full article access on ReadCube.
$32.00
All prices are NET prices.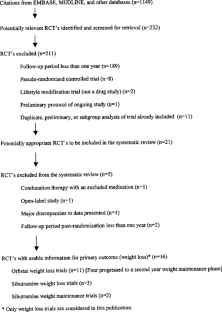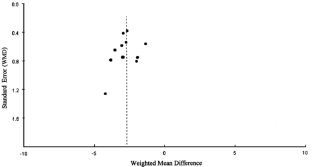 References
World Health Organization (WHO). Obesity: preventing and managing the global epidemic, Report of a WHO Consultation on Obesity, 3–5 June 1997. WHO/NUT/NCD/98.1 1998.

Flegal KM, Carroll MD, Ogden CL, Johnson CL . Prevalence and trends in obesity among US adults, 1999–2000. JAMA 2002; 288: 1723–1727.

Ogden CL, Flegal KM, Carroll MD, Johnson CL . Prevalence and trends in overweight among US children and adolescents, 1999–2000. JAMA 2002; 288: 1728–1732.

Kopelman PG . Obesity as a medical problem. Nature 2000; 404: 635–643.

Birmingham CL, Muller JL, Palepu A, Spinelli JJ, Anis AH . The cost of obesity in Canada. CMAJ 1999; 160: 483–488.

Seidell JC . The impact of obesity on health status: some implications for health care costs. Int J Obes Relat Metab Disord 1996; 19 (Suppl 6): S13–S16.

Williamson DF, Pamuk ER . The association between weight loss and increased longevity. A review of the evidence. Ann Intern Med 1993; 119: 731–736.

Manson JE, Willett WC, Stampfer MJ, Colditz GA, Hunter DJ, Hankinson SE, Hennekens CH, Speizer FE . Body weight and mortality among women. N Engl J Med 1995; 333: 677–685.

Calle EE, Thun MJ, Petrelli JM, Rodriguez C, Heath Jr CW . Body-mass index and mortality in a prospective cohort of U.S. adults. N Engl J Med 1999; 341: 1097–1105.

Bray GA . Health hazards associated with obesity. UpToDate Clinical Reference Library [CD-ROM] 2001;Version 9.1.

Kenchaiah S, Evans JC, Levy D, Wilson PWF, Benjamin EJ, Larson MG, Kannel WB, Vasan RS . Obesity and risk of heart failure. N Engl J Med 2002; 347: 305–313.

Goldstein DJ . Beneficial effects of modest weight loss. Int J Obes Relat Metab Disord 1992; 16: 397–415.

Blackburn G . Effect of degree of weight loss on health benefits. Obes Res 1995; 3 (Suppl 2): 2112S–2115S.

Colditz GA, Willett WC, Rotnitzky A, Manson JE . Weight gain as a risk factor for clinical diabetes mellitus in women. Ann Intern Med 1995; 122: 481–486.

Williamson DF, Pamuk E, Thun M, Flanders D, Byers T, Heath C . Prospective study of intentional weight loss and mortality in never-smoking overweight US white women aged 40–64 years. Am J Epidemiol 1995; 141: 1128–1141.

Allison DB, Zannolli R, Faith MS, Heo M, Pietrobelli A, VanItallie TB, Pi Sunyes FX, Heymsfield SB . Weight loss increases and fat loss decreases all-cause mortality rate: results from two independent cohort studies. Int J Obes Relat Metab Disord 1999; 23: 603–611.

French SA, Folsom AR, Jeffery RW, Williamson DF . Prospective study of intentionality of weight loss and mortality in older women: the Iowa Women's Health Study. Am J Epidemiol 1999; 149: 504–514.

NIH Technology Assessment Conference Panel. Methods for voluntary weight loss and control. Ann Intern Med 1993; 119: 764–770.

Wadden TA . Treatment of obesity by moderate and severe caloric restriction. Results of clinical research trials. Ann Intern Med 1993; 119: 688–693.

Expert Panel on the Identification, Evaluation and Treatment of Overweight and Obesity in Adults. Executive summary of the clinical guidelines on the identification, evaluation, and treatment of overweight and obesity in adults. Arch Int Med 1998; 158: 1855–1867.

Haddock CK, Poston WSC, Dill PL, Foreyt JP, Ericsson M . Pharmacotherapy for obesity: a quantitative analysis of four decades of published randomized clinical trials. Int J Obes Relat Metab Disord 2002; 26: 262–273.

O'Meara S, Riemsma R, Shirran L, Mather L, ter Riet G . A rapid and systematic review of the clinical effectiveness and cost effectiveness of orlistat in the management of obesity. Health Technol Assess 2001; 5.

O'Meara S, Riemsma R, Shirran L, Mather L, ter Riet G . The clinical effectiveness and cost effectiveness of sibutramine in the management of obesity: a technology assessment. Health Technol Assess 2002; 6.

Khan MA, Herzog CA, St Peter JV, Hartley GG, Madlon-Kay R, Dick CD, Asinger RW, Vessey JT . The prevalence of cardiac valvular insufficiency assessed by transthoracic echocardiography in obese patients treated with appetite-suppressant drugs. N Engl J Med 1998; 339: 713–718.

Jick H, Vasilakis C, Weinrauch LA, Meier CR, Jick SS, Derby LE . A population-based study of appetite-suppressant drugs and the risk of cardiac-valve regurgitation. N Engl J Med 1998; 339: 719–724.

Weissman NJ, Tighe Jr JF, Gottdiener JS, Gwynne JT . An assessment of heart-valve abnormalities in obese patients taking dexfenfluramine, sustained-release dexfenfluramine, or placebo. N Engl J Med 1998; 339: 725–732.

Wooltorton 2002. Obesity drug sibutramine (Meridia): hypertension and cardiac arrhythmias. CMAJ 2002; 166: 1307–1308.

Health Canada Health Canada investigates safety of MERIDIA® (Sibutramine). http://www.hc-scgc.ca/english/protection/warnings/2002/2002_21e.htm.

Padwal R, Lau D, Li S, Norris S . Long-term pharmacotherapy for obesity [Protocol]. Cochrane Metabolic and Endocrine Disorders Group. Cochrane Database of Systematic Reviews. 2003; 1.

Verhagen AP, de Vet HC, de Bie RA, Kessels AG, Boers M, Bouter LM, Knipschild PG . The Delphi list: a criteria list for quality assessment of randomized clinical trials for conducting systematic reviews developed by Delphi consensus. J Clin Epidemiol 1998; 51: 1235–1241.

Hollis S, Campbell F . What is meant by intention to treat analysis? Survey of published randomised controlled trials. BMJ 1999; 319: 670–674.

Juni P, Smith GD, Altman DG . Assessing the quality of randomised controlled trials. In: Egger M, Smith GD, Altman DG (Eds). Systematic reviews in health care, 2nd edn. BMJ Publishing Group: London; 2001. pp 87–108.

Moher D, Cook DJ, Eastwood S, Olkin I, Rennie D, Stroup D . Improving the quality of reporting of meta-analysis of randomized controlled trials: the QUOROM statement. Lancet 1999; 354: 1896–1900.

Sjostrom L, Rissanen A, Andersen T, Boldrin M, Golay A, Koppeschaar HPF, Krempf M . Randomised placebo-controlled trial of orlistat for weight loss and prevention of weight regain in obese patients. Lancet 1998; 352: 167–173.

Rossner S, Sjostrom L, Noack R, Meinders AE, Noseda G . Weight loss, weight maintenance, and improved cardiovascular risk factors after 2 years treatment with orlistat for obesity. Obes Res 2000; 8: 49–61.

Hollander PA, Elbein SC, Hirsch IB, Kelley D, McGill J, Taylor T, Weiss SR, Crockett SE, Kaplan RA, Comstock J, Lucas CP, Lodewick PA, Canovatchel W, Chung J, Hauptman J . Role of orlistat in the treatment of obese patients with type 2 diabetes. Diabetes Care 1998; 21: 1288–1294.

Davidson MH, Hauptman J, DiGirolamo M, Foreyt JP, Halsted CH, Heber D, Heimburger DC, Lucas CP, Robbins DC, Chung J, Heymsfield SB . Weight control and risk factor reduction in obese subjects treated for 2 years with orlistat. JAMA 1999; 281: 235–242.

Finer N, James WPT, Kopelman PG, Lean MEJ, Williams G . One-year treatment of obesity: a randomized, double-blind, placebo-controlled, multicentre study of orlistat, a gastrointestinal lipase inhibitor. Int J Obes Relat Metab Disord 2000; 24: 306–313.

Hauptman J, Lucas C, Boldrin MN, Collins H, Segal K . Orlistat in the long-term treatment of obesity in primary care settings. Arch Fam Med 2000; 9: 160–167.

Lindgarde F . The effect of orlistat on body weight and coronary heart disease risk profile in obese patients: The Swedish Multimorbidity Study. J Intern Med 2000; 248: 245–254.

Broom I, Wilding J, Stott P, Myers N . Randomised trial of the effect of orlistat on body weight and cardiovascular disease risk profile in obese patients: UK Multimorbidity Study. Int J Clin Pract 2002; 56: 494–499.

Kelley DE, Bray GA, Pi-Sunyer FX, Klein S, Hill J, Miles J, Hollander P . Clinical efficacy of orlistat therapy in overweight and obese patients with insulin-treated type 2 diabetes. Diabetes Care 2002; 25: 1033–1041.

Miles JM, Leiter L, Hollander P, Wadden T, Anderson JW, Doyle M, Foreyt J, Aronne L, Klein S . Effect of orlistat in overweight and obese patients with type 2 diabetes treated with metformin. Diabetes Care 2002; 25: 1123–1128.

Bakris G, Calhoun D, Egan B, Hellmann C, Dolker M, Kingma I . Orlistat improves blood pressure control in obese subjects with treated but inadequately controlled hypertension. J Hypertens 2002; 20: 2257–2267.

Smith IG, Goulder MA . Randomized placebo-controlled trial of long-term treatment with sibutramine in mild to moderate obesity. J Fam Pract 2001; 50: 505–512.

McMahon FG, Fujioka K, Singh BN, Mendel CM, Rowe E, Rolston K, Johnson F, Mooradian AD . Efficacy and safety of sibutramine in obese white and African American patients with hypertension. Arch Int Med 2000; 160: 2185–2191.

McMahon FG, Weinstein SP, Rowe E, Ernst KR, Johnson F, Fujioka K . Sibutramine is safe and effective for weight loss in obese patients whose hypertension is well controlled by angiotensin converting enzyme inhibitors. J Hum Hypertens 2002; 16: 5–11.

Wing RR, Marcus MD, Epstein LH, Salata R . Type 2 diabetic subjects lose less weight than their overweight spouses. Diabetes Care 2000; 23: 1499–1504.

Egger M, Smith GD, Schneider M, Minder C . Bias in meta-analysis detected by a simple, graphical test. BMJ 1997; 315: 629–634.

Sterne JAC, Egger M, Smith GD . Investigating and dealing with publication and other biases. In: Egger M, Smith GD, Altman DG (Eds). Systematic reviews in health care, 2nd edn. BMJ Publishing Group: London; 2001.

Buchanan TA, Xiang AH, Peters RK, Kjos SL, Marroquin A, Goico J, Ochoa C, Tan S, Berkowitz K, Hodis HN, Azen SP . Preservation of pancreatic beta-cell function and prevention of type 2 diabetes by pharmacological treatment of insulin resistance in high-risk hispanic women. Diabetes 2002; 51: 2796–2803.

Chiasson JL, Josse RG, Gomis R, Hanefeld M, Karasik A, Laakso M . Acarbose for prevention of type 2 diabetes mellitus: the STOP-NIDDM randomised trial. Lancet 2002; 359: 2072–2077.

Diabetes Prevention Program Research Group. Reduction in the incidence of type 2 diabetes with lifestyle intervention or metformin. N Engl J Med 2002; 346: 393–403.

Toumilehto J, Lindstrom J, Eriksson JG, Valle TT, Hamalainen H, Ilanne-Parikka P, Keinanen-Kiukaanniemi S, Laakso M, Louheranta A, Rastas M, Salminen V, Uusitupa M . Prevention of type 2 diabetes mellitus by changes in lifestyle among subjects with impaired glucose tolerance. N Engl J Med 2001; 344: 1343–1350.

Sjostrom L, Torgerson JS, Hauptman J, Boldrin M . XENDOS (Xenical in the prevention of diabetes in obese subjects): a landmark study. Poster presented at the International Congress of Obesity, Sao Paulo, August 2002.
Acknowledgements
We acknowledge the help of the following members of the Cochrane Collaboration: Drs S Norris, A Ohlsson and B Richter, and J Beyenne. In particular, Dr Norris' assistance with methodological issues and preparation of the initial draft was invaluable.
About this article
Cite this article
Padwal, R., Li, S. & Lau, D. Long-term pharmacotherapy for overweight and obesity: a systematic review and meta-analysis of randomized controlled trials. Int J Obes 27, 1437–1446 (2003). https://doi.org/10.1038/sj.ijo.0802475
Received:

Revised:

Accepted:

Published:

Issue Date:

DOI: https://doi.org/10.1038/sj.ijo.0802475
Keywords
overweight

pharmacotherapy

antiobesity agents

sibutramine

orlistat