Abstract
OBJECTIVE: To evaluate the effect of an almond-enriched (high monounsaturated fat, MUFA) or complex carbohydrate-enriched (high carbohydrate) formula-based low-calorie diet (LCD) on anthropometric, body composition and metabolic parameters in a weight reduction program.
DESIGN: A randomized, prospective 24-week trial in a free-living population evaluating two distinct macronutrient interventions on obesity and metabolic syndrome-related parameters during weight reduction.
SUBJECTS: In total, 65 overweight and obese adults (age: 27–79 y, body mass index (BMI): 27–55 kg/m2).
INTERVENTION: A formula-based LCD enriched with 84 g/day of almonds (almond-LCD; 39% total fat, 25% MUFA and 32% carbohydrate as percent of dietary energy) or self-selected complex carbohydrates (CHO-LCD; 18% total fat, 5% MUFA and 53% carbohydrate as percent of dietary energy) featuring equivalent calories and protein.
MAIN OUTCOME MEASUREMENTS: Various anthropometric, body composition and metabolic parameters at baseline, during and after 24 weeks of dietary intervention.
RESULTS: LCD supplementation with almonds, in contrast to complex carbohydrates, was associated with greater reductions in weight/BMI (−18 vs −11%), waist circumference (WC) (−14 vs −9%), fat mass (FM) (−30 vs −20%), total body water (−8 vs −1%) and systolic blood pressure (−11 vs 0%), P=0.0001–0.05. A 62% greater reduction in weight/BMI, 50% greater reduction in WC and 56% greater reduction in FM were observed in the almond-LCD as compared to the CHO-LCD intervention. Ketone levels increased only in the almond-LCD group (+260 vs 0%, P<0.02). High-density lipoprotein cholesterol (HDL-C) increased in the CHO-LCD group and decreased in the almond-LCD group (+15 vs −6%, P=0.05). Glucose, insulin, diastolic blood pressure, total cholesterol, triglycerides, low-density lipoprotein cholesterol (LDL-C) and LDL-C to HDL-C ratio decreased significantly to a similar extent in both dietary interventions. Homeostasis model analysis of insulin resistance (HOMA-IR) decreased in both study groups over time (almond-LCD: −66% and CHO-LCD: −35%, P<0.0001). Among subjects with type 1 diabetes, diabetes medication reductions were sustained or further reduced in a greater proportion of almond-LCD as compared to CHO-LCD subjects (96 vs 50%, respectively).
CONCLUSION: Our findings suggest that an almond-enriched LCD improves a preponderance of the abnormalities associated with the metabolic syndrome. Both dietary interventions were effective in decreasing body weight beyond the weight loss observed during long-term pharmacological interventions; however, the almond-LCD group experienced a sustained and greater weight reduction for the duration of the 24-week intervention. Almond supplementation of a formula-based LCD is a novel alternative to self-selected complex carbohydrates and has a potential role in reducing the public health implications of obesity.
This is a preview of subscription content
Access options
Subscribe to Journal
Get full journal access for 1 year
$119.00
only $9.92 per issue
All prices are NET prices.
VAT will be added later in the checkout.
Tax calculation will be finalised during checkout.
Buy article
Get time limited or full article access on ReadCube.
$32.00
All prices are NET prices.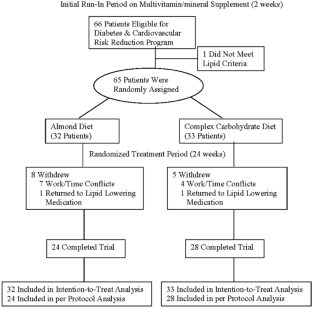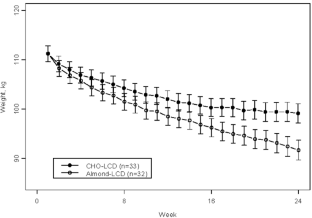 References
Ford ES, Giles WH, Dietz WH . Prevalence of the metabolic syndrome among US adults: findings from the third National Health and Nutrition Examination Survey. JAMA 2002; 287: 356–359.

Kendall DM, Harmel AP . The metabolic syndrome, type 2 diabetes, and cardiovascular disease: understanding the role of insulin resistance. Am J Manage Care 2002; 8(20 Suppl): S635–S653; quiz S654–S637.

Pi-Sunyer FX . Effect of the composition of the diet on energy intake. Nutr Rev 1990; 48: 94–105.

Lissner L, Heitmann BL . Dietary fat and obesity: evidence from epidemiology. Eur J Clin Nutr 1995; 49: 79–90.

Grundy SM . Multifactorial causation of obesity: implications for prevention. Am J Clin Nutr 1998; 67(3 Suppl): 563S–572S.

Shah M, Garg A . High-fat and high-carbohydrate diets and energy balance. Diabetes Care 1996; 19: 1142–1152.

Sclafani A . Obesity. In: Brodoff B (ed.) Dietary obesity models. JB Lippincott: Philadelphia; 1992, pp 241–248.

Popkin BM, Paeratakul S, Zhai F, Ge K . A review of dietary and environmental correlates of obesity with emphasis on developing countries. Obes Res 1995; 3 (Suppl 2): 145s–153s.

Willett WC, Leibel RL . Dietary fat is not a major determinant of body fat. Am J Med 2002; 113 (Suppl 9B): 47S–59S.

Yang EJ, Chung HK, Kim WY, Kerver JM, Song WO . Carbohydrate intake is associated with diet quality and risk factors for cardiovascular disease in US adults: NHANES III. J Am Coll Nutr 2003; 22: 71–79.

Ludwig DS . The glycemic index: physiological mechanisms relating to obesity, diabetes, and cardiovascular disease. JAMA 2002; 287: 2414–2423.

Willett WC . Dietary fat plays a major role in obesity: no. Obes Rev 2002; 3: 59–68.

Pirozzo S, Summerbell C, Cameron C, Glasziou P . Advice on low-fat diets for obesity. Cochrane Database Syst Rev 2002; CD003640, 1–26.

Zambon A, Sartore G, Passera D, Francini-Pesenti F, Bassi A, Basso C, Cambon S, Nanzato E, Grepeldi G . Effects of hypocaloric dietary treatment enriched in oleic acid on LDL and HDL subclass distribution in mildly obese women. J Intern Med 1999; 246: 191–201.

Leibel RL, Hirsch J . Diminished energy requirements in reduced-obese patients. Metabolism 1984; 33: 164–170.

Weigle DS, Sande KJ, Iverius PH, Monsen ER, Brunzell JD . Weight loss leads to a marked decrease in nonresting energy expenditure in ambulatory human subjects. Metabolism 1988; 37: 930–936.

Riccardi G, Rivellese AA . Dietary treatment of the metabolic syndrome—the optimal diet. Br J Nutr 2000; 83 (Suppl 1): S143–S148.

Keys A, Anderson JT, Grande F . Prediction of serum-cholesterol responses of man to changes in fats in the diet. Lancet 1957; 2: 959–966.

Mensink RP, Katan MB . Effect of a diet enriched with monounsaturated or polyunsaturated fatty acids on levels of low-density and high-density lipoprotein cholesterol in healthy women and men. N Engl J Med 1989; 321: 436–441.

Mattson FH, Grundy SM . Comparison of effects of dietary saturated, monounsaturated, and polyunsaturated fatty acids on plasma lipids and lipoproteins in man. J Lipid Res 1985; 26: 194–202.

Grundy SM . Comparison of monounsaturated fatty acids and carbohydrates for lowering plasma cholesterol. N Engl J Med 1986; 314: 745–748.

Reaven G . Metabolic syndrome: pathophysiology and implications for management of cardiovascular disease. Circulation 2002; 106: 286–288.

Garg A . High-monounsaturated fat diet for diabetic patients. Is it time to change the current dietary recommendations? Diabetes Care 1994; 17: 242–246.

Expert Panel in Detection, Evaluation, and Treatment of High Blood Cholesterol in Adults. Executive Summary of The Third Report of The National Cholesterol Education Program (NCEP) (Adult Treatment Panel III). JAMA 2001; 285: 2486–2497.

Sabate J . Nut consumption, vegetarian diets, ischemic heart disease risk, and all-cause mortality: evidence from epidemiologic studies. Am J Clin Nutr 1999; 70: 500S–503S.

Lavedrine F, Zmirou D, Ravel A, Balducci F, Alary J . Blood cholesterol and walnut consumption: a cross-sectional survey in France. Prev Med 1999; 28: 333–339.

Jenkins DJA, Kendall CWC, Marchie A, Parker TL, Connelly PW, Qian W, Haight JS, Faulkner D, Vidgen E, Lapsley KG, Spiller GA . Dose response of almonds on coronary heart disease risk factors: blood lipids, oxidized low-density lipoproteins, lipoprotein(a), homocysteine, and pulmonary nitric oxide. Circulation 2002; 106: 1327–1332.

Sabate J, Fraser GE, Burke K, Knutsen SF, Bennett H, Lindsted KD . Effects of walnuts on serum lipid levels and blood pressure in normal men. N Engl J Med 1993; 328: 603–607.

Chisholm A, Mann J, Skeaff M . A diet rich in walnuts favourably influences plasma fatty acid profile in moderately hyperlipidaemic subjects. Eur J Clin Nutr 1998; 52: 12–16.

Spiller GA, Jenkins DA, Bosello O, Gates JE, Cragen LN, Bruce B . Nuts and plasma lipids: an almond-based diet lowers LDL-C while preserving HDL-C. J Am Coll Nutr 1998; 17: 285–290.

Spiller GA, Jenkins DJ, Cragen LN, Gates JE, Bosello O, Berra K, Radd C, Stevenson M, Superko R . Effect of a diet high in monounsaturated fat from almonds on plasma cholesterol and lipoproteins. J Am Coll Nutr 1992; 11: 126–130.

Morgan WA, Clayshulte BJ . Pecans lower low-density lipoprotein cholesterol in people with normal lipid levels. J Am Diet Assoc 2000; 100: 312–318.

O'Byrne DJ, Knauft DA, Shireman RB . Low fat-monounsaturated rich diets containing high-oleic peanuts improve serum lipoprotein profiles. Lipids 1997; 32: 687–695.

Bagga D, Anders KH, Wang HJ, Glaspy JA . Long-chain n-3-to-n-6 polyunsaturated fatty acid ratios in breast adipose tissue from women with and without breast cancer. Nutr Cancer 2002; 42: 180–185.

Kromhout D . The importance of N-6 and N-3 fatty acids in carcinogenesis. Med Oncol Tumor Pharmacother 1990; 7: 173–176.

Lipid Research Clinics. Manual of laboratory operations. Lipid and lipoprotein analysis (revised). US Government Printing Office, US Department of Health and Human Services: Washington, DC; 1982.

Nunez C, Gallagher D, Visser M, Pi-Sunyer FX, Wang Z, Heymsfield SB . Bioimpedance analysis: evaluation of leg-to-leg system based on pressure contact footpad electrodes. Med Sci Sports Exerc 1997; 29: 524–531.

Hainer V, Kunesova M, Parizkova J, Stich V, Horejs J, Muller L . Body fat assessment by a new bipedal bioimpedance instrument in normal weight and obese women. Sb Leuk 1995; 96: 249–256.

Janssen I, Katzmarzyk PT, Ross R . Body mass index, waist circumference, and health risk: evidence in support of current National Institutes of Health guidelines. Arch Intern Med 2002; 162: 2074–2079.

Matthews DR, Hosker JP, Rudenski AS, Naylor BA, Treacher DF, Turner RC . Homeostasis model assessment: insulin resistance and beta-cell function from fasting plasma glucose and insulin concentrations in man. Diabetologia 1985; 28: 412–419.

Wirth A, Krause J . Long-term weight loss with sibutramine: a randomized controlled trial. JAMA 2001; 286: 1331–1339.

McManus K, Antinoro L, Sacks F . A randomized controlled trial of a moderate-fat, low-energy diet compared with a low fat, low-energy diet for weight loss in overweight adults. Int J Obes Relat Metab Disord 2001; 25: 1503–1511.

Alper CM, Mattes RD . Effects of chronic peanut consumption on energy balance and hedonics. Int J Obes Relat Metab Disord 2002; 26: 1129–1137.

Sabate J . Nuts and body weight: a negative interaction? Paper presented at 4th International Congress on Vegetarian Nutrition, Loma Linda University, CA, 2002.

Golay A, Eigenheer C, Morel Y, Kujawski P, Lehmann T, de Tonnac N . Weight-loss with low or high carbohydrate diet? Int J Obes Relat Metab Disord 1996; 20: 1067–1072.

Rocca AS, LaGreca J, Kalitsky J, Brubaker PL . Monounsaturated fatty acid diets improve glycemic tolerance through increased secretion of glucagon-like peptide-1. Endocrinology 2001; 142: 1148–1155.

Perfetti R, Brown TA, Velikina R, Busselen S . Control of glucose homeostasis by incretin hormones. Diabetes Technol Ther 1999; 1: 297–305.

Martens FM, Visseren FL, Lemay J, de Koning EJ, Rabelink TJ . Metabolic and additional vascular effects of thiazolidinediones. Drugs 2002; 62: 1463–1480.

Taskinen MR, Nikkila EA . Effects of caloric restriction on lipid metabolism in man: changes of tissue lipoprotein lipase activities and of serum lipoproteins. Atherosclerosis 1979; 32: 289–299.

Abbey M, Noakes M, Belling GB, Nestel PJ . Partial replacement of saturated fatty acids with almonds or walnuts lowers total plasma cholesterol and low-density-lipoprotein cholesterol. Am J Clin Nutr 1994; 59: 995–999.

Sabate J, Haddad E, Tanzman, Jambazian P, Rajaram S . Serum lipid response to the graduated enrichment of a Step I diet with almonds: a randomized feeding trial. Am J Clin Nutr 2003; 97: 1379–1384.

Dattilo AM, Kris-Etherton PM . Effects of weight reduction on blood lipids and lipoproteins: a meta-analysis. Am J Clin Nutr 1992; 56: 320–328.

Anderson KM, Wilson PW, Odell PM, Kannel WB . An updated coronary risk profile. A statement for health professionals. Circulation 1991; 83: 356–362.

Fraser GE, Sabate J, Beeson WL, Strahan TM . A possible protective effect of nut consumption on risk of coronary heart disease. The Adventist Health Study. Arch Intern Med 1992; 152: 1416–1424.

Hu FB, Stampfer MJ, Manson JE, Rimm EB, Colditz GA, Rosner BA, Speizer FE, Hennekens CH, Willett WC . Frequent nut consumption and risk of coronary heart disease in women: prospective cohort study. BMJ 1998; 317: 1341–1345.
Acknowledgements
We thank Zaida Cordero-MacIntyre, PhD for her assistance in study development, Joanne Shifflett, RN for clinical services, Frieda Brandt, RN for administrative support, Stephen Scott for laboratory technical support, and, Paul Frankel, PhD and David Smith, PhD for statistical support and data analysis. This research was supported in part by a General Clinical Research Center Grant NIH (M01RR00043) awarded to the City of Hope National Medical Center, a satellite center of the University of Southern California, and, the Almond Board of California.
About this article
Cite this article
Wien, M., Sabaté, J., Iklé, D. et al. Almonds vs complex carbohydrates in a weight reduction program. Int J Obes 27, 1365–1372 (2003). https://doi.org/10.1038/sj.ijo.0802411
Received:

Accepted:

Published:

Issue Date:

DOI: https://doi.org/10.1038/sj.ijo.0802411
Keywords
nuts

almonds

obesity

metabolic syndrome

insulin resistance

type 2 diabetes

weight loss