Abstract
OBJECTIVE: To determine whether the positive statistical associations between measures of total and regional adiposity and measures of glucose, insulin and triacylglycerol (TAG) metabolism reported in Caucasian men, are also observed in UK Sikhs.
DESIGN: A matched cross-sectional study in which each volunteer provided a blood sample after a 12-h overnight fast and had anthropometric measurements taken.
SUBJECTS: A total of 55 healthy Caucasian and 55 healthy UK Sikh men were recruited. The Caucasian and Sikh men were matched for age (48.7±10.9 and 48.3±10.0 y, respectively) and body mass index (BMI) (26.1±2.8 and 26.3±3.2 kg/m2, respectively).
MEASUREMENTS: Anthropometric measurements were performed to assess total and regional fat depots. The concentrations of plasma total cholesterol, high-density cholesterol (HDL-C), low-density cholesterol (LDL-C) and small dense LDL (LDL3), TAG, glucose, fasting insulin (ins) and nonesterified fatty acids (NEFA) were analysed in fasted plasma. Surrogate measures of insulin resistance (HOMA-IR) and insulin sensitivity (RQUICKI) were calculated from insulin and glucose (HOMA-IR) and insulin, glucose and NEFA (RQUICKI) measurements.
RESULTS: The Sikh men had significantly higher body fat, with the sum of the four skinfold measurements (Ssk) (P=0.0001) and subscapular skinfold value (P=0.009) higher compared with the Caucasian men. The Sikh volunteers also had characteristics of the metabolic syndrome: lower HDL-C (P=0.07), higher TAG (P=0.004), higher % LDL3 (P=0.0001) and insulin resistance (P=0.05). Both ethnic groups demonstrated positive correlations between insulin and waist circumference (Caucasian: r=0.661, P=0.0001; Sikh: r=0.477, P=0.0001). The Caucasian men also demonstrated significant positive correlations between central adiposity (r=0.275, P=0.04), other measures of adiposity (BMI and suprailiac skinfold) and plasma TAG, whereas the Sikh men showed no correlation for central adiposity (r=0.019, ns) and TAG with a trend to a negative relationship between other measures (Ssk and suprailiac) which reached near significance for subscapular skinfold and TAG (r=−0.246, P=0.007). The expected positive association between insulin and TAG was observed in the Caucasian men (r=0.318, P=0.04) but not in the Sikh men (r=0.011, ns).
CONCLUSIONS: In the Caucasian men, the expected positive association between plasma TAG and centralized body fat was observed. However, a lack of association between centralized, or any other measure of adiposity, and plasma TAG was observed in the matched Sikh men, although both ethnic groups showed the positive association between centralized body fat and insulin resistance, which was less strong for Sikhs. These findings in the Sikh men were not consistent with the hypothesis that there is a clear causal relationship between body fat and its distribution, insulin resistance, and lipid abnormalities associated with the metabolic syndrome, in this ethnic group.
Relevant articles
Open Access articles citing this article.
Mingzhi Zhang

,

Tian Hu

…

Li Zhou

Scientific Reports Open Access 21 December 2015
Access options
Subscribe to Journal
Get full journal access for 1 year
$119.00
only $9.92 per issue
All prices are NET prices.
VAT will be added later in the checkout.
Tax calculation will be finalised during checkout.
Buy article
Get time limited or full article access on ReadCube.
$32.00
All prices are NET prices.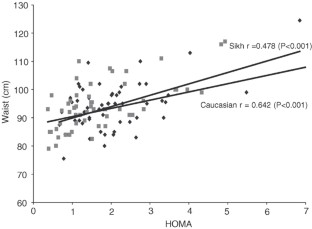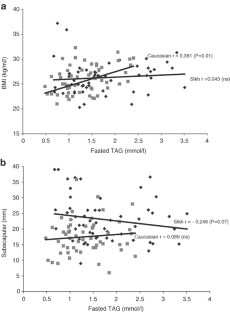 References
McKeigue PM, Miller GJ, Marmot MG . Coronary heart disease in South Asians overseas—a review. J Clin Epidemiol 1989; 42: 597–609.

Balarajan R . Ethnicity and variations in mortality from coronary heart disease. Health Trends 1996; 28: 45–51.

Wild S, McKeigue P . Cross-sectional analysis of mortality by country of birth in England and Wales, 1970–1992. BMJ 1997; 314: 705–710.

Simmons D, Coppack SW . Disturbances of insulin in British Asian and white men source. BMJ 1989; 299: 914–915.

Bhatnagar D, Anand IS, Durrington PN, Patel DJ, Wander GS, Mackness MI . Coronary risk factors in people from the Indian subcontinent living in west London and their siblings in India. Lancet 1995; 345: 405–409.

Simmons D, Williams DAR, Powell MJ . Prevalence of diabetes in different regional and religious South Asian Indian communities in Coventry. Diabetic Med 1992; 9: 428–431.

Singh RB, Ghosh S, Niaz AM, Gupta S, Bishnoi I, Sharma JP, Agarwal P, Rastogi SS, Beegum R, Chibo H, Shoumin Z . Epidemiologic-study of diet and coronary risk-factors in relation to central obesity and insulin levels in rural and urban populations of North-India. Int J Cardiol 1995; 47: 245–255.

Ramachandran A, Snehalatha C, Dharmaraj D, Viswanathan M . Prevalence of glucose-intolerance in Asian Indians — urban–rural difference and significance of upper-body adiposity. Diabetes Care 1992; 15: 1348–1355.

Beckles GLA, Miller GJ, Kirkwood BR . High total and cardiovascular disease mortality in adults of Indian descent in Trinidad, unexplained by major coronary risk factors. Lancet 1986; 1: 1298–1300.

McKeigue PM, Shah B, Marmot MG . Relation of central obesity and insulin resistance with high diabetes prevalence and cardiovascular risk in South Asians. Lancet 1991; 337: 382–386.

McKeigue PM . Metabolic consequences of obesity and body fat pattern: lessons from migrant studies. Origins Consequences Obes 1996; 201: 54–67.

Laws A, Jepesen JL, Maheux PC, Schaaf P, Chen YD, Reaven GM . Resistance to insulin-stimulated glucose uptake and dyslipidaemia in Asian Indians. Arterioscler Thromb 1994; 14: 917–922.

Kalhan R, Puthawala K, Agarwal S, Amini SB, Kalhan SC . Altered lipid profile, leptin, insulin and anthropometry in offspring of South Asian immigrants in the United States. Metabolism 2001; 50: 1197–1202.

Cruikshank JK, Cooper J, Burnett M, MacDuff J, Drubra U . Ethnic differences in fasting C-peptide and insulin in relation to glucose tolerance and blood pressure. Lancet 1991; 338: 842–847.

Chowdhury B, Lantz H, Sjöström L . Computed tomography-determined body composition in relation to cardiovascular risk factors in Indian and matched Swedish males. Metabolism 1996; 45: 634–644.

Knowler WC, Pettitt DJ, Saad MF, Charles MA, Nelson RG, Howard BV, Bogardus C, Bennett PH . Obesity in the Pima-Indians — its magnitude and relationship with diabetes. Am J Clin Nutr 1991; 53: S1543–S1551.

Banerji MA, Lebowitz J, Caiken RL, Gordon D, Kral JG, Lebovitz HE . Relationship of visceral adipose tissue and glucose disposal is independent of sex in black NIDDM subjects. Am J Physiol 1997; 273: E425–E432.

Kooner JS, Ragavendra R, Baliga R, Wilding J, Crook D, Packard CJ, Banks LM, Peart S, Aitman TJ, Scott J . Abdominal obesity, impaired non-esterified fatty acid suppression, and insulin-mediated glucose disposal are early metabolic abnormalities in families with premature myocardial infarction. Arterioscler Thromb Vasc Biol 1998; 18: 1021–1026.

Pais P, Pogue J, Gerstein H, Zachariah E, Savitha D, Jayprakash S, Nayak PR, Yusuf S . Risk factors for acute myocardial infarction in Indians: a case–control study. Lancet 1996; 348: 358–363.

Kissebah AH, Vydelingum N, Murray R, Evans DJ, Hartz AJ, Kalkhoff RK, Adams PW . Relation of body fat distribution to metabolic complications of obesity. J Clin Endocrinol Metab 1982; 54: 254–260.

Sattar N, Tan CE, Han TS, Forster L, Lean MEJ, Shepherd J, Packard CJ . Associations of indices of adiposity with atherogenic lipoprotein subfractions. Int J Obes Relat Metab Discord 1998; 22: 432–439.

Couillard C, Bergeron N, Prud'homme D, Bergeron J, Tremblay A, Bouchard C, Mauriège P, Després JP . Postprandial triglyceride response in visceral obesity in men. Diabetes 1998; 47: 953–960.

Després JP, Moorjani S, Lupien PJ, Tremblay A, Nadeau A, Bouchard C . Regional distribution of body fat, plasma lipoproteins, and cardiovascular disease. Arteriosclerosis 1990; 10: 497–511.

Cavallo-Perin P, Cassader BM, Cesco L, Gruden G, Pagano G . The glucoregulatory and antilipolytic actions of insulin in abdominal obesity with normal or impaired glucose tolerance: an in vivo and in vitro study. Eur J Clin Invest 1992; 22: 725–731.

Kissebah AH, Peiris AN . Biology of regional body fat distribution: relationship to non-insulin dependent diabetes mellitus. Diabetes Metab Rev 1989; 5: 83–109.

Després JP . Abdominal obesity as important component of insulin-resistant syndrome. Nutrition 1993; 9: 452–459.

Fujioka S, Matsuzawa Y, Tokunaga K, Tarui S . Contribution of intra-abdominal fat distribution to the impairment of glucose and lipid metabolism in human obesity. Metabolism 1987; 36: 54–59.

Björntrop P . Abdominal obesity and the development of NIDDM. Diabetes Metab Rev 1988; 4: 615–622.

James RW, Brulhart-Meynet M-C, Lehmann T, Golay A . Lipoprotein distribution and composition in obesity: their association with central adiposity. Int J Obes Relat Metab Disord 1997; 21: 1115–1120.

Minihane AM, Khan S, Talmud PJ, Williams DL, Wright JW, Murphy MC, Griffin BA, Williams CM . Lack of association between lipaemia and central adiposity in subjects with an atherogenic lipoprotein phenotype (ALP). Int J Obes Relat Metab Disord 2000; 24: 1097–1106.

Syvanne M, Talmud PJ, Humphries SE, Fisher RM, Rosseneu M, Hilden H, Taskinen MR . Determinants of postprandial lipemia in men with coronary artery disease and low levels of HDL cholesterol. J Lipid Res 1997; 38: 1463–1472.

Durnin JV, Wormsley J . Body fat assessed from total body density and its estimation from skinfold thickness measurements on 481 men and women aged 16 to 72 years. Br J Nutr 1974; 32: 77–97.

McNamara JR, Huang C, Massov T, Leary ET, Warnick GR, Rubins HB, Robins SJ, Schefer EJ . Modification of the dextran-Mg+2 high-density lipoprotein cholesterol precipitation method for use with previously frozen plasma. Clin Chem 1994; 40: 233–239.

Freidewald WT, Levey RI . Estimation of the concentration of low-density lipoprotein cholesterol in plasma, without use of the preparative ultracentrifuge. Clin Chem 1972; 18: 499–502.

Griffin BA, Caslake MJ, Yip B, Tait GW, Packard CJ, Shepherd J . Rapid isolation of low density lipoprotein subfractions from plasma by density gradient ultracentrifugation. Atherosclerosis 1990; 83: 59–67.

Matthews DR, Hosker JP, Rudenski AS, Naylor BA, Treacher DF, Turner RL . Homeostasis model assessment: insulin resistance and β-cell function from fasting plasma glucose and insulin concentrations in man. Diabetologia 1985; 28: 412–419.

Perseghin G, Caumo A, Caloni M, Testolin G, Luzi L . Incorporation of the fasting plasma FFA concentration into QUICKI improves its association with insulin sensitivity in non-obese individuals. J Clin Endocrinol Metab 2001; 86: 4776–4781.

Chandalia M, Abate N, Garg A, Stray-Gundersen J, Grundy SM . Relationship between generalised and upper body obesity to insulin resistance in Asian Indian men. J Clin Endocrinol Metab 1999; 84: 2329–2335.

Pedersen SB, Borglum JD, Schmitz O, Bak JF, Sorensen NS, Richelsen B . Abdominal obesity is associated with insulin resistance and reduced glycogen synthetase activity in skeletal muscle. Metabolism 1993; 42: 998–1005.

Evans DJ, Murray R, Kissebah AH . Relationship between skeletal muscle insulin resistance, insulin-mediated glucose disposal, and insulin-binding: effects of obesity and body fat topography. J Clin Invest 1984; 74: 1515–1525.

Walker M . Obesity, insulin resistance, and its link to non-insulin dependent diabetes mellitus. Metab Suppl 1994; 9: 18–20.

Bonadonna RC, Groop L, Kraemer N, Ferrannini E, Del Prato S, DeFronzo RA . Obesity and insulin resistance in humans: a dose–response study. Metabolism 1990; 39: 452–459.

Singh RB, Rastogi SS, Niaz MA, Postiglione A . Association of central obesity and insulin resistance with high prevalence of diabetes and cardiovascular disease in an elderly population with low fat intake and lower than normal prevalence of obesity: the Indian paradox. Coronary Artery Dis 1998; 9: 559–565.

Banerji MA, Faridi N, Atluri R, Chaiken RL, Lebovitz HE . Body composition, visceral fat, leptin, and insulin resistance in Asian Indian men. J Clin Endocrinol Metab 1999; 84: 137–144.

Abate N, Garg A, Peshock RM, Stray-Gundersen J, Grundy SM . Relationships of generalized and regional adiposity to insulin sensitivity. J Clin Invest 1995; 96: 88–98.

Peiris AN, Sothmann MS, Hennes MI, Lee MB, Wilson CR, Gustafson AB, Kissebah AH . Relative contribution of obesity and body fat distribution to alterations in glucose insulin homeostasis: predictive values of selected indices in premenopausal women. Am J Clin Nutr 1989; 49: 758–764.

Caprio S, Hyman LD, Limb C, McCarthy S, Lange R, Sherwin RS, Schulman G, Tamborlane WV . Central adiposity and its metabolic correlates in obese adolescent girls. Am J Physiol Endocrinol Metab 1995; 32: E118–E126.

Lovegrove JA, Silva KDRR, Wright JW, Williams CM . Adiposity, insulin levels and lipid metabolism in post-menopausal women. Int J Obes Relat Metab Disord 2002; 26: 475–486.

Brady LM, Gower BA, Lovegrove SS, Williams CM, Lovegrove JA . Revised QUICKI provides a strong surrogate estimate of insulin sensitivity when compared with the minimal model. Int. J. obesity (Under review).

Bolinder J, Kager L, Ostman J, Arner P . Differences at the receptor and postreceptor levels between human omental and subcutaneous adipose tissue in the action of insulin on lipoplysis. Diabetes 1983; 32: 117–123.

Groop LC, Bonadonna RC, DelPrato S, Ratheiser K, Zyck K, Ferrannini E, DeFronzo RA . Glucose and free fatty acid metabolism in non-insulin-dependent diabetes mellitus: evidence for multiple sites of insulin resistance. J Clin Invest 1989; 84: 205–213.

Kanety H, Moshe S, Shafrir E, Lunenfeld B, Karasik A . Hyperinsulinaemia induces a reversible impairment in insulin receptor function leading to diabetes in the sand rat model of non-insulin-dependant-diabetes mellitus. Proc Natl Acad Sci USA 1994; 91: 1853–1857.

Castro CM, de Bruin TW, de Valk HW, Shoulders CC, Jansen H, Willem ED . Impaired fatty acid metabolism in familial combined hyperlipidaemia: a mechanism associating hepatic lipoprotein B overproduction and insulin resistance. J Clin Invest 1993; 92: 160–168.

Aitman TJ, Godsland IF, Farren B, Crook D, Wong HJ, Scott J . Defects of insulin action on fatty acid and carbohydrate metabolism in familial combined hyperlipidaemia. Arterioscler Thromb Vasc Biol 1997; 17: 748–754.

Randle PJ, Garland PB, Hales CN, Hewsholme EA . The glucose fatty acid cycle: its role in insulin sensitivity and the metabolic disturbances of diabetes mellitus. Lancet 1963; 1: 785–789.

Herranz L, Zapata A, Grande C, Megia A, Pallardo LF . Body fat distribution, insulin mediated suppression of non-esterified fatty acids and plasma triglycerides in obese subjects. Horm Metab Res 1998; 30: 141–145.

Ryu JE, Craven TE, Macarthur RD, Hinson WH, Bond MG, Hagaman AP, Crouse JR . Relationship of intraabdominal fat as measured by magnetic-resonance-imaging to postprandial lipemia in middle-aged subjects. Am J Clin Nutr 1994; 60: 586–591.

Williams MJ, Hunter GR, Kekes-Szabo T, Snyder S, Treuth MS . Regional fat distribution in women and risk of cardiovascular disease. Am J Clin Nutr 1997; 65: 855–860.

Lemieux S, Després JP, Moorjani S, Nadeau A, Thériault G, Prud'homme D, Tremblay A, Bouchard C, Lupien PJ . Are gender differences in cardiovascular disease risk factors explained by the level of visceral adipose tissue? Diabetologia 1994; 37: 757–764.

Yagalla MV, Hoerr SL, Song WO, Enas E, Garg A . Relationship of diet, abdominal obesity, and physical activity to plasma lipoprotein levels in Asian Indian physicians residing in the United States. J Am Diet Assoc 1996; 96: 257–261.

Frayn KN, Williams CM, Arner P . Are increased plasma non-esterified fatty acid concentrations a risk marker for coronary heart disease and other chronic diseases? Clin Sci 1996; 90: 243–253.

Olivecrona T, Hultin M, Bergö M, Olivecrona G . Lipoprotein lipase: regulation and role in lipoprotein metabolism. Proc Nutr Soc 1997; 56: 723–729.

Frayn KN, Coppack SW, Fielding BA, Humphries SM . Coordinated regulation of hormone sensitive lipase and lipoprotein lipase in human adipose tissue in vivo: implications for the control of fat storage and fat mobilisation. Adv Enzyme Regul 1995; 35: 163–178.

Yki-Järvinen H, Kubo K, Zawadzki J, Lillioja S, Young A, Abbott W, Foley JE . Dissociation of in vitro sensitivities of glucose transport and antilipolysis to insulin in NIDDM. Am J Physiol 1987; 253: E300–E304.

Arner P, Bolinder P, Engfeldt P, Ostman J . The antilipolytic effect of insulin in human adipose tissue in obesity, diabetes mellitus, hyperinsulinaemia, and starvation. Metab Clin Exp 1981; 30: 753–760.

Arner P, Bolinder J, Engfeldt P, Hellmer J, Ostman J . Influence of obesity on the antilipolytic effect of insulin in isolated human fat cells obtained before and after glucose ingestion. J Clin Invest 1984; 73: 673–680.

Ferrannini E, Camastra S, Coopack SW, Fliser D, Golay A, Mitrakou A . Insulin action and non-esterified fatty acids. Proc Nutr Soc 1997; 56: 753–761.

Nikkilä M, Solakivi T, Lehtimäki T, Koivula T, Laippala P, Åström B . Postprandial plasma lipoprotein changes in relation to apolipoprotein E phenotypes and low density lipoprotein size in men with and without coronary artery disease. Atherosclerosis 1994; 106: 149–157.

Pouiliot MC, Després JP, Moorjani S, Lupien PJ, Tremblay A, Bouchard C . Apolipoprotein E polymorphism alters the association between body fatness and plasma lipoproteins in women. J Lipid Res 1990; 31: 1023–1029.

Molarius A, Seidell JC . Selection of anthropometric indicators for classification of abdominal fatness—a critical review. Int J Obes Relat Metab Disord 1998; 22: 719–727.

Lemieux S, Prud'homme D, Bouchard C, Tremblay A, Després JP . A single threshold value of waist girth identifies normal-weight and overweight subjects with excess visceral adipose tissue. Am J Clin Nutr 1996; 64: 685–693.
Acknowledgements
We thank Dr Bruce Griffin for analysing the plasma LDL3 and Jan Luff for her assistance on study days. We also thank all of the study volunteers for their time and blood! This work was funded by the Food Standards Agency (FSA).
About this article
Cite this article
Lovegrove, J., Brady, L., Lesauvage, S. et al. Lack of association between central adiposity and lipaemia in UK Sikh men. Int J Obes 27, 1373–1382 (2003). https://doi.org/10.1038/sj.ijo.0802384
Received:

Revised:

Accepted:

Published:

Issue Date:

DOI: https://doi.org/10.1038/sj.ijo.0802384
Keywords
Sikh

UK Indian Asian

insulin resistance

adiposity

metabolic syndrome

lipaemia
This article is cited by
Latha Palaniappan
Arun Garg
Francesca Gany

Journal of Community Health (2018)

Mingzhi Zhang
Tian Hu
Li Zhou

Scientific Reports (2015)

International Journal of Obesity (2011)