Abstract
OBJECTIVE: To study and compare the insulin sensitivity of healthy, nondiabetic Asian Indians with that of two other ethnic groups (Caucasian and Chinese) living in Singapore.
DESIGN: Study of insulin sensitivity using euglycaemic hyperinsulinaemic glucose clamp.
SUBJECTS: A total of 10 healthy, lean, young male subjects of each ethnic group, matched for age, body mass index (BMI) and physical activity. They all had normal glucose tolerance and had no family history of diabetes.
MEASUREMENTS: Anthropometric parameters (BMI, waist–hip ratio (WHR) and percentage body fat (PBF)), fasting lipid profile and leptin concentration, insulin sensitivity index, and insulin clearance.
RESULTS: Healthy lean (BMI 22.1±1.5 kg/m2 (mean±s.d.)) Indians had significantly higher fasting serum leptin (5.1±2.5 vs Chinese 1.0±0.9 vs Caucasian 2.3±1.2 ng/ml; P<0.001), lower insulin sensitivity index (9.9±3.3 vs Chinese 14.1±3.5 vs Caucasian 18.8±9.2 mg/min kg fat-free mass/μU/ml; P<0.002), and lower insulin clearance (461.4±54.8 vs Chinese 621.0±99.3 vs Caucasian 646.9±49.2 ml/min m2; P<0.001). Indians also had a higher PBF (26.5±5.2 vs Chinese 19.5±2.2 vs Caucasians 22.9±1.4%; P<0.001), diastolic blood pressure (P=0.036), fasting insulin (P<0.006) and fasting triglyceride (P=0.022). Stepwise regression analysis showed that ethnicity was the only significant independent determinant variable for the differences in insulin sensitivity index (P=0.008).
CONCLUSION: Healthy lean nondiabetic Indians were more insulin resistant compared to other ethnic groups despite the similarity in living environment. These findings may warrant preventive health-care strategies for type II diabetes and coronary artery disease to target Indians at an earlier stage compared to other ethnic groups.
Relevant articles
Open Access articles citing this article.
Lydia Q. Liew

,

Wei Wei Teo

…

Lian Kah Ti

BMC Surgery Open Access 13 January 2020

Hideyoshi Kaga

,

Yoshifumi Tamura

…

Hirotaka Watada

Scientific Reports Open Access 03 May 2017

V M H Tan

,

Y S Lee

…

C M Khoo

Nutrition & Diabetes Open Access 20 July 2015
Access options
Subscribe to this journal
Receive 12 print issues and online access
$259.00 per year
only $21.58 per issue
Rent or buy this article
Get just this article for as long as you need it
$39.95
Prices may be subject to local taxes which are calculated during checkout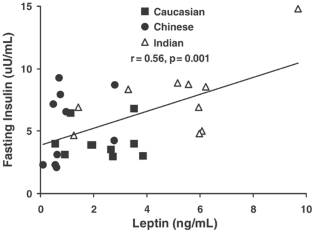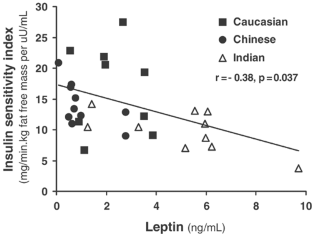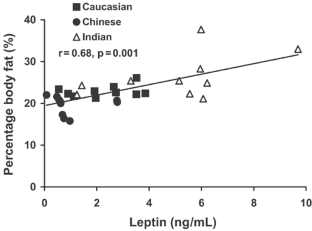 References
Balajaran R . Ethnic differences in mortality from ischaemic heart disease and cerebrovascular disease in England and Wales. Br Med J 1991; 302: 560–564.

McKeigue PM, Miller GJ, Marmot MG . Coronary heart disease in south Asians overseas: a review. J Clin Epidemiol 1989; 42: 597–609.

McKeigue PM, Ferrie JE, Pierpoint T, Marmot MG . Association of early-onset coronary heart disease in South Asian men with glucose intolerance and hyperinsulinaemia. Circulation 1993; 87: 152–161.

Beckles GL, Miller GJ, Kirkwood BR, Alexis SD, Carson DC, Byam NT . High total and cardiovascular disease mortality in adults of Indian descent in Trinidad, unexplained by major coronary risk factors. Lancet 1986; 1: 1298–1301.

Hughes K, Yeo PP, Lun KC, Thai AC, Sothy SP, Wang KW, Cheah JS, Phoon WO, Lim P . Cardiovascular diseases in Chinese, Malays, and Indians in Singapore. J Epidemiol Community Health 1990; 44: 29–35.

Reaven RM . Banting lecture 1988: role of insulin resistance in human disease. Diabetes 1988; 37: 1595–1607.

Reaven GM, Laws A . Insulin resistance, compensatory hyperinsulinaemia, and coronary heart disease. Diabetologia 1994; 37: 948–952.

Young MH, Jeng CY, W H Sheu, Shieh SM, Fuh MM, Chen YD, Reaven GM . Insulin resistance, glucose intolerance, hyperinsulinaemia and dyslipidaemia in patients with angiographically demonstrated coronary artery disease. Am J Cardiol 1993; 72: 458–460.

Anand SS, Yusuf S, Vuksan V, Devanesen S, Teo KK, Montague PA, Kelemen L, Yi C, Lonn E, Gerstein H, Hegele RA, McQueen M . Differences in risk factors, atherosclerosis, and cardiovascular disease between ethnic groups in Canada: the study of Health Assessment and Risk in Ethnic groups (SHARE). Lancet 2000; 356: 279–284.

Cappuccio FP, Cook DG, Atkinson RW, Strazzullo P . Prevalence, detection, and management of cardiovascular risk factors in different ethnic groups in south London. Heart 1997; 78: 555–563.

Ramachandran A, Snehalatha C, Dharmaraj D, Viswanathan M . Prevalence of glucose intolerance in Asian Indians. Urban-rural difference and significance of upper body adiposity. Diabetes Care 1992; 15: 1348–1355.

McKeigue PM, Shah B, Marmott MG . Relationship of central obesity and insulin resistance with high diabetes prevalence and cardiovascular risk in South Asians. Lancet 1991; 337: 382–386.

Considine RV, Sinha MK, Heiman ML, Kriauciunas A, Stephens TW, Nyce MR, Ohannesian JP, Marco CC, McKee LJ, Bauer TL, Caro JF . Serum immunoreactive-leptin concentrations in normal-weight and obese humans. N Engl J Med 1996; 334: 292–295.

Ostlund RE, Yang JW, Klein S, Gingerich R . Relation between plasma leptin and body fat, gender, diet, age and metabolic covariates. J Clin Endocrinol Metab 1996; 81: 3909–3913.

Banerji MA, Faridi N, Atluri R, Chaiken RL, Lebovitz HE . Body composition, visceral fat, leptin, and insulin resistance in Asian Indians Men. J Clin Endocrinol Metab 1999; 84: 137–144.

Leyva F, Godsland IF, Ghatei M, Proudler AJ, Aldis S, Walton C, Bloom S, Stevenson JC . Hyperleptinaemia as a component of a metabolic syndrome of cardiovascular risk. Arterioscler Thromb Vasc Biol 1998; 18: 928–933.

Lukaski HC, Johnson PE, Bolonchuk WW, Lykken GI . Assessment of fat-free mass using bioelectrical impedance measurements of the human body. Am J Clin Nutr 1985; 41: 810–817.

DeFronzo RA, Tobin JD, Andres R . Glucose clamp technique: a method for quantifying insulin secretion and resistance. Am J Physiol 1979; 237: E214–E223.

Blum WF, Englaro P, Hanitsch S, Juul A, Hertel NT, Müller J, Skakkebaek NE, Heiman ML, Rascher W . Plasma leptin levels in healthy children and adolescents: dependence on body mass index, body fat mass, gender, pubertal stage, and testosterone. J Clin Endocrinol Metab 1997; 82: 2904–2910.

Chandalia M, Abate N, Garg A, Stray-Gundersen J, Grundy SM . Relationship between generalised and upper body obesity to insulin resistance in Asian Indian Men. J Clin Endocrinol Metab 1999; 84: 2329–2334.

Chiu KC, Cohan P, Lee NP, Chuang LM . Insulin sensitivity differs among ethnic groups with a compensatory response in b-cell function. Diabetes Care 2000; 23: 1353–1358.

Raji A, Seely EW, Arky RA, Simonson DC . Body fat distribution and insulin resistance in healthy Asian Indians and Caucasians. J Clin Endocrinol Metab 2001; 86: 5366–5371.

Osei K, Cottrell DA, Orabella MM . Insulin sensitivity, glucose effectiveness, and body fat distribution pattern in nondiabetic offspring of patients with NIDDM. Diabetes Care 1991; 14: 890–896.

Humphriss DB, Stewart MW, Berrish TS, Barriocanal LA, Trajano LR, Ashworth LA, Brown MD, Miller M, Avery PJ, Alberti KG, Walker M . Multiple metabolic abnormalities in normal glucose tolerant relatives of NIDDM families. Diabetologia 1997; 40: 1185–1190.

Knight TM, Smith Z, Whittles A, Sahota P, Lockton JA, Hogg G, Bedford A, Toop M, Kernohan EE, Baker MR . Insulin resistance, diabetes, and risk markers for ischaemic heart disease in Asian men and non-Asian men in Bradford. Br Heart J 1992; 62: 343–350.

Zavaroni I, Bonora E, Pagliara M, Dall'Aglio E, Luchetti L, Buonanno G, Bonati PA, Bergonzani M, Gnudi L, Passeri M, Reaven GM . Risk factors for coronary artery disease in healthy persons with hyperinsulinaemia and normal glucose tolerance. N Engl J Med 1989; 320: 702–706.

Haffner SM, Fong D, Hazuda HP, Pugh JA, Patterson JK . Hyperinsulinaemia, upper body adiposity, and cardiovascular risk factors in non-diabetics. Metabolism 1988; 37: 338–345.

Wiesenthal SR, Sandhu H, McCall RH, Tchipashvili V, Yoshii H, Polonsky K, Shi ZQ, Lewis GF, Mari A, Giacca A . Free fatty acids impair hepatic insulin extraction in vivo. Diabetes 1999; 48: 766–774.

Cinti S, Frederich FC, Zingaretti MC, Matteis RD, Flier JS, Lowell BB . Immunohistochemical localisation of leptin and uncoupling protein in white and brown adipose tissue. Endocrinology 1997; 138: 797–804.

Dagogao-Jack S, Fanelli C, Paramore D, Brothers J, Landt M . Plasma leptin and insulin relationships in obese and non-obese humans. Diabetes 1996; 45: 699–701.

Haffner SM, Miettinen H, Mykkanen L, Karhapaa P, Rainwater DL, Laakso M . Leptin concentrations and insulin sensitivity in normoglycemic men. Int J Obes Relat Metab Disord 1997; 21: 393–399.

Donahue RP, Prineas RJ, Donahue RD, Zimmet P, Bean JA, Courten MD, Collier G, Goldberg RB, Skyler JS, Schneiderman N . Is fasting leptin associated with insulin resistance among nondiabetic individuals? Diabetes Care 1999; 22: 1092–1096.

Kolaczynski JW, Nyce MR, Considine RV, Boden G, Nolan JJ, Henry R, Mudaliar SR, Olefsky J, Caro JF . Acute and chronic effect of insulin on leptin production in humans: studies in vivo and in vitro. Diabetes 1996; 45: 699–701.
About this article
Cite this article
Liew, CF., Seah, ES., Yeo, KP. et al. Lean, nondiabetic Asian Indians have decreased insulin sensitivity and insulin clearance, and raised leptin compared to Caucasians and Chinese subjects. Int J Obes 27, 784–789 (2003). https://doi.org/10.1038/sj.ijo.0802307
Received:

Revised:

Accepted:

Published:

Issue Date:

DOI: https://doi.org/10.1038/sj.ijo.0802307
Keywords
insulin sensitivity

insulin clearance

leptin

ethnicity

Indian