Abstract
OBJECTIVE: To study the association between body size from birth to adulthood and self-reported symptoms of polycystic ovary syndrome (PCOS), particularly hirsutism and menstrual disturbances.
DESIGN: Longitudinal, population-based study of a cohort of women born in 1966 in northern Finland. The study population included 2007 women who were not pregnant and did not use hormonal contraception. Of these 528 (26%) had self-reported symptoms of PCOS.
RESULTS: Weight at birth, gestational age, being small for gestational age or growth retardation at birth were not associated with PCOS symptoms at 31 y. An increased risk of PCOS symptoms was observed among women with abdominal obesity (waist/hip ratio >85th percentile) at 31 y who had normal weight in adolescence and were overweight (body mass index (BMI) 25.0–29.9 kg/m2) or obese (BMI>30.0 kg/m2) at 31 y (relative risk (RR) (95% CI) 1.44(1.10–1.89)), and among women with abdominal obesity who were overweight or obese at both 14 and 31 y (1.71 (1.30–2.24)). A total of 30% and 41% of the women with PCOS symptoms in these groups could be attributed, respectively, to overweight, obesity and abdominal obesity at 31 y.
CONCLUSIONS: These results suggest that obesity in adolescence and in adulthood, and also weight gain after adolescence, particularly in the presence of abdominal obesity, are associated with self-reported PCOS symptoms in adulthood. Thus, based on the results from intervention studies treating PCOS and the results of this study, the prevention of obesity and abdominal obesity is important among young women.
Your institute does not have access to this article
Relevant articles
Open Access articles citing this article.
Shan-Shan Dong

,

Kun Zhang

…

Tie-Lin Yang

Genome Medicine Open Access 26 March 2021

Chau Thien Tay

,

Roger J. Hart

…

Anju E. Joham

BMC Medicine Open Access 11 December 2020

E. Koivuaho

,

J. Laru

…

T. T. Piltonen

International Journal of Obesity Open Access 04 February 2019
Access options
Subscribe to Journal
Get full journal access for 1 year
$119.00
only $9.92 per issue
All prices are NET prices.
VAT will be added later in the checkout.
Tax calculation will be finalised during checkout.
Buy article
Get time limited or full article access on ReadCube.
$32.00
All prices are NET prices.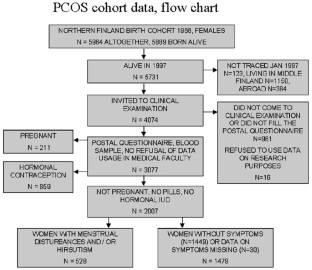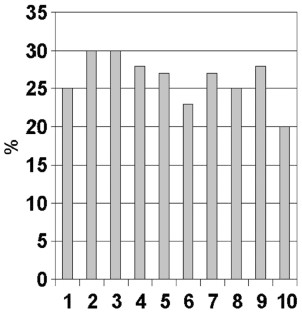 References
Franks S . Polycystic ovary syndrome. N Engl J Med 1995; 333: 853–861.

Dahlgren E, Johansson S, Lindstedt G, Knutsson F, Oden A, Janson PO, Manson LA, Crona N, Lundberg PA . Women with polycystic ovary syndrome wedge resected in 1956 to 1965: a long-term follow-up focusing on natural history and circulating hormones. Fertil Steril 1992; 57: 505–513.

Franks S, Robinson S, Willis DS . Nutrition, insulin and polycystic ovary syndrome. Rev Reprod 1996; 1: 47–53.

Holte J . Disturbances in insulin secretion and sensitivity in women with the polycystic ovary syndrome. Baillieres Clin Endocrinol Metab 1996; 10: 221–247.

Holte J . Polycystic ovary syndrome and insulin resistance: thrifty genes struggling with over-feeding and sedentary life style? J Endocrinol Invest 1998; 21: 589–601.

Lefebvre P, Bringer J, Renard E, Boulet F, Clouet S, Jaffiol C . Influences of weight, body fat patterning and nutrition on the management of PCOS. Hum Reprod 1997; 12(Suppl 1): 72–81.

Hopkinson ZE, Sattar N, Fleming R, Greer IA . Polycystic ovarian syndrome: the metabolic syndrome comes to gynaecology. BMJ 1998; 317: 329–332.

Hales CN, Barker DJ, Clark PM, Cox LJ, Fall C, Osmond C, Winter PD . Fetal and infant growth and impaired glucose tolerance at age 64. BMJ 1991; 303: 1019–1022.

Phipps K, Barker DJ, Hales CN, Fall CH, Osmond C, Clark PM . Fetal growth and impaired glucose tolerance in men and women. Diabetologia 1993; 36: 225–228.

Barker DJ, Hales CN, Fall CH, Osmond C, Phipps K, Clark PM . Type 2 (non-insulin-dependent) diabetes mellitus, hypertension and hyperlipidaemia (syndrome X): relation to reduced fetal growth. Diabetologia 1993; 36: 62–67.

Huber-Buchholz MM, Carey DG, Norman RJ . Restoration of reproductive potential by lifestyle modification in obese polycystic ovary syndrome: role of insulin sensitivity and luteinizing hormone. J Clin Endocrinol Metab 1999; 84: 1470–1474.

Pasquali R, Casimirri F, Vicennati V . Weight control and its beneficial effect on fertility in women with obesity and polycystic ovary syndrome. Hum Reprod 1997; 12(Suppl 1): 82–87.

Morin-Papunen LC, Koivunen RM, Ruokonen A, Martikainen HK . Metformin therapy improves the menstrual pattern with minimal endocrine and metabolic effects in women with polycystic ovary syndrome. Fertil Steril 1998; 69: 691–696.

Kiddy DS, Hamilton-Fairley D, Bush A, Short F, Anyaoku V, Reed MJ, Franks S . Improvement in endocrine and ovarian function during dietary treatment of obese women with polycystic ovary syndrome. Clin Endocrinol (Oxf) 1992; 36: 105–111.

Rantakallio P . Groups at risk in low birth weight infants and perinatal mortality. Acta Paediatr Scand 1969; 193(Suppl): 1–72.

Rantakallio P . The longitudinal study of the northern Finland birth cohort of 1966. Paediatr Perinat Epidemiol 1988; 2: 59–88.

Taponen S, Martikainen H, Järvelin MR, Laitinen J, Pouta A, Hartikainen AL Sovio U, McCurthy MI, Franks S, Ruokojien A . Hormonal profile of women with self-reported symptoms of oligomenorrhoea and/or hirsutism: Northern Finland Birth Cohort 1966 Study. J Clin Endocrinol Metab 2003; 88: 141–147.

World Health Organization. Obesity preventing and managing the global epidemic. Geneva: World Health Organization; 1998: p276.

Helsingin kaupungin tilastokeskus. Sosiaaliryhmitys (Finnish). Social classification. Helsinki, Finland: City of Helsinki, 1954.

Rantakallio P . Social background of mothers who smoke during pregnancy and influence of these factors on the offspring. Soc Sci Med 1979; 13A: 423–429.

Rantakallio P, Oja H, Koiranen M . Has the intrauterine weight-gain curve changed in shape? Paediatr Perinat Epidemiol 1991; 5: 201–210.

Greenland S, Rothman K . Measures of effect and measures of association. In: Rothman K, Greenland S (eds). Modern epidemiology, 2nd edn. Lippincott-Raven: Philadelphia, 1998; pp. 47–64.

Apter D, Butzow T, Laughlin GA, Yen SS . Metabolic features of polycystic ovary syndrome are found in adolescent girls with hyperandrogenism. J Clin Endocrinol Metab 1995; 80: 2966–2973.

Apter D, Butzow T, Laughlin GA, Yen SS . Accelerated 24-hour luteinizing hormone pulsatile activity in adolescent girls with ovarian hyperandrogenism: relevance to the developmental phase of polycystic ovarian syndrome. J Clin Endocrinol Metab 1994; 79: 119–125.

Knochenhauer ES, Key TJ, Kahsar-Miller M, Waggoner W, Boots LR, Azziz R . Prevalence of the polycystic ovary syndrome in unselected black and white women of the southeastern United States: a prospective study. J Clin Endocrinol Metab 1998; 83: 3078–3082.

Norman RJ, Clark AM . Obesity and reproductive disorders: a review. Reprod Fertil Dev 1998; 10: 55–63.

Cresswell JL, Barker DJ, Osmond C, Egger P, Phillips DI, Fraser RB . Fetal growth, length of gestation, and polycystic ovaries in adult life. Lancet 1997; 350: 1131–1135.

Hales CN, Barker DJ . Type 2 (non-insulin-dependent) diabetes mellitus: the thrifty phenotype hypothesis. Diabetologia 1992; 35: 595–601.

Phillips DI, Barker DJ, Hales CN, Hirst S, Osmond C . Thinness at birth and insulin resistance in adult life. Diabetologia 1994; 37: 150–154.

Lake JK, Power C, Cole TJ . Women's reproductive health: the role of body mass index in early and adult life. Int J Obes Relat Metab Disord 1997; 21: 432–438.

Hartz AJ, Barboriak PN, Wong A, Katayama KP, Rimm AA . The association of obesity with infertility and related menstural abnormalities in women. Int J Obes Relat Metab Disord 1979; 3: 57–73.

Rich-Edwards JW, Goldman MB, Willett WC, Hunter DJ, Stampfer MJ, Colditz GA, Manson JE . Adolescent body mass index and infertility caused by ovulatory disorder. Am J Obstet Gynecol 1994; 171: 171–177.

Grodstein F, Goldman MB, Cramer DW . Body mass index and ovulatory infertility. Epidemiology 1994; 5: 247–250.

Pedersen SB, Borglum JD, Schmitz O, Bak JF, Sorensen NS, Richelsen B . Abdominal obesity is associated with insulin resistance and reduced glycogen synthetase activity in skeletal muscle. Metabolism 1993; 42: 998–1005.

Everson SA, Goldberg DE, Helmrich SP, Lakka TA, Lynch JW, Kaplan GA, Salofied JT . Weight gain and the risk of developing insulin resistance syndrome. Diabetes Care 1998; 21: 1637–1643.

Barbieri RL, Makris A, Randall RW, Daniels G, Kistner RW, Ryan KJ . Insulin stimulates androgen accumulation in incubations of ovarian stroma obtained from women with hyperandrogenism. J Clin Endocrinol Metab 1986; 62: 904–910.

McCluskey S, Evans C, Lacey JH, Pearce JM, Jacobs H . Polycystic ovary syndrome and bulimia. Fertil Steril 1991; 55: 287–291.

Jahanfar S, Eden JA, Nguyent TV . Bulimia nervosa and polycystic ovary syndrome. Gynecol Endocrinol 1995; 9: 113–117.

Patton GC, Selzer R, Coffey C, Carlin JB, Wolfe R . Onset of adolescent eating disorders: population based cohort study over 3 years. BMJ 1999; 318: 765–768.
Acknowledgements
This study was financially supported by the Academy of Finland, the Yrjö Jahnsson Foundation and the European Commission, Quality of Life and Management of Living Resources Programme, contract number QLG1-CT-2000-01643.
About this article
Cite this article
Laitinen, J., Taponen, S., Martikainen, H. et al. Body size from birth to adulthood as a predictor of self-reported polycystic ovary syndrome symptoms. Int J Obes 27, 710–715 (2003). https://doi.org/10.1038/sj.ijo.0802301
Received:

Revised:

Accepted:

Published:

Issue Date:

DOI: https://doi.org/10.1038/sj.ijo.0802301
Keywords
menstrual disturbances

hirsutism

polycystic ovary syndrome

body mass index

abdominal obesity

cohort studies

longitudinal studies