Abstract
The aim of this meta-analysis was to assess the evidence of chromium picolinate for reducing body weight. Literature searches were conducted on Medline, Embase, The Cochrane Library, Amed and Ciscom. Nine experts and four manufacturers of commercial preparations containing chromium picolinate were asked to contribute published and unpublished studies. There were no restrictions regarding the language of publication. The screening of studies, selection, data extraction, validation and the assessment of methodological quality were performed independently by two reviewers. To be included, studies were required to state that they were randomized, double-blind and placebo-controlled, and report on body weight. Ten trials met all inclusion criteria and provided data, which were suitable for statistical pooling. For body weight a significant differential effect was found in favour of chromium picolinate (weighted mean difference: −1.1 kg; 95% confidence interval (CI): −1.8 to −0.4 kg, n=489). Sensitivity analysis suggests that this effect is largely dependent on the results of a single trial (weighted mean difference: −0.9 kg; 95% CI: −2.0 to 0.2 kg, n=335). Three of the reviewed trials reported on adverse events, indicating their absence in the treatment groups. In conclusion, our meta-analysis suggests a relatively small effect of chromium picolinate compared with placebo for reducing body weight. The clinical relevance of the effect is debatable and the lack of robustness means that the result has to be interpreted with caution.
Relevant articles
Open Access articles citing this article.
Mehmet Tuzcu

,

Nurhan Sahin

…

Kazim Sahin

Nutrition & Metabolism Open Access 03 May 2011
Access options
Subscribe to this journal
Receive 12 print issues and online access
$259.00 per year
only $21.58 per issue
Rent or buy this article
Prices vary by article type
from$1.95
to$39.95
Prices may be subject to local taxes which are calculated during checkout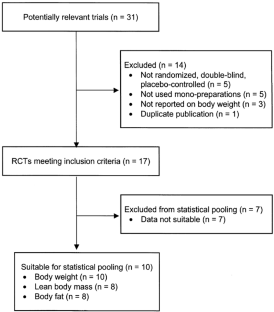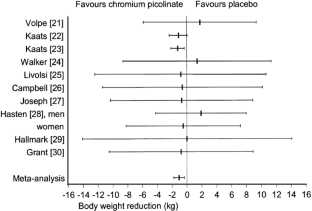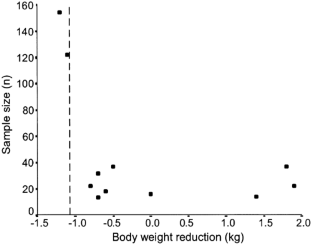 References
World Health Organization. Obesity: preventing and managing the global epidemic. World Health Organization: Geneva; 1998.

National Task Force on the Prevention and Treatment of Obesity. Overweight, obesity and health risk. Arch Int Med 2000; 160: 898–904.

Field AE, Coakley EH, Must A, Spadano JL, Laird N, Dietz WH, Rimm E, Colditz GA . Impact of overweight on the risk of developing common chronic diseases during a 10-year period. Arch Int Med 2001; 161: 1581–1586.

Key TJ, Allen NE, Spencer EA, Travis RC . The effect of diet on risk of cancer. Lancet 2002; 360: 861–868.

Kenchaiah S, Evans JC, Levy D, Wilson PWF, Benjamin EJ, Larson MG, Kannel WB, Vasan RS . Obesity and the risk of heart failure. N Engl J Med 2002; 347: 305–313.

Flegal KM, Carroll MD, Ogden CL, Johnson CL . Prevalence and trends in obesity among US adults 1999–2000. JAMA 2002; 288: 1723–1727.

Department of Health: Obesity. Reversing the increasing problem of obesity in England. DoH: UK: 1995.

Taubes G . As obesity rates rise, experts struggle to explain why. Science 1998; 280: 1367–1368.

Prentice AM, Jebb SA . Obesity in Britain: gluttony or sloth? BMJ 1995; 311: 437–439.

Heini AF, Weinsier RL . Divergent trends in obesity and fat intake patterns: the American paradox. Am J Med 1997; 102: 259–264.

Anderson RA . Effects of chromium on body composition and weight loss. Nutr Rev 1998; 56: 266–270.

Offenbacher EG, Pi-Sunyer FX . Chromium in human nutrition. Ann Rev Nutr 1988; 8: 543–563.

Mertz W . Chromium in human nutrition: a review. J Nutr 1993; 123: 626–633.

Anderson RA . Essentiality of chromium in humans. Sci Total Environ 1989; 86: 75–81.

Pizzorno JE, Murray MT (eds). Textbook of natural medicine. Churchill Livingstone: London; 1999. pp 1434–1436.

Murray MT, Pizzorno JE (eds). Encyclopedia of natural medicine (2nd rev. edn). Prima Publishing: Rocklin; 1998. pp 690–691.

Murray MT (Ed). Encyclopedia of nutritional supplements. Prima Publishing: Rocklin, 1996. pp 317–319.

McManus RJ, Wilson S, Delaney BC, Fitzmaurice DA, Hyde CJ, Tobias RS, Jowett S, Hobbs FDR . Review of the usefulness of contacting other experts when conducting a literature search for systematic reviews. BMJ 1998; 317: 1562–1563.

Jadad AR, Moore RA, Carrol D, Jenkinson C, Reynolds DJM, Gavaghan DJ et al. Assessing the quality of reports of randomised clinical trials: is blinding necessary? Control Clin Trials 1996; 17: 1–12.

Follmann D, Elliott P, Suh I, Cutler J . Variance imputation for overviews of clinical trials with continuous response. J Clin Epidemiol 1992; 45: 769–773. Cited in: Clarke M, Oxman AD (eds). Cochrane Reviewers Handbook 4.1.5. In: The Cochrane Library, Issue 2. Update Software. Oxford; 2002.

Volpe SL, Huang H-W, Larpadisorn K, Lesser II . Effect of chromium supplementation and exercise on body composition, resting metabolic rate and selected biochemical parameters in moderately obese women following an exercise program. J Am Coll Nutr 2001; 20: 293–306.

Kaats GR, Blum K, Pullin D, Keith SC, Wood R . A randomized, double-masked, placebo-controlled study of the effects of chromium picolinate supplementation on body composition: a replication and extension of a previous study. Curr Ther Res 1998; 59: 379–388.

Kaats GR, Blum K, Fisher JA, Adelman JA . Effects of chromium picolinate supplementation on body composition: a randomized, double-masked, placebo-controlled study. Curr Ther Res 1996; 57: 747–756.

Walker LS, Bemben MG, Bemben DA, Knehans AW . Chromium picolinate effects on body composition and muscular performance in wrestlers. Med Sci Sports Exer 1998; 30: 1730–1737.

Livolsi JM, Adams GM, Laguna PL . The effect of chromium picolinate on muscular strength and body composition in women athletes. J Strength Cond Res 2001; 15: 161–166.

Campbell WW, Joseph LJO, Davey SL, Cyr-Campbell D, Anderson RA, Evans WJ . Effects of resistance training and chromium picolinate on body composition and skeletal muscle in older men. J Appl Physiol 1999; 86: 29–39.

Joseph LJO, Farrel PA, Davey SL, Evans WJ, Campbell WW . Effect of resistance training with or without chromium picolinate supplementation on glucose metabolism in older men and women. Metabolism 1999; 48: 546–553.

Hasten DL, Rome EP, Franks BD, Hegsted M . Effects of chromium picolinate on beginning weight training students. Int J Sports Nutr 1992; 2: 343–350.

Hallmark MA, Reynolds TH, DeSouza CA, Dotson CO, Anderson RA, Rogers MA . Effects of chromium and resistive training on muscle strength and body composition. Med Sci Sports Exer 1996; 28: 139–144.

Grant KE, Chandler RM, Castle AL, Ivy JL . Chromium and exercise training: effect on obese women. Med Sci Sports Exer 1997; 29: 992–998.

Trent LK, Thieding-Cancel D . Effect of chromium picolinate on body composition. J Sports Med Phys Fitness 1995; 35: 273–280.

Lukaski HC, Bolonchuk WW, Siders WA, Milne DB . Chromium supplementation and resistance training: effects on body compositon, strength and trace element status of men. Am J Clin Nutr 1996; 63: 954–965.

Kaats GR, Wise JA, Blum K, Morin RJ, Adelman JA, Craig J, Croft HA . The short-term therapeutic efficacy of treating obesity with a plan of improved nutrition and moderate caloric restriction. Curr Ther Res 1992; 51: 261–275.

Davis JM, Welsh RS, Alderson NA . Effects of carbohydrate and chromium ingestion during intermittent high-intensity exercise to fatigue. Int J Sport Nutr Exer Metab 2000; 10: 476–485.

Blum K, Cull JG, Chen TJH, Garcia-Swan S, Holder JM, Wood R, Braverman ER, Bucci LR, Trachtenberg MC . Clinical evidence for effectiveness of phencal in maintaining weight loss in an open label, controlled 2-year study. Curr Ther Res 1997; 58: 745–763.

Wilson BE, Gondy A . Effects of chromium supplementation on fasting insulin levels and lipid parameters in healthy, non-obese young subjects. Diabetes Res Clin Res 1995; 28: 179–184.

Anderson RA, Polansky MM, Bryden NA, Roginski EE, Mertz W, Glinsmann W . Chromium supplementation of human subjects: effects on glucose, insulin and lipid variables. Metabolism 1983; 32: 894–899.

Pasman WJ, Westererp-Plantenga MS, Saris WHM . The effectiveness of long-term supplementation of carbohydrate, chromium, fibre, and caffeine on weight maintenance. Int J Obesity 1997; 21: 1143–1151.

Bahijri SM . Effect of chromium supplementation on glucose tolerance and lipid profile. Saudi Med J 2000; 21: 45–50.

Anderson RA, Roussel A-M, Zouari N, Mahjoub S, Matheau J-M, Kerkeni A . Potential antioxidant effects of zinc and chromium supplementation in people with type 2 diabetes mellitus. J Am Coll Nutr 2001; 20: 212–218.

Amato P, Morales AJ, Yen SSC . Effects of chromium picolinate supplementation on insulin sensitivity serum lipids and body composition in healthy nonobese older men and women. J Gastroenterol 2000; 55A: M260–M263.

Ravina A, Slezak L, Rubal A, Mirsky N . Clinical use of the trace element chromium (III) in the treatment of diabetes mellitus. J Trace Elements Exp Med 1995; 8: 183–190.

Kaats GR, Ficher JA, Blum K . The effects of chromium picolinate supplementation on body composition in different age groups. Age 1991; 14: 138.

Campbell WW, Beard JL, Joseph LJ, Davey SL, Evans WJ . Chromium picolinate supplementation and resistive training by older men: effects on iron-status and hematologic indexes. Am J Clin Nutr 1997; 66: 944–949.

Lee NA, Reasner CA . Beneficial effects of chromium picolinate supplementation on serum triglyceride levels in NIDDM. Diabetes Care 1994; 17: 1449–1452.

Anderson RA, Cheng N, Bryden NA, Polansky MM, Cheng N, Chi J, Feng J . Elevated intakes of supplemental chromium improve glucose and insulin variables in individuals with type 2 diabetes. Diabetes 1997; 46: 1786–1791.

Clancy SP, Clarkson PM, DeCheke ME, Nosaka K, Freedson PS, Cunningham JJ, Valentine B . Effects of chromium picolinate supplementation on body composition, strength and urinary chromium loss in football players. Int J Sports Nutr 1994; 4: 142–153.

Press RI, Geller J, Evans GW . The effect of chromium picolinate on serum cholesterol and apolipoprotein fractions in human subjects. West J Med 1990; 152: 41–45.

Bahadori B, Wallner S, Schneider H, Wascher TC, Toplak H . Effekt von Chromhefe und Chrompicolinat auf die Körperzusammensetzung bei übergewichtigen, nichtdiabetischen Patienten während und nach einer Formula-Diät. Acta Med Aust 1997; 24: 185–187.

Evans GW . The effect of chromium picolinate on insulin controlled parameters in humans. Int J Biosocial Med Res 1989; 11: 163–180.

Cowburn G, Hillsdon M, Hankey CR . Obesity management by life-style strategies. Br Med Bull 1997; 53: 389–408.

Arterburn D, Hitchcock Noël P . Obesity. BMJ 2001; 322: 1406–1409.

Eisenberg DM, Davis RB, Ettner SL et al. Trends in alternative medicine use in the United States 1990–1997: results of a national follow-up survey. JAMA 1998; 280: 1569–1575.

Blanck HM, Khan LK, Serdula MK . Use of nonprescription weight loss products. Results from a multistate survey. JAMA 2001; 286: 930–935.

Egger G, Cameron-Smith D, Stanton R . The effectiveness of popular, non-prescription weight loss supplements. Med J Aust 1999; 171: 604–608.

Allison DB, Fontaine KR, Heshka S, Mentore JL, Heymsfeld SB . Alternative treatments for weight loss: a critical review. Crit Rev Food Sci Nutr 2001; 41: 1–28.

Stearns DM, Wise JP, Patierno SR, Wetterhahn KE . Chromium(III) picolinate produces chromosome damage in Chinese hamster ovary cells. FASEB 1995; 9: 1643–1648.

Anderson RA, Bryden NA, Polansky NN . Lack of toxicity of chromium chloride and chromium picolinate in rats. J Am Coll Nutr 1997; 16: 273–279.

Kato I, Vogelman JH, Karkoszka J, Frenkel K, Durr NP, Orentreich N, Toniolo P . Effect of supplementation with chromium picolinate on antibody titers to 5-hydroxymethyl uracil. Eur J Epidemiol 1998; 14: 621–626.

Martin WR, Fuller R . Suspected chromium picolinate-induced rhabdomyolysis. Pharmacotherapy 1998; 18: 860–862.

Scroggie DA, Harris M, Sakai L . Rhabdomyolysis associated with nutritional supplement use. J Clin Rheumatol 2000; 6: 328–332.

Cerulli J, Grabe DW, Gauthier I, Malone M, McGoldrick MD . Chromium picolinate toxicity. Ann Pharmacother 1998; 32: 428–431.

Young PC, Turiansky GW, Bonner MW, Benson PM . Acute generalized exanthematous pustulosis induced by chromium picolinate. J Am Acad Dermatol 1999; 41: 820–823.

Dickersin K . The existence of publication bias and risk factors for its occurrence. JAMA 1990; 263: 1385–1389.

Easterbrook PJ, Berlin JA, Gopalan R, Matthews DR . Publication bias in clinical research. Lancet 1991; 337: 867–872.

Egger M, Davey Smith G . Bias in location and selection of studies. BMJ 1998; 316: 61–66.

Ernst E, Pittler MH . Alternative therapy bias. Nature 1997; 385: 480.

Schmidt K, Pittler MH, Ernst E . Bias in alternative medicine is still rife but is diminishing. BMJ 2001; 323: 1071.

Pittler MH, Abbot NC, Harkness EF, Ernst E . Location bias in controlled clinical trials of complementary/alternative therapies. J Clin Epidemiol 2000; 53: 485–489.

Egger M, Zellweger-Zähner T, Schneider M, Junker C, Lengeler C, Antes G . Language bias in randomised controlled trials published in English and German. Lancet 1997; 350: 326–329.

Nieminen P, Isohanni M . Bias against European journals in medical publication databases. Lancet 1999; 353: 1592.
About this article
Cite this article
Pittler, M., Stevinson, C. & Ernst, E. Chromium picolinate for reducing body weight: Meta-analysis of randomized trials. Int J Obes 27, 522–529 (2003). https://doi.org/10.1038/sj.ijo.0802262
Received:

Revised:

Accepted:

Published:

Issue Date:

DOI: https://doi.org/10.1038/sj.ijo.0802262
Keywords