Abstract
The ability of Cannabis sativa (marijuana) to increase hunger has been noticed for centuries, although intensive research on its molecular mode of action started only after the characterization of its main psychoactive component Δ9-tetrahydrocannabinol in the late 1960s. Despite the public concern related to the abuse of marijuana and its derivatives, scientific studies have pointed to the therapeutic potentials of cannabinoid compounds and have highlighted their ability to stimulate appetite, especially for sweet and palatable food. Later, the discovery of specific receptors and their endogenous ligands (endocannabinoids) suggested the existence of an endogenous cannabinoid system, providing a physiological basis for biological effects induced by marijuana and other cannabinoids. Epidemiological reports describing the appetite-stimulating properties of cannabinoids and the recent insights into the molecular mechanisms underlying cannabinoid action have proposed a central role of the cannabinoid system in obesity. The aim of this review is to provide an extensive overview on the role of this neuromodulatory system in feeding behavior by summarizing the most relevant data obtained from human and animal studies and by elucidating the interactions of the cannabinoid system with the most important neuronal networks and metabolic pathways involved in the control of food intake. Finally, a critical evaluation of future potential therapeutical applications of cannabinoid antagonists in the therapy of obesity and eating disorders will be discussed.
Relevant articles
Open Access articles citing this article.
Shahriar S. M. Shakil

,

Matt Gowan

…

Md. Nasir Ahmed

Journal of Cannabis Research Open Access 19 March 2021

Mehdi Farokhnia

,

Gray R. McDiarmid

…

Lorenzo Leggio

Translational Psychiatry Open Access 19 February 2020

Arianna Giorgetti

,

Lukas Mogler

…

Volker Auwärter

Forensic Toxicology Open Access 24 December 2019
Access options
Subscribe to this journal
Receive 12 print issues and online access
$259.00 per year
only $21.58 per issue
Rent or buy this article
Get just this article for as long as you need it
$39.95
Prices may be subject to local taxes which are calculated during checkout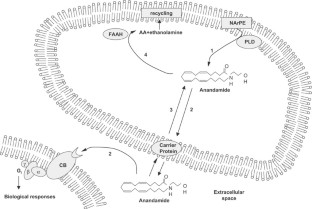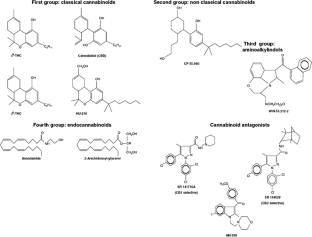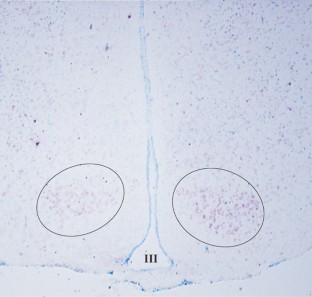 References
Yanovski SZ, Yanovski JA . Obesity. N Engl J Med 2002; 346: 591–602.

Schwartz MW, Woods SC, Porte Jr D, Seeley RJ, Baskin DG . Central nervous system control of food intake. Nature 2000; 404: 661–671.

Burstein S . Marijuana as a medicine. Nature 1997; 386: 320.

Di Marzo V, Melck D, Bisogno T, De Petrocellis L . Endocannabinoids: endogenous cannabinoid receptor ligands with neuromodulatory action. Trends Neurosci 1998; 21: 521–528.

Abel EL . Cannabis: effects on hunger and thirst. Behav Biol 1975; 15: 255–281.

De Petrocellis L, Melck D, Bisogno T, Milone A, Di Marzo V . Finding of the endocannabinoid signalling system in Hydra, a very primitive organism: possible role in the feeding response. Neuroscience 1999; 92: 377–387.

Porter AC, Felder CC . The endocannabinoid nervous system: unique opportunities for therapeutic intervention. Pharmacol Ther 2001; 90: 45–60.

Gaoni Y, Mechoulam R . Isolation, structure and partial synthesis of an active constituent of hashish. J Am Chem Soc 1964; 86: 1646.

Matsuda LA, Lolait SJ, Brownstein MJ, Young AC, Bonner TI . Structure of a cannabinoid receptor and functional expression of the cloned cDNA. Nature 1990; 346: 561–564.

Munro S, Thomas KL, Abu-Shaar M . Molecular characterization of a peripheral receptor for cannabinoids. Nature 1993; 365: 61–65.

Howlett AC, Barth F, Bonner TI, Cabral G, Casellas P, Devane WA, Felder CC, Herkenham M, Mackie K, Martin BR, Mechoulam R, Pertwee RG . International Union of Pharmacology. XXVII. Classification of Cannabinoid Receptors. Pharmacol Rev 2002; 54: 161–202.

Schlicker E, Kathmann M . Modulation of transmitter release via presynaptic cannabinoid receptors. Trends Pharmacol Sci 2001; 22: 565–572.

Ameri A . The effects of cannabinoids on the brain. Prog Neurobiol 1999; 58: 315–348.

Zimmer A, Zimmer AM, Hohmann AG, Herkenham M, Bonner TI . Increased mortality, hypoactivity, and hypoalgesia in cannabinoid CB1 receptor knockout mice. Proc Natl Acad Sci USA 1999; 96: 5780–5785.

Marsicano G, Wotjak CT, Azad SC, Bisogno T, Rammes G, Cascio MG, Hermann H, Tang J, Hofmann C, Zieglgansberger W, Di Marzo V, Lutz B . The endogenous cannabinoid system controls extinction of aversive memories. Nature 2002; 418: 530–534.

Ledent C, Valverde O, Cossu G, Petitet F, Aubert JF, Beslot F, Bohme GA, Imperato A, Pedrazzini T, Roques BP, Vassart G, Fratta W, Parmentier M . Unresponsiveness to cannabinoids and reduced addictive effects of opiates in CB1 receptor knockout mice. Science 1999; 283: 401–404.

Devane WA, Hanus L, Breuer A, Pertwee RG, Stevenson LA, Griffin G, Gibson D, Mandelbaum A, Etinger A, Mechoulam R . Isolation and structure of a brain constituent that binds to the cannabinoid receptor. Science 1992; 258: 1946–1949.

Felder CC, Joyce KE, Briley EM, Mansouri J, Mackie K, Blond O, Lai Y, Ma AL, Mitchell RL . Comparison of the pharmacology and signal transduction of the human cannabinoid CB1 and CB2 receptors. Mol Pharmacol 1995; 48: 443–450.

Felder CC, Nielsen A, Briley EM, Palkovits M, Priller J, Axelrod J, Nguyen DN, Richardson JM, Riggin RM, Koppel GA, Paul SM, Becker GW . Isolation and measurement of the endogenous cannabinoid receptor agonist, anandamide, in brain and peripheral tissues of human and rat. FEBS Lett 1996; 393: 231–235.

Hanus L, Gopher A, Almog S, Mechoulam R . Two new unsaturated fatty acid ethanolamides in brain that bind to the cannabinoid receptor. J Med Chem 1993; 36: 3032–3034.

Mechoulam R, Ben Shabat S, Hanus L, Ligumsky M, Kaminski NE, Schatz AR, Gopher A, Almog S, Martin BR, Compton DR . Identification of an endogenous 2-monoglyceride, present in canine gut, that binds to cannabinoid receptors. Biochem Pharmacol 1995; 50: 83–90.

Sugiura T, Kondo S, Sukagawa A, Nakane S, Shinoda A, Itoh K, Yamashita A, Waku K . 2-Arachidonoylglycerol: a possible endogenous cannabinoid receptor ligand in brain. Biochem Biophys Res Commun 1995; 215: 89–97.

Hanus L, Abu-Lafi S, Fride E, Breuer A, Vogel Z, Shalev DE, Kustanovich I, Mechoulam R . 2-arachidonyl glyceryl ether, an endogenous agonist of the cannabinoid CB1 receptor. Proc Natl Acad Sci USA 2001; 98: 3662–3665.

Stella N, Schweitzer P, Piomelli D . A second endogenous cannabinoid that modulates long-term potentiation. Nature 1997; 388: 773–778.

Di Marzo V, Fontana A, Cadas H, Schinelli S, Cimino G, Schwartz JC, Piomelli D . Formation and inactivation of endogenous cannabinoid anandamide in central neurons. Nature 1994; 372: 686–691.

Dinh TP, Carpenter D, Leslie FM, Freund TF, Katona I, Sensi SL, Kathuria S, Piomelli D . Brain monoglyceride lipase participating in endocannabinoid inactivation. Proc Natl Acad Sci USA 2002; 99: 10819–10824.

Mechoulam R, Feigenbaum JJ, Lander N, Segal M, Jarbe TU, Hiltunen AJ, Consroe P . Enantiomeric cannabinoids: stereospecificity of psychotropic activity. Experientia 1988; 44: 762–764.

Howlett AC, Johnson MR, Melvin LS . Classical and nonclassical cannabinoids: mechanism of action-brain binding. NIDA Res Monogr 1990; 96: 100–111.

Rinaldi-Carmona M, Barth F, Heaulme M, Shire D, Calandra B, Congy C, Martinez S, Maruani J, Neliat G, Caput D . SR141716A, a potent and selective antagonist of the brain cannabinoid receptor. FEBS Lett 1994; 350: 240–244.

Lan R, Gatley J, Lu Q, Fan P, Fernando SR, Volkow ND, Pertwee R, Makriyannis A . Design and synthesis of the CB1 selective cannabinoid antagonist AM281: a potential human SPECT ligand. AAPS Pharm Sci 1999; 1: E4.

Rinaldi-Carmona M, Barth F, Millan J, Derocq JM, Casellas P, Congy C, Oustric D, Sarran M, Bouaboula M, Calandra B, Portier M, Shire D, Breliere JC, Le Fur GL . SR 144528, the first potent and selective antagonist of the CB2 cannabinoid receptor. J Pharmacol Exp Ther 1998; 284: 644–650.

Landsman RS, Makriyannis A, Deng H, Consroe P, Roeske WR, Yamamura HI . AM630 is an inverse agonist at the human cannabinoid CB1 receptor. Life Sci 1998; 62: L109–L113.

Beltramo M, Stella N, Calignano A, Lin SY, Makriyannis A, Piomelli D . Functional role of high-affinity anandamide transport, as revealed by selective inhibition. Science 1997; 277: 1094–1097.

De Petrocellis L, Bisogno T, Davis JB, Pertwee RG, Di Marzo V . Overlap between the ligand recognition properties of the anandamide transporter and the VR1 vanilloid receptor: inhibitors of anandamide uptake with negligible capsaicin-like activity. FEBS Lett 2000; 483: 52–56.

de Lago E, Fernandez-Ruiz J, Ortega-Gutierrez S, Viso A, Lopez-Rodriguez M, Ramos JA . UCM707, a potent and selective inhibitor of endocannabinoid uptake, potentiates hypokinetic and antinociceptive effects of anandamide. Eur J Pharmacol 2002; 449: 99–103.

Lutz B . Molecular biology of cannabinoid receptors. Prostaglandins Leukot Essent Fatty Acids 2002; 66: 123–142.

Murphy LL, Munoz RM, Adrian BA, Villanua MA . Function of cannabinoid receptors in the neuroendocrine regulation of hormone secretion. Neurobiol Dis 1998; 5: 432–446.

Pagotto U, Marsicano G, Fezza F, Theodoropoulou M, Grubler Y, Stalla J, Arzberger T, Milone A, Losa M, Di Marzo V, Lutz B, Stalla GK . Normal human pituitary gland and pituitary adenomas express cannabinoid receptor type 1 and synthesize endogenous cannabinoids: first evidence for a direct role of cannabinoids on hormone modulation at the human pituitary level. J Clin Endocrinol Metab 2001; 86: 2687–2696.

Navarro M, Hernandez E, Munoz RM, del Arco I, Villanua MA, Carrera MR, Rodriguez de Fonseca F . Acute administration of the CB1 cannabinoid receptor antagonist SR 141716A induces anxiety-like responses in the rat. Neuroreport 1997; 8: 491–496.

Beilin M, Neumann R, Belkin M, Green K, Bar-Ilan A . Pharmacology of the intraocular pressure (IOP) lowering effect of systemic dexanabinol (HU-211), a non-psychotropic cannabinoid. J Ocul Pharmacol Ther 2000; 16: 217–230.

Calignano A, Katona I, Desarnaud F, Giuffrida A, La Rana G, Mackie K, Freund TF, Piomelli D . Bidirectional control of airway responsiveness by endogenous cannabinoids. Nature 2000; 408: 96–101.

Wagner JA, Jarai Z, Batkai S, Kunos G . Hemodynamic effects of cannabinoids: coronary and cerebral vasodilation mediated by cannabinoid CB1 receptors. Eur J Pharmacol 2001; 423: 203–210.

Wenger T, Ledent C, Csernus V, Gerendai I . The central cannabinoid receptor inactivation suppresses endocrine reproductive functions. Biochem Biophys Res Commun 2001; 284: 363–368.

De Petrocellis L, Melck D, Bisogno T, Di Marzo V . Endocannabinoids and fatty acid amides in cancer, inflammation and related disorders. Chem Phys Lipids 2000; 108: 191–209.

Munson AE, Harris LS, Friedman MA, Dewey WL, Carchman RA . Antineoplastic activity of cannabinoids. J Natl Cancer Inst 1975; 55: 597–602.

Bifulco M, Di Marzo V . Targeting the endocannabinoid system in cancer therapy: a call for further research. Nat Med 2002; 8: 547–550.

Galve-Roperh I, Sanchez C, Cortes ML, del Pulgar TG, Izquierdo M, Guzman M . Anti-tumoral action of cannabinoids: involvement of sustained ceramide accumulation and extracellular signal-regulated kinase activation. Nat Med 2000; 6: 313–319.

Panikashvili D, Simeonidou C, Ben Shabat S, Hanus L, Breuer A, Mechoulam R, Shohami E . An endogenous cannabinoid (2-AG) is neuroprotective after brain injury. Nature 2001; 413: 527–531.

Siler JF, Sheep WL, Bates LB, Clark GF, Cook GW, Smith WH . Marihuana smoking in Panama. Mil Surg 1933; 73: 269–280.

Tart CT . Marijuana intoxication common experiences. Nature 1970; 226: 701–704.

Haines L, Green W . Marijuana use patterns. Br J Addict Alcohol Other Drugs 1970; 65 : 347–362.

Hollister LE . Hunger and appetite after single doses of marihuana, alcohol, and dextroamphetamine. Clin Pharmacol Ther 1971; 12: 44–49.

Abel EL . Effects of marihuana on the solution of anagrams, memory and appetite. Nature 1971; 231: 260–261.

Gagnon MA, Elie R . Effects of marijuana and D-amphetamine on the appetite, food consumption and various cardio-respiratory variables in man. Union Med Can 1975; 104: 914–921.

Chopra RN, Chopra GS . The present position of hemp-drug addiction in India. Ind Med Res Mem 1939; 31: 1–119.

Greenberg I, Kuehnle J, Mendelson JH, Bernstein JG . Effects of marihuana use on body weight and caloric intake in humans. Psychopharmacology (Berl) 1976; 49: 79–84.

Foltin RW, Brady JV, Fischman MW . Behavioral analysis of marijuana effects on food intake in humans. Pharmacol Biochem Behav 1986; 25: 577–582.

Foltin RW, Fischman MW, Byrne MF . Effects of smoked marijuana on food intake and body weight of humans living in a residential laboratory. Appetite 1988; 11: 1–14.

Mattes RD, Engelman K, Shaw LM, Elsohly MA . Cannabinoids and appetite stimulation. Pharmacol Biochem Behav 1994; 49: 187–195.

Kirkham TC, Williams CM . Endogenous cannabinoids and appetite. Nutr Res Rev 2001; 14: 65–86.

Williams CM, Kirkham TC . Anandamide induces overeating: mediation by central cannabinoid (CB1) receptors. Psychopharmacology (Berl) 1999; 143: 315–317.

Koch JE . Delta(9)-THC stimulates food intake in Lewis rats: effects on chow, high-fat and sweet high-fat diets. Pharmacol Biochem Behav 2001; 68: 539–543.

Gorter RW . Cancer cachexia and cannabinoids. Forsch Komplementarmed 1999; 6 (Suppl 3): 21–22.

Beal JE, Olson R, Lefkowitz L, Laubenstein L, Bellman P, Yangco B, Morales JO, Murphy R, Powderly W, Plasse TF, Mosdell KW, Shepard KV . Long-term efficacy and safety of dronabinol for acquired immunodeficiency syndrome-associated anorexia.J Pain Symptom Manage 1997; 14: 7–14.

Gralla RJ . Cannabinoids and the control of chemotherapy-induced nausea and vomiting. In: Nahas GG, Sutin KM, Harvey DJ, Agurell S (eds). Marihuana and medicine. Humana Press: Totowa, NJ; 1999. pp 599–610.

Lanzotti VJ, Thomas DR, Boyle LE, Smith TL, Gehan EA, Samuels ML . Survival with inoperable lung cancer: an integration of prognostic variables based on simple clinical criteria. Cancer 1977; 39: 303–313.

Sallan SE, Zinberg NE, Frei III E . Antiemetic effect of delta-9-tetrahydrocannabinol in patients receiving cancer chemotherapy. N Engl J Med 1975; 293: 795–797.

Regelson W, Thomas DR, Boyle LE, Smith TL, Gehan EA, Samuels ML . Δ9-Tetrahydrocannabinol as an effective antidepressant and appetite-stimulating agent in advanced cancer patients. In: Brande MC, Szara S (eds). The pharmacology of marijuana. Raven Press: New York; 1976. pp 763–776.

Plasse TF, Gorter RW, Krasnow SH, Lane M, Shepard KV, Wadleigh RG . Recent clinical experience with dronabinol. Pharmacol Biochem Behav 1991; 40: 695–700.

Gorter R, Seefried M, Volberding P . Dronabinol effects on weight in patients with HIV infection. AIDS 1992; 6: 127.

Struwe M, Kaempfer SH, Geiger CJ, Pavia AT, Plasse TF, Shepard KV, Ries K, Evans TG . Effect of dronabinol on nutritional status in HIV infection. Ann Pharmacother 1993; 27: 827–831.

Beal JE, Olson R, Laubenstein L, Morales JO, Bellman P, Yangco B, Lefkowitz L, Plasse TF, Shepard KV . Dronabinol as a treatment for anorexia associated with weight loss in patients with AIDS. J Pain Symptom Manage 1995; 10: 89–97.

Volicer L, Stelly M, Morris J, McLaughlin J, Volicer BJ . Effects of dronabinol on anorexia and disturbed behavior in patients with Alzheimer's disease. Int J Geriatr Psychiatry 1997; 12: 913–919.

Carlini EA, Kramer C . Effects of Cannabis sativa (marihuana) on maze performance of the rat. Psychopharmacologia 1965; 7: 175–181.

Dewey WL, Harris LS, Kennedy JS . Some pharmacological and toxicological effects of 1-trans- 8 and 1-trans- 9 -tetrahydrocannabinol in laboratory rodents. Arch Int Pharmacodyn Ther 1972; 196: 133–145.

Thompson GR, Fleischman RW, Rosenkrantz H, Braude MC . Oral and intravenous toxicity of delta9-tetrahydrocannabinol in rhesus monkeys. Toxicol Appl Pharmacol 1974; 27: 648–665.

Manning FJ, McDonough Jr JH, Elsmore TF, Saller C, Sodetz FJ . Inhibition of normal growth by chronic administration of delta-9-tetrahydrocannabinol. Science 1971; 174: 424–426.

Sjoden PO, Jarbe TU, Henriksson BG . Influence of tetrahydrocannabinols (delta8-THC and delta9-THC) on body weight, food, and water intake in rats. Pharmacol Biochem Behav 1973; 1: 395–399.

Fernandes M, Schabarek A, Coper H, Hill R . Modification of delta9-THC-actions by cannabinol and cannabidiol in the rat. Psychopharmacologia 1974; 38: 329–338.

Sofia RD, Barry III H . Acute and chronic effects of delta9-tetrahydrocannabinol on food intake by rats. Psychopharmacologia 1974; 39: 213–222.

Brown JE, Kassouny M, Cross JK . Kinetic studies of food intake and sucrose solution preference by rats treated with low doses of delta9-tetrahydrocannabinol. Behav Biol 1977; 20: 104–110.

McLaughlin CL, Baile CA, Bender PE . Cannabinols and feeding in sheep. Psychopharmacology (Berl) 1979; 64: 321–323.

Van Den Broek GW, Robertson J, Keim DA, Baile CA . Feeding and depression of abomasal secretion in sheep elicited by elfazepam and 9-aza-cannabinol. Pharmacol Biochem Behav 1979; 11: 51–56.

Williams CM, Rogers PJ, Kirkham TC . Hyperphagia in pre-fed rats following oral delta9-THC. Physiol Behav 1998; 65: 343–346.

Anderson-Baker WC, McLaughlin CL, Baile CA . Oral and hypothalamic injections of barbiturates, benzodiazepines and cannabinoids and food intake in rats. Pharmacol Biochem Behav 1979; 11: 487–491.

Trojniar W, Wise RA . Facilitory effect of delta 9-tetrahydrocannabinol on hypothalamically induced feeding. Psychopharmacology (Berl) 1991; 103: 172–176.

Arnone M, Maruani J, Chaperon F, Thiebot MH, Poncelet M, Soubrie P, Le Fur G . Selective inhibition of sucrose and ethanol intake by SR 141716, an antagonist of central cannabinoid CB1 receptors. Psychopharmacology (Berl) 1997; 132: 104–106.

Gallate JE, McGregor IS . The motivation for beer in rats: effects of ritanserin, naloxone and SR 141716. Psychopharmacology (Berl) 1999; 142: 302–308.

Freedland CS, Sharpe AL, Samson HH, Porrino LJ . Effects of SR141716A on ethanol and sucrose self-administration. Alcohol Clin Exp Res 2001; 25: 277–282.

Simiand J, Keane M, Keane PE, Soubrie P . SR 141716, a CB1 cannabinoid receptor antagonist, selectively reduces sweet food intake in marmoset. Behav Pharmacol 1998; 9: 179–181.

Colombo G, Agabio R, Diaz G, Lobina C, Reali R, Gessa GL . Appetite suppression and weight loss after the cannabinoid antagonist SR 141716. Life Sci 1998; 63: L113–L117.

Freedland CS, Poston JS, Porrino LJ . Effects of SR141716A, a central cannabinoid receptor antagonist, on food-maintained responding. Pharmacol Biochem Behav 2000; 67: 265–270.

Hao S, Avraham Y, Mechoulam R, Berry EM . Low dose anandamide affects food intake, cognitive function, neurotransmitter and corticosterone levels in diet-restricted mice. Eur J Pharmacol 2000; 392: 147–156.

Gonzalez S, Manzanares J, Berrendero F, Wenger T, Corchero J, Bisogno T, Romero J, Fuentes JA, Di Marzo V, Ramos JA, Fernandez-Ruiz J . Identification of endocannabinoids and cannabinoid CB1 receptor mRNA in the pituitary gland. Neuroendocrinology 1999; 70: 137–145.

Jamshidi N, Taylor DA . Anandamide administration into the ventromedial hypothalamus stimulates appetite in rats. Br J Pharmacol 2001; 134: 1151–1154.

Di Marzo V, Goparaju SK, Wang L, Liu J, Batkai S, Jarai Z, Fezza F, Miura GI, Palmiter RD, Sugiura T, Kunos G . Leptin-regulated endocannabinoids are involved in maintaining food intake. Nature 2001; 410: 822–825.

Spanagel R, Weiss F . The dopamine hypothesis of reward: past and current status. Trends Neurosci 1999; 22: 521–527.

Gardner EL, Vorel SR . Cannabinoid transmission and reward-related events. Neurobiol Dis 1998; 5: 502–533.

Hoebel BG . Brain neurotransmitters in food and drug reward. Am J Clin Nutr 1985; 42: 1133–1150.

Breivogel CS, Childers SR . The functional neuroanatomy of brain cannabinoid receptors. Neurobiol Dis 1998; 5: 417–431.

Mechoulam R, Fride E . Physiology. A hunger for cannabinoids. Nature 2001; 410: 763–765.

Kunos G, Batkai S . Novel physiologic functions of endocannabinoids as revealed through the use of mutant mice. Neurochem Res 2001; 26: 1015–1021.

Erickson JC, Clegg KE, Palmiter RD . Sensitivity to leptin and susceptibility to seizures of mice lacking neuropeptide Y. Nature 1996; 381: 415–421.

Gallate JE, Saharov T, Mallet PE, McGregor IS . Increased motivation for beer in rats following administration of a cannabinoid CB1 receptor agonist. Eur J Pharmacol 1999; 370: 233–240.

Chaperon F, Thiebot MH . Behavioral effects of cannabinoid agents in animals. Crit Rev Neurobiol 1999; 13: 243–281.

Bisogno T, Berrendero F, Ambrosino G, Cebeira M, Ramos JA, Fernandez-Ruiz JJ, Di Marzo V . Brain regional distribution of endocannabinoids: implications for their biosynthesis and biological function. Biochem Biophys Res Commun 1999; 256: 377–380.

Hermann H, Marsicano G, Lutz B . Coexpression of the cannabinoid receptor type 1 with dopamine and serotonin receptors in distinct neuronal subpopulations of the adult mouse forebrain. Neuroscience 2002; 109: 451–460.

Glass M, Dragunow M, Faull RL . Cannabinoid receptors in the human brain: a detailed anatomical and quantitative autoradiographic study in the fetal, neonatal and adult human brain. Neuroscience 1997; 77: 299–318.

Berridge KC . Food reward: brain substrates of wanting and liking. Neurosci Biobehav Rev 1996; 20: 1–25.

Di Marzo V, Berrendero F, Bisogno T, Gonzalez S, Cavaliere P, Romero J, Cebeira M, Ramos JA, Fernandez-Ruiz JJ . Enhancement of anandamide formation in the limbic forebrain and reduction of endocannabinoid contents in the striatum of delta9-tetrahydrocannabinol-tolerant rats. J Neurochem 2000; 74: 1627–1635.

Vickers SP, Dourish CT, Kennett GA . Evidence that hypophagia induced by d-fenfluramine and d-norfenfluramine in the rat is mediated by 5-HT2C receptors. Neuropharmacology 2001; 41: 200–209.

Rowland NE, Mukherjee M, Robertson K . Effects of the cannabinoid receptor antagonist SR 141716, alone and in combination with dexfenfluramine or naloxone, on food intake in rats. Psychopharmacology (Berl) 2001; 159: 111–116.

Navarro M, Carrera MR, Fratta W, Valverde O, Cossu G, Fattore L, Chowen JA, Gomez R, del Arco I, Villanua MA, Maldonado R, Koob GF, de Fonseca FR . Functional interaction between opioid and cannabinoid receptors in drug self-administration. J Neurosci 2001; 21: 5344–5350.

Cooper SJ, Kirkham TC . Opioid mechanisms in the control of food consumption and taste preferences. In: Herz A, Akil H, Simon EJ (eds.) Handbook of experimental pharmacology. Springer-Verlag: Berlin; 1993. pp 239–263.

Kirkham TC, Williams CM . Synergistic effects of opioid and cannabinoid antagonists on food intake. Psychopharmacology (Berl) 2001; 153: 267–270.

Williams CM, Kirkham TC . Reversal of Delta(9)-THC hyperphagia by SR141716 and naloxone but not dexfenfluramine. Pharmacol Biochem Behav 2002; 71: 333–340.

Crawley JN, Corwin RL . Biological actions of cholecystokinin. Peptides 1994; 15: 731–755.

Marsicano G, Lutz B . Expression of the cannabinoid receptor CB1 in distinct neuronal subpopulations in the adult mouse forebrain. Eur J Neurosci 1999; 11: 4213–4225.

Wiesenfeld-Hallin Z, de Arauja LG, Alster P, Xu XJ, Hokfelt T . Cholecystokinin/opioid interactions. Brain Res 1999; 848: 78–89.

Beinfeld MC, Connolly K . Activation of CB1 cannabinoid receptors in rat hippocampal slices inhibits potassium-evoked cholecystokinin release, a possible mechanism contributing to the spatial memory defects produced by cannabinoids. Neurosci Lett 2001; 301: 69–71.

Rodriguez de Fonseca F, Navarro M, Gomez R, Escuredo L, Nava F, Fu J, Murillo-Rodriguez E, Giuffrida A, LoVerme J, Gaetani S, Kathuria S, Gall C, Piomelli D . An anorexic lipid mediator regulated by feeding. Nature 2001; 414: 209–212.

Huestis MA, Gorelick DA, Heishman SJ, Preston KL, Nelson RA, Moolchan ET, Frank RA . Blockade of effects of smoked marijuana by the CB1-selective cannabinoid receptor antagonist SR141716. Arch Gen Psychiatry 2001; 58: 322–328.

Dhillo WS, Bloom SR . Hypothalamic peptides as drug targets for obesity. Curr Opin Pharmacol 2001; 1: 651–655.
Additional information
This work was supported by a grant 'Giovani Ricercatori', University of Bologna and in part by Fondazione Cassa di Risparmio, Bologna, Italy.
About this article
Cite this article
Cota, D., Marsicano, G., Lutz, B. et al. Endogenous cannabinoid system as a modulator of food intake. Int J Obes 27, 289–301 (2003). https://doi.org/10.1038/sj.ijo.0802250
Received:

Revised:

Accepted:

Published:

Issue Date:

DOI: https://doi.org/10.1038/sj.ijo.0802250
Keywords
endocannabinoids

anandamide

obesity

Cannabis

SR141716A

food intake