Abstract
OBJECTIVE: Altered fat distribution is a consequence of menopause, but the mechanisms responsible are unknown. Estrogen insufficiency in humans can be modeled using ovariectomized rats. We have shown that increased adiposity in these rats is due to reduced physical activity and transient hyperphagia, and can be reversed with 17β-estradiol treatment. The aims of this study were to examine whether this altered energy balance is associated with circulating leptin insufficiency, central leptin insensitivity, decreased hypothalamic leptin receptor (Ob-Rb) expression, and/or increased hypothalamic neuropeptide Y (NPY).
METHODS: Plasma leptin levels, adipose tissue ob gene expression, energy balance responses to i.c.v. leptin, hypothalamic Ob-Rb expression and NPY concentration in five separate hypothalamic regions were measured in adult female rats after either ovariectomy or sham operations.
RESULTS: Obesity was not associated with hypoleptinemia or decreased ob gene expression in ovariectomized rats; however, it was associated with insensitivity to central leptin administration. Food intake was less suppressed and spontaneous physical activity was less stimulated by leptin. This was not due to decreased hypothalamic Ob-Rb expression. NPY concentration in the paraventricular nucleus of the hypothalamus was elevated in the ovariectomized rats, consistent with leptin insensitivity; however this effect was transient and disappeared as body fat and leptin levels increased further and hyperphagia normalized.
CONCLUSION: Impaired central leptin sensitivity and overproduction of NPY may contribute to excess fat accumulation caused by estrogen deficiency.
This is a preview of subscription content
Access options
Subscribe to Journal
Get full journal access for 1 year
$119.00
only $9.92 per issue
All prices are NET prices.
VAT will be added later in the checkout.
Tax calculation will be finalised during checkout.
Buy article
Get time limited or full article access on ReadCube.
$32.00
All prices are NET prices.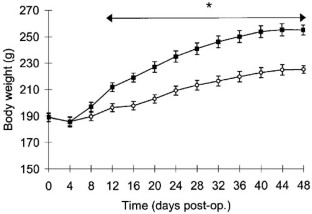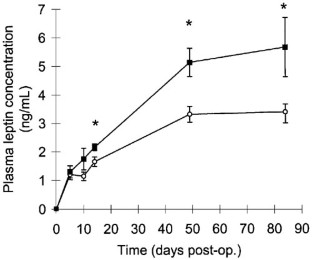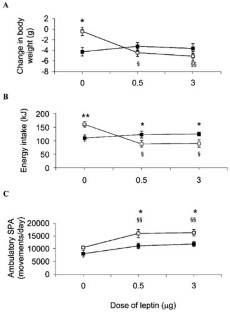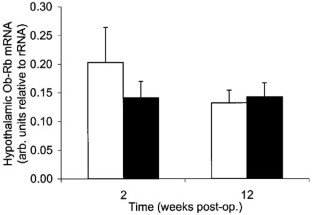 References
Tremollieres FA, Pouilles JM, Ribot CA . Relative influence of age and menopause on total and regional body composition changes in postmenopausal women Am J Obstet Gynecol 1996 175: 1594–1600.

Tchernof A, Poehlman ET, Despres JP . Body fat distribution, the menopause transition, and hormone replacement therapy Diabetes Metab 2000 26: 12–20.

Lean ME, Han TS, Seidell JC . Impairment of health and quality of life in people with large waist circumference Lancet 1998 351: 853–856.

Stevenson JC, Crook D, Godsland IF, Collins P, Whitehead MI . Hormone replacement therapy and the cardiovascular system. Nonlipid effects. Drugs 1994 47: 35–41.

Heine PA, Taylor JA, Lubahn DB, Cooke PS . Increased adipose tissue in male and female estrogen receptor-a knockout mice Proc Natl Acad Sci USA 2000 97: 12729–12734.

Jones MEE, Thorburn AW, Britt KL, Hewitt KN, Wreford NG, Proietto J, Oz O, Leury BJ, Robertson KM, Yao S, Simpson ER . Aromatase-deficient (ArKO) mice have a phenotype of increased adiposity Proc Natl Acad Sci USA 2000 97: 12735–12740.

Grumbach MM, Auchus RJ . Estrogen: consequences and implications of human mutations in synthesis and action J Clin Endocrinol Metab 1999 84: 4677–4694.

Ley CJ, Lees B, Stevenson JC . Sex- and menopause-associated changes in body-fat distribution Am J Clin Nutr 1992 55: 950–954.

Toth MJ, Tchernof A, Sites CK, Poehlman ET . Effect of menopausal status on body composition and abdominal fat distribution Int J Obes Relat Metab Disord 2000 24: 226–231.

Nolan C, Proietto J . The effects of oophorectomy and female sex steroids on glucose kinetics in the rat Diabetes Res Clin Pract 1996 30: 181–188.

Kakolewski JW, Cox VC, Valnstein ES . Sex differences in body-weight change following gonadectomy in rats Psychol Rep 1968 22: 547–554.

Wade GN . Gonadal hormones and behavioral regulation of body weight Physiol Behav 1972 8: 523–534.

Murakami T, Iida M, Shima K . Dexamethasone regulates obese expression in isolated rat adipocytes Biochem Biophys Res Commun 1995 214: 1260–1267.

Casabiell X, Pineiro V, Peino R, Lage M, Camina J, Gallego R, Vallejo LG, Dieguez C, Casanueva FF . Gender differences in both spontaneous and stimulated leptin secretion by human omental adipose tissue in vitro: dexamethasone and estradiol stimulate leptin release in women, but not in men J Clin Endocrinol Metab 1998 83: 2149–2155.

Riad-Gabriel MG, Jinagouda SD, Sharma A, Boyadjian R, Saad MF . Changes in plasma leptin during the menstrual cycle Eur J Endocrinol 1998 139: 528–531.

Mannucci E, Ognibene A, Becorpi A, Cremasco F, Pellegrini S, Ottanelli S, Rizzello SM, Massi G, Messeri G, Rotella CM . Relationship between leptin and estrogens in healthy women Eur J Endocrinol 1998 139: 198–201.

Machinal F, Dieudonne MN, Leneveu MC, Pecquery R, Giudicelli Y . In vivo and in vitro ob gene expression and leptin secretion in rat adipocytes: evidence for a regional specific regulation by sex steroid hormones Endocrinology 1999 140: 1567–1574.

Yoneda N, Saito S, Kimura M, Yamada M, Iida M, Murakami T, Irahara M, Shima K, Aono T . The influence of ovariectomy on ob gene expression in rats Horm Metab Res 1998 30: 263–265.

Watanobe H, Suda T . A detailed study on the role of sex steroid milieu in determining plasma leptin concentrations in adult male and female rats Biochem Biophys Res Commun 1999 259: 56–59.

Pelleymounter MA, Baker MB, McCaleb M . Does estradiol mediate leptin's effects on adiposity and body weight? Am J Physiol 1999 276: E955–E963.

Bishop J, Simpkins JW . Estradiol enhances brain glucose uptake in ovariectomized rats Brain Res Bull 1995 36: 315–320.

Pedersen SB, Borglum JD, Moller-Pedersen T, Richelsen B . Effects of in vivo estrogen treatment on adipose tissue metabolism and nuclear estrogen receptor binding in isolated rat adipocytes Mol Cell Endocrinol 1992 85: 13–19.

Livingstone C, Lyall H, Gould GW . Hypothalamic GLUT 4 expression: a glucose- and insulin-sensing mechanism? Mol Cell Endocrinol 1995 107: 67–70.

Bruning JC, Gautam D, Burks DJ, Gillette J, Schubert M, Orban PC, Klein R, Krone W, Muller-Wieland D, Kahn CR . Role of brain insulin receptor in control of body weight and reproduction Science 2000 289: 2122–2125.

Shimizu H, Ohtani K, Kato Y, Tanaka Y, Mori M . Withdrawal of estrogen increases hypothalamic neuropeptide Y (NPY) mRNA expression in ovariectomized obese rat Neurosci Lett 1996 204: 81–84.

Haas DA, George SR . Gonadal regulation of corticotropin-releasing factor immunoreactivity in hypothalamus Brain Res Bull 1988 20: 361–367.

Bonavera JJ, Dube MG, Kalra PS, Kalra SP . Anoretic effects of estrogen may be mediated by decreased neuropeptide-Y release in the hypothalamic paraventricular nucleus Endocrinology 1994 134: 2367–2370.

Roy BN, Reid RL, Van Vugt DA . The effects of estrogen and progesterone on corticotropin-releasing hormone and arginine vasopressin messenger ribonucleic acid levels in the paraventricular nucleus and supraoptic nucleus of the rhesus monkey Endocrinology 1999 140: 2191–2198.

Campfield LA, Smith FJ, Guisez Y, Devos R, Burn P . Recombinant mouse OB protein: evidence for a peripheral signal linking adiposity and central neural networks Science 1995 269: 546–549.

Cusin I, Rohner-Jeanrenaud F, Stricker-Krongrad A, Jeanrenaud B . The weight-reducing effect of an intracerebroventricular bolus injection of leptin in genetically obese fa/fa rats. Reduced sensitivity compared with lean animals. Diabetes 1996 45: 1446–1450.

Halaas JL, Boozer C, Blair-West J, Fidahusein N, Denton DA, Friedman JM . Physiological response to long-term peripheral and central leptin infusion in lean and obese mice Proc Natl Acad Sci USA 1997 94: 8878–8883.

Heffernan MA, Jiang WJ, Thorburn AW, Ng FM . Effects of oral administration of a synthetic fragment of human growth hormone on lipid metabolism Am J Physiol Endocrinol Metab 2000 279: E501–E507.

Hope PJ, Turnbull H, Breed W, Morley JE, Horowitz M, Wittert GA . The effect of ovarian steroids and photoperiod on body fat stores and uncoupling protein 2 in the marsupial sminthopsis crassicaudata Physiol Behav 2000 69: 463–470.

Thorburn AW, Baldwin ME, Rosella G, Zajac J, Fabris S, Song S, Proietto J . Features of Syndrome X develop in transgenic rats expressing a non-insulin responsive phosphoenolpyruvate carboxykinase gene Diabetologia 1999 42: 419–426.

Morris MJ, Tortelli CF, Filippis A, Proietto J . Reduced BAT function as a mechanism for obesity in the hypophagic, neuropeptide Y deficient monosodium glutamate-treated rat Regulatory Peptides 1998 75–76: 441–447.

Chomczynski P, Sacchi N . Single-step method of RNA isolation by acid guanidinium thiocyanate-phenol-chloroform extraction Anal Biochem 1987 162: 156–159.

Brown-Grant K, Exley D, Naftolin F . Peripheral plasma oestradiol and luteinizing hormone concentrations during the oestrous cycle of the rat J Endocrinol 1970 48: 295–296.

Seeley RJ, van Dijk G, Campfield LA, Smith FJ, Burn P, Nelligan JA, Bell SM, Baskin DG, Woods SC, Schwartz MW . Intraventricular leptin reduces food intake and body weight of lean rats but not obese Zucker rats Horm Metab Res 1996 28: 664–668.

Widdowson PS, Upton R, Buckingham R, Arch J, Williams G . Inhibition of food response to intracerebroventricular injection of leptin is attenuated in rats with diet-induced obesity Diabetes 1997 46: 1782–1785.

Akabayashi A, Watanabe Y, Wahlestedt C, McEwen BS, Paez X, Leibowitz SF . Hypothalamic neuropeptide Y, its gene expression and receptor activity: relation to circulating corticosterone in adrenalectomized rats Brain Res 1994 665: 201–212.

Sar M, Sahu A, Crowley WR, Kalra SP . Localization of neuropeptide-Y immunoreactivity in estradiol-concentrating cells in the hypothalamus Endocrinology 1990 127: 2752–2756.

Schwartz MW, Baskin DG, Bukowski TR, Kuijper JL, Foster D, Lasser G, Prunkard DE, Porte D Jr, Woods SC, Seeley RJ, Weigle DS . Specificity of leptin action on elevated blood glucose levels and hypothalamic neuropeptide Y gene expression in ob/ob mice Diabetes 1996 45: 531–535.

Wang Q, Bing C, Al-Barazanji K, Mossakowaska DE, Wang XM, McBay DL, Neville WA, Taddayon M, Pickavance L, Dryden S, Thomas ME, McHale MT, Gloyer IS, Wilson S, Buckingham R, Arch JR, Trayhurn P, Williams G . Interactions between leptin and hypothalamic neuropeptide Y neurons in the control of food intake and energy homeostasis in the rat Diabetes 1997 46: 335–341.

Lee J, Morris MJ . Modulation of neuropeptide Y overflow by leptin in the rat hypothalamus, cerebral cortex and medulla Neuroreport 1998 9: 1575–1580.

Tarttelin MF, Gorski RA . Variations in food and water intake in the normal and acyclic female rat Physiol Behav 1971 7: 847–852.

Salbe AD, Nicolson M, Ravussin E . Total energy expenditure and the level of physical activity correlate with plasma leptin concentrations in five-year-old children J Clin Invest 1997 99: 592–595.

Farooqi IS, Jebb SA, Langmack G, Lawrence E, Cheetham CH, Prentice AM, Hughes IA, McCamish MA, O'Rahilly S . Effects of recombinant leptin therapy in a child with congenital leptin deficiency New Engl J Med 1999 341: 879–884.

Pelleymounter MA, Cullen MJ, Baker MB, Hecht R, Winters D, Boone T, Collins F . Effects of the obese gene product on body weight regulation in ob/ob mice Science 1995 269: 540–546.

Poehlman ET, Tchernof A . Traversing the menopause: changes in energy expenditure and body composition Coronary Artery Dis 1998 9: 799–803.
Acknowledgements
We would like to thank Sue Fabris and Melanie Ball from the University of Melbourne for technical assistance, and Greg Collier from Deakin University for access to the real-time PCR equipment. This study was supported by a National Health and Medical Research Council of Australia Project Grant (970400) and a Novo Nordisk Regional Support Scheme Grant. Deborah Ainslie is supported by a Melbourne University Research Scholarship.
About this article
Cite this article
Ainslie, D., Morris, M., Wittert, G. et al. Estrogen deficiency causes central leptin insensitivity and increased hypothalamic neuropeptide Y. Int J Obes 25, 1680–1688 (2001). https://doi.org/10.1038/sj.ijo.0801806
Received:

Revised:

Accepted:

Published:

Issue Date:

DOI: https://doi.org/10.1038/sj.ijo.0801806
Keywords
estrogen

leptin receptor

neuropeptide Y

motor activity

energy intake

energy metabolism