Abstract
OBJECTIVE: To examine in overweight humans the short-term safety and efficacy for weight loss of an herbal supplement containing Ma Huang, Guarana and other ingredients.
DESIGN: An 8 week randomized, double-blind placebo controlled study of a herbal dietary supplement (72 mg/day ephedrine alkaloids and 240 mg/day caffeine).
SUBJECTS: Overweight men and women (body mass index, ≥29 and ≤35 kg/m2).
MEASUREMENTS: The primary outcome variable was body weight change. Secondary variables included anthropometric, metabolic and cardiovascular changes.
RESULTS: Sixty-seven subjects were randomized to either placebo (n=32) or active Ma Huang/Guarana (n=35). Twenty-four subjects in each group completed the study. Active treatment produced significantly (P<0.006) greater loss of weight (X±s.d.,−4.0±3.4 kg) and fat (−2.1±3.0% fat) over the 8-week treatment period than did placebo (−0.8±2.4 kg and 0.2±2.3% fat). Active treatment also produced greater reductions in hip circumference and serum triglyceride levels. Eight of the 35 actively treated subjects (23%) and none of the 32 placebo-treated control subjects withdrew from the protocol because of potential treatment-related effects. Dry mouth, insomnia and headache were the adverse symptoms reported most frequently by the herbal vs placebo group at the final evaluation visit.
CONCLUSIONS: This herbal mixture of Ma Huang and Guarana effectively promoted short-term weight and fat loss. Safety with long-term use requires further investigation.
Relevant articles
Open Access articles citing this article.
Maha Sellami

,

Olfa Slimeni

…

Johnny Padulo

Journal of the International Society of Sports Nutrition Open Access 15 March 2018

Jordan J Outlaw

,

Colin D Wilborn

…

Cliffa A Foster

Journal of the International Society of Sports Nutrition Open Access 15 August 2014

Rafael de Lima Portella

,

Rômulo Pillon Barcelos

…

Felix Alexandre Antunes Soares

Lipids in Health and Disease Open Access 08 February 2013
Access options
Subscribe to this journal
Receive 12 print issues and online access
$259.00 per year
only $21.58 per issue
Rent or buy this article
Get just this article for as long as you need it
$39.95
Prices may be subject to local taxes which are calculated during checkout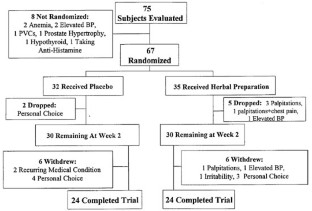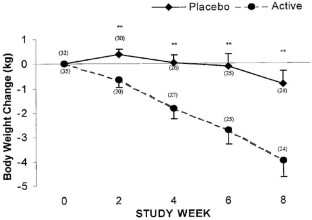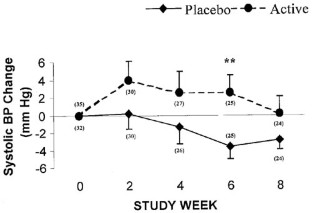 References
Chen KK . A comparative study of synthetic and natural ephedrines J Pharmac Exp Ther 1929 34: 237–258.

Tyler VE . The honest herbal, 3rd edn Hayworth Press: Binghamton, Hayworth Press; New York 1993.

Kuczmarski RJ, Flegal KM, Campbell SM, Johnson CL . Increasing prevalence of overweight among US adults. The National Health and Nutrition Examination Surveys, 1960 to 1991 JAMA 1994 272: 205–211.

Han TS, Richmond P, Avenell A, Lean ME . Waist circumference reduction and cardiovascular benefits during weight loss in women Int J Obes Relat Metab Disord 1997 21: 127–134.

Heymsfield SB, Allison DB, Vasselli JR, Pietrobelli A, Greenfield D, Nunez C . Garcinia cambogia (hydroxycitric acid) as a potential antiobesity agent. A randomized clinical trial JAMA 1998 280: 1596–1600.

White LM, Gardner SF, Gurley BJ, Marx MA, Wang PL, Estes M . Pharmacokinetics and cardiovascular effects of ma-huang (Ephedra sinica) in normotensive adults J Clin Pharmac 1997 37: 116–122.

Astrup A, Breum L, Toubro S, Hein P, Quaade F . The effect and safety of an ephedrine/caffeine compound compared to ephedrine, caffeine and placebo in obese subjects on an energy restricted diet. A double-blind trial Int J Obes Relat Metab Disord 1993 16: 269–277.

Betz JM, Gay ML, Mossoba MM, Adams S . Chiral gas chromatographic Determination of ephedrine-type alkaloids in dietary supplements containing Ma Huang J AOAC Int 1997 80: 303–315.

Bukowiecki L, Jahjah L, Follea N . Ephedrine, a potential slimming drug, directly stimulates thermogenesis in brown adipocytes via beta-adrenoreceptors Int J Obes 1982 6: 343–350.

Dulloo AG, Miller DS . The thermogenic properties of ephedrine/ methylxanthine mixtures: human studies Int J Obes 1986 10: 467–481.

Dulloo AG, Miller DS . Reversal of obesity in the genetically obese fa/fa Zucker rat with an ephedrine/methylxanthines thermogenic mixture J Nutr 1987 117: 383–389.

Dulloo AG, Miller S . The thermogenic properties of ephedrine/methylxanthine mixtures: animal studies Am J Clin Nutr 1986 43: 388–394.

Toubro S, Astrup A, Breum L, Quaade F . Safety and efficacy of long-term treatment with ephedrine, caffeine, and ephedrine/ caffeine mixture Int J Obes Relat Metab Disord 1993 17: S69–S72.

Malchow-Moller A, Larsen S, Hey H, Stokholm KH, Junl E, Quaade F . Ephedrine as an anorectic: the story of the 'Elsinore pill' Int J Obes 1981 5: 183–187.

National Task Force on the Prevention and Treatment of Obesity . Long term pharmacotherapy in the management of obesity JAMA 1996 276: 1907–1915.

Lohman TG . Advances in body composition assessment Human Kinetics: Champaigne, IL 1992.

Pi-Sunyer FX . Short-term medical benefits and adverse effects of weight loss Ann Intern Med 1993 119: 722–726.

Dempster R, Aitkens S . A new air displacement method for determination of human body composition Med Sci Sports Exercise 1995 27: 1692–1697.

Siri WE . Body composition from fluid spaces and density: analysis of methods In: Techniques for measuring body composition NAS: Washington, DC 1961. pp 223–248.

Niklson IA, Reimitz PE, Sennef C . Factors that influence the outcome of placebo-controlled antidepressant clinical trials Psychopharmac Bull 1997 33: 41–51.

Astrup A, Toubro S, Cannon S, Hein P, Madsen J . Thermogenic, metabolic, and cardiovascular effects of a sympathomimietic agent, ephedrine Curr Ther Res 1990 48: 1087–1100.

Daly PA, Krieger DR, Dulloo AG, Young JB, Landsberg L . Ephedrine, caffeine and aspirin: safety and efficacy for treatment of human obesity Int J Obes Relat Metab Disord 1993 17: S73–S78.

Astrup A, Toubro S, Cannon S, Hein P, Madsen J . Thermogenic synergism between ephedrine and caffeine in healthy volunteers: a double blind placebo-controlled study Metabolism 1991 40: 323–329.

Ramsey JJ, Colman RJ, Swick AG, Kemnitz JW . Energy expenditure, body composition, and glucose metabolism in lean and obese rhesus monkeys treated with ephedrine and caffeine Am J Clin Nutr 1998 68: 42–51.

Dulloo AG . Ephedrine, xanthines and prostaglandin-inhibitors; actions and interactions in the stimulation of thermogenesis Int J Obes Relat Metab Disord 1993 17: S35–S40.

Pasquali R, Casimirri F . Clinical aspects of ephedrine in the treatment of obesity Int J Obes Relat Metab Disord 1993 17: S65–S68.

Breum L, Pedersen JK, Ahlstrom F, Frimodt-Moller J . Comparison of an ephedrine/caffeine combination and dexfenfluramine in the treatment of obesity. A double-blind multi-centre trial in general practice Int J Obes Relat Metab Disord 1994 18: 99–103.

Svendsen TL, Ingerslev J, Mork A . [Is Letigen contraindicated in hypertension? A double-blind, placebo controlled multipractice study of letigen administered to normotensive and adequately treated patients with hypersensitivity] Ugeskr Laeger 1998 160: 4073–4075.

Greenway FL, Ryan DH, Bray GA, Rood JC, Tucker EW, Smith SR . Pharmaceutical cost savings of treating obesity with weight loss medications Obes Res 1999 716: 523–530.

Dulloo AG, Stock MJ . Editorial Int J Obes Relat Metab Disord 1993 17: S1–S2.

Miura T, Tatara M, Nakamura K, Suzuki I . Effect of Guarana on exercise in normal and ephedrine-induced glycogenolytic mice Biol Pharm Bull 1998 21: 646–648.

Klepser TB, Klepser ME . Unsafe and potentially safe herbal therapies Am J Health Syst Pharm 1999 56: 138.

Anonymous . Adverse events associated with ephedrine-containing products—Texas, December 1993–September 1995 Morb Mortal Wkly Rep 1996 45: 689–693.

62 Federal Register 30678

GAO/HEHS/GGD-99-90 . Dietary supplements: uncertainities in analyses underlying FDA's proposed rule on ephedrine alkaloids

Bray GA, Blackburn GL, Ferguson JM, Greenway FL, Jain AK, Mendel CM, Mendels J, Ryan DH, Schwartz SL, Scheinbaum ML, Seaton TB . Sibutramine produces dose-related weight loss Obes Res 1999 7 189–198.

Hanotin C, Thomas F, Jones SP, Leutenegger E, Drouin P . Efficacy and tolerability of sibutramine in obese patients: a dose-ranging study Int J Obes Relat Metab Disord 1998 22: 32–38.

Weintraub J, Rubio A, Golik A, Byrne L, Scheinbaum ML . Sibutramine in weight control: a dose-ranging, efficacy study Clin Pharmac Ther 1991 50: 330–337.

Hannotin C, Thomas F, Jones SP, Leutenegger E, Drouin P . A comparison of sibutramine and dexfenfluramine in the treatment of obesity Obes Res 1998 6: 285–291.

Hansen DL, Toubro S, Stock MJ, Macdonald IA, Astrup A . Thermogenic effects of sibutramine in humans Am J Clin Nutr 1998 68: 1180–1186.
Acknowledgements
Research support was provided by: Science Toxicology and Technology Consulting, San Francisco, CA; Metabolife Inc., San Diego, CA; and National Institutes of Health grant P30DK 26687. The authors acknowledge the following individuals for their assistance in carrying out this investigation: Stanley Heshka PhD, for the randomization procedure; Peter Hommel PhD for statistical advice; and the medical staff for physical evaluations—Abderrahmane Saddouk MD, Adbelhakim Dinar MD, Grace Marin and Renee Gabrielle.
Appendix
Appendix
Reported composition of Metabolife-356 (Metabolife Inc., San Diego, CA): Vitamin E, 6 IU; magnesium protein chelate, 75 mg; zinc chelate, 5 mg; chromium picolinate, 75 µg; proprietary blend, 728 mg; Guarana, 40 mg; Ma Huang, 12 mg; bee pollen; ginseng (root); ginger (root); damiana (leaf); sarsaparilla (root); goldenseal (aerial part); nettles (leaf); bovine complex; gotu kola; lecithin; spirulina algae; royal jelly; and other ingredients (binders, etc), methacel, silica, croscarmellose sodium and magnesium stearate.
About this article
Cite this article
Boozer, C., Nasser, J., Heymsfield, S. et al. An herbal supplement containing Ma Huang-Guarana for weight loss: a randomized, double-blind trial. Int J Obes 25, 316–324 (2001). https://doi.org/10.1038/sj.ijo.0801539
Received:

Revised:

Accepted:

Published:

Issue Date:

DOI: https://doi.org/10.1038/sj.ijo.0801539
Keywords
alternative medicine

herbal medicine

obesity

clinical trial

ephedra