Abstract
OBJECTIVE: To evaluate a modified cognitive–behavioural treatment (M-CBT) for weight management which addresses both the psychosocial costs and the physiological health risks of obesity, without a focus on weight loss.
DESIGN: Randomized controlled trial comparing M-CBT with standard cognitive–behavioural therapy (S-CBT).
SUBJECTS: Sixty-three overweight women with body mass index (BMI)≥28 kg/m2, mean age=47.5 and mean BMI=35.4.
MEASURES: Weight, waist and hip circumference, blood lipids, blood glucose, blood pressure, psychological well-being, depression, self esteem, stress, binge eating, eating style, body image, nutrient intake, aerobic fitness, activity levels, patient satisfaction with treatment.
RESULTS: Both M-CBT and S-CBT achieved improvements in a broad range of physical, psychological and behavioural variables. Weight loss in the S-CBT group was greater than in the M-CBT group immediately after treatment, but both groups lost weight. Participants in the M-CBT group continued to lose weight up to the 1 y follow-up. M-CBT was evaluated positively by participants.
CONCLUSIONS: Both M-CBT and S-CBT programmes were successful at inducing modest weight loss, as well as improving emotional well-being, reducing distress, increasing activity and fitness, improving dietary quality and reducing cardio-vascular disease risk factors. The improvements were maintained or continued at 1 y follow-up. These results suggest that treatment based on the new weight-control paradigm which emphasizes sustained lifestyle change without emphasis on dieting, can produce modest benefits to health and well-being.
Your institute does not have access to this article
Relevant articles
Open Access articles citing this article.
Nazanin Khasteganan

,

Deborah Lycett

…

Andy P. Turner

Systematic Reviews Open Access 10 August 2019

Dimitrios A. Koutoukidis

,

Sonia Lopes

…

Rebecca J. Beeken

BMC Public Health Open Access 27 March 2018

Helen Croker

&

Rebecca J. Beeken

Current Obesity Reports Open Access 06 March 2017
Access options
Subscribe to Journal
Get full journal access for 1 year
$119.00
only $9.92 per issue
All prices are NET prices.
VAT will be added later in the checkout.
Tax calculation will be finalised during checkout.
Buy article
Get time limited or full article access on ReadCube.
$32.00
All prices are NET prices.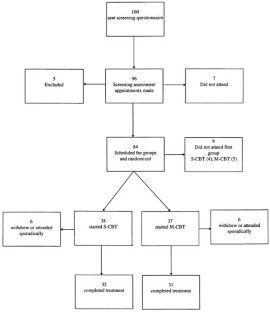 References
ADA report: Position of the American Dietetic Association: weight management . J Am Diet Assoc 1997 97: 71–74.

WHO . Obesity: preventing and managing the global epidemic. Report of a WHO Consultation on Obesity, Geneva, 3–5 June 1997 World Health Organization: Geneva 1998.

Sarlio-Lahteenkorva S, Stunkard A, Rissanen A . Psychosocial factors and quality of life in obesity Int J Obes Relat Metab Disord 1995 19 (Suppl): S1–S5.

Frost G, Masters K, King C, Kelly M, Hasan U, Heavens P, White R, Stanford J . A new method of energy prescription to improve weight loss J Hum Nutr Diet 1991 4: 369–373.

Rapoport L . Integrating cognitive behavioural therapy into dietetic practice: a challenge for dietitians J Hum Nutr Diet 1998 11: 227–237.

Gallagher C . Next please: a review of dietetic out-patient attendance Hum Nutr Appl Nutr 1984 38: 181–186.

Brownell KD, Jeffery RW . Improving long-term weight loss: pushing the limits of treatment Behav Ther 1987 18: 353–374.

Wilson GT . Behavioural treatment of obesity thirty years and counting Adv Behav Res Ther 1994 16: 31–75.

Rodin J, Radke-Sharpe N, Rebuffe-Scrive M, Greenwood MRC . Weight-cycling and fat distribution Int J Obes 1990 14: 303–310.

Lissner L, Odell PM, D'Agostino RB . Variability of body weight and health outcomes in the Framingham population New Engl J Med 1991 324: 1839–1844.

Haus G, Hoerr SL, Mavis B, Robison J . Key modifiable factors in weight maintenance: fat intake, exercise, and weight cycling J Am Diet Assoc 1994 94: 409–413.

Colditz GA, Willett WC, Stampfer MJ, London SJ, Segal MR, Speizer FE . Patterns of weight change and their relation to diet in a cohort of healthy women Am J Clin Nutr 1990 51: 1100–1105.

Foster GD, Sarwer DB, Wadden TA . Psychological effects of weight cycling in obese persons: a review and research agenda Obes Res 1997 5: 474–487.

Wardle J . Compulsive eating and dietary restraint Br J Clin Psychol 1987 26: 47–55.

Polivy J, Herman CP . Dieting and binging—a causal analysis Am Psychol 1985 40: 193–201.

Polivy J, Herman CP . Dieting and its relation to eating disorders. In: Brownell KD, Fairburn CG (eds) Eating Disorders and Obesity: a Comprehensive Handbook Guildford Press: New York 1995 pp 83–86.

Ciliska D . Beyond Dieting; Psychoeducational Interventions for Chronically Obese Women Brunner/Mazel: New York 1990.

Brownell KD . Whether obesity should be treated—Editorial Health Psychol 1993 12: 339–341.

Foreyt JP, Goodrick GK . Weight management without dieting Nutr Today 1993 4–9.

Parham ES . Is there a new weight paradigm? Nutr Today 1996 31: 155–161.

Robison J . Weight management: shifting the paradigm J Health Educ 1997 28: 28–34.

Ormichinski L, Harrison KR . Reductions of dieting attitudes and practices after participation in a non-diet lifestyle program J Can Diet Assoc 1995 56: 81–85.

Evans Young M . Dietbreaking: Having it All Without Having to Diet Hodder and Stoughton: London 1995.

Polivy J, Herman JP . Breaking the Diet Habit: the Natural Weight Alternative Basic Books: New York 1983.

Roughan P, Seddon E, Roberts J . Long-term effects of a psychologically based group programme for women preoccupied with body weight and eating behaviour Int J Obes 1990 14: 135–147.

Polivy J, Herman CP . Undieting: a program to help people stop dieting Int J Eat Disord 1992 11: 261–268.

Carrier KM, Steinhardt MA, Bowman S . Rethinking traditional weight management programs: a 3 y follow-up evaluation of a new approach J Psychol 1994 128: 517–535.

Mellin L, Croughanminihane M, Dickey L . The SOLUTION method—2 year trends in weight, blood pressure, exercise, depression and functioning of adults trained in developmental skills J Am Diet Assoc 1997 97: 1133–1138.

Ciliska D . Evaluation of two nondieting interventions for obese women West J Nurs Res 1998 20: 119–135.

Goodrick GK, Carlos Poston WS II, Timball KT, Reeves RS, Foreyt JP . Nondieting versus dieting treatment for overweight binge-eating women J Consult Clin Psychol 1998 66: 363–368.

Tanco S, Linden W, Earle T . Well-being and morbid obesity in women: a controlled therapy evaluation Int J Eat Disord 1998 23: 325–339.

Hetherington M, Davies M . Weight management: a comparison between non-dieting and dieting approaches Health Psychol Update 1998 32: 33–39.

Sbrocco T, Nedegaard RC, Stone JM, Lewis EL . Behavioural choice treatment promotes continuing weight loss: preliminary results of a cognitive–behavioural decision-based treatment for obesity J Consult Clin Psychol 1999 67: 260–266.

Foreyt JP, Carlos Poston WS II . What is the role of cognitive–behavior therapy in patient management? Obes Res 1998 6 (Suppl 1): 18S–22S.

Institute of Medicine, Thomas PR (ed) . Weighing the Options: Criteria for Evaluating Weight Management Programs. Committee to Develop Criteria for Evaluating the Outcomes of Approaches to Prevent and Treat Obesity National Academy Press: Washington, DC 1995.

SIGN . Obesity in Scotland. Integrating prevention with weight management. A National Clinical Guideline recommended for use in Scotland by the Scottish Intercollegiate Guidelines Network, pilot edition Edinburgh 1996.

Sobal J . Obesity and nutritional sociology: a model for coping with the stigma of obesity Clin Sociol Rev 1991 9: 125–141.

Rosen JC . Improving body image in obesity. In: Thompson JK (ed) Body Image, Eating Disorders, and Obesity American Psychological Association: Washington 1996, pp 425–440.

Grilo C . Treatment of obesity: an integrative model. In: Thompson JK (ed) Body Image, Eating Disorders, and Obesity American Psychological Association: Washington 1996, pp 389–423.

Wilson GT . Acceptance and change in the treatment of eating disorders and obesity Behav Ther 1996 27: 417–439.

Wardle J, Rapoport L . Cognitive–behavioural treatment of obesity. In: Kopelman P, Stock M (eds) Clinical Obesity Blackwell: London 1998, pp 409–428.

Garner DM, Rockert W, Olmsted MP, Johnson C, Coscina D . Psycho-educational principles in the treatment of bulimia and anorexia nervosa. In: Garner DM, Garfinkel PE (eds) Handbook of Psychotherapy for Anorexia Nervosa and Bulimia Guilford Press: New York 1985, pp 513–573.

Voss LD, Bailey RJR . Equipping the community to measure children's height: the reliability of portable instruments Arch Dis Child 1994 70: 469–471.

Van der Kooy K, Seidell JC . Techniques for the measurement of visceral fat: a practical guide Int J Obes Relat Metab Disord 1993 17: 187–196.

Friedewald WT, Levy RI, Fredrickson, DS . Estimation of the concentration of low-density lipoporotein cholesterol in plasma, without the use of the preparative ultracentrifuge Clin Chem 1972 18: 499–502.

Jamieson MJ, Webster J, Witte K, Huggins MM, MacDonald TM, De Beaux Petrie JC . An evaluation of the A&D UA-751 semi-automated cuff-oscillometric sphygmomanometer J Hypertens 1990 8: 377–381.

Goldberg D, Williams P . A User's Guide to the General Health Questionnaire NFER-Nelson: Windsor 1988.

Beck AT, Ward CH, Mendelson M, Mock J, Erbaugh J . An inventory for measuring depression Arch Gen Psychiat 1961 4: 53–63.

Rosenberg M . Society and the Adolescent Self-image (reprint edition) Wesleyan University Press: Middletown, CT 1989.

Cohen S, Kamarck T, Mermelstein R . A global measure of perceived stress J Health Soc Behav 1983 24: 385–396.

Johnston M, Wright S, Weinman J . Measures in Health Psychology: a User's Portfolio NFER-Nelson: Windsor 1995.

Gormally J, Black S, Daston S, Rardin D . The assessment of binge eating severity among obese persons Addict Behav 1982 7: 47–55.

Marcus MD, Wing RR, Hopkins J . Obese binge eaters: affect, cognitions, and response to behavioral weight control J Consult Clin Psychol 1988 56: 433–439.

Sherwood NE, Jeffery RW, Wing RR . Binge status as a predictor of weight loss treatment outcome Int J Obes Relat Metab Disord 1999 23: 485–493.

Stunkard A, Messick S . The three-factor eating questionnaire to measure dietary restraint, disinhibition and hunger J Psychosom Res 1985 29: 71–83.

French SA, Jeffery RW, Sherwood NE, Neumark-Sztainer D . Prevalence and correlates of binge eating in a nonclinical sample of women enrolled in a weight gain prevention program Int J Obes Relat Metab Disord 1999 23: 576–585.

Rosen JC, Srebnick D, Saltzberg E, Wendt S . Development of a body image avoidance questionnaire Psychol Assessment 1991 3: 32–37.

Bingham SA, Gill C, Welch A, Cassidy A, Khaw K, Sneyd MJ, Key TJA, Roe L, Day NE . Comparison of dietary assessment methods in nutritional epidemiology: weighted records vs 24 h recalls, food-frequency questionnaires and estimated-diet records Br J Nutr 1994 72: 619–643.

Bingham SA, Gill C, Welch A, Cassidy A, Runswick SA, Oakes S, Lubin R, Thurnham DI, Key TJA, Roe L, Khaw K, and Day NE . Validation of dietary assessment methods in the UK arm of EPIC using weighted records and 24 hour urinary nitrogen and potassium and serum vitamin C and carotenoids and biomarkers Int J Epidemiol 1997 26 (Suppl 1): S137–S151.

Katch FI, McArdle WD . Nutrition, Weight Control and Exercise Lea & Febiger: Philadelphia 1983.

Taylor HL, Jacobs DR Jr, Shucker B, Knudsen J, Lyons AS, DeBacker G . A questionnaire for the assessment of leisure time physical activities J Chronic Dis 1978 31: 741–755.

Wardle J, Rogers P, Judd P, Taylor M, Rapoport L, Green M, Nicholson Perry K . Randomised trial of effects of cholesterol-lowering dietary treatment on psychological function Am J Med 2000 108: 547–553.

Andersen RE, Wadden TA, Bartlett SJ, Vogt RA, Weinstock R . Relation of weight loss to changes in serum lipids and lipoproteins in obese women Am J Clin Nutr 1995 62: 350–357.

Dengel JL, Katzel LI, Goldberg AP . Effect of an American Heart Association diet, with or without weight loss, on lipids in obese middle-aged and older men Am J Clin Nutr 1995 62: 715–721.

Wadden TA, Bartlett SJ . Very low calorie diets: an overview and appraisal. In: Wadden TA, Van Itallie TB (eds) Treatment of the Seriously Obese Patient Guilford Press: New York 1992, pp 44–79.

Wadden TA . Treatment of obesity by moderate and severe caloric restriction Ann Intern Med 1993 119: 688–693.

Lichtman SW, Pisarka K, Berman ER, Pestone M, Dowling H, Offenbacher E, Weisel H, Heshka S, Matthews DE, Heymsfeld, SB . Discrepancy between self-reported and actual caloric intake and exercise in obese subjects New Engl J Med 1992 327: 1893–1898.
Acknowledgements
This work was supported in part through a grant from Lambeth, Southwark and Lewisham Health Authority.
About this article
Cite this article
Rapoport, L., Clark, M. & Wardle, J. Evaluation of a modified cognitive–behavioural programme for weight management. Int J Obes 24, 1726–1737 (2000). https://doi.org/10.1038/sj.ijo.0801465
Received:

Revised:

Accepted:

Published:

Issue Date:

DOI: https://doi.org/10.1038/sj.ijo.0801465
Keywords
obesity

cognitive–behavioural therapy

dieting

non-dieting