Abstract
OBJECTIVE: To investigate the relationship between preperitoneal fat thickness (PFT) determined by ultrasonography and the risk of coronary arterial disease, 130 non-obese patients with ischemic heart disease (77 men and 53 women) were examined.
RESULTS: There was a positive correlation between PFT and coronary artery stenosis score (r=0.212, P<0.05). After dividing the patients by gender, the correlation was recognized only in men (r=0.246, P<0.05). Also, PFT was positively correlated to serum total cholesterol (r=0.259, P<0.01), triglyceride (r=0.205, P<0.05) and low density lipoprotein (LDL)-cholesterol (r=0.205, P <0.05), and negatively correlated to serum high density lipoprotein (HDL)-cholesterol (r=−0.261, P<0.01). Again, these correlations were found only in men, not in women.
CONCLUSION: PFT shows good correlations with coronary artery stenosis score and dislipidemia, and may lead to the development of coronary artery disease in non-obese male subjects.
Relevant articles
Open Access articles citing this article.
Alexandra Cremona

,

Kevin Hayes

…

Amanda Cotter

BMC Medical Imaging Open Access 17 December 2019

Kirsten Uebel

,

Karina Pusch

…

Bernhard L Bader

BMC Pregnancy and Childbirth Open Access 11 April 2014
Access options
Subscribe to Journal
Get full journal access for 1 year
$119.00
only $9.92 per issue
All prices are NET prices.
VAT will be added later in the checkout.
Tax calculation will be finalised during checkout.
Buy article
Get time limited or full article access on ReadCube.
$32.00
All prices are NET prices.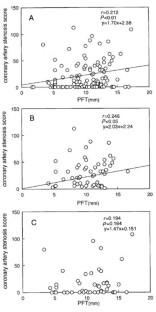 References
Kissebah AH, Vydelingum N, Murray R, Evans DJ, Hartz AJ, Kalkhoff RK, Adams PW . Relation of body fat distribution to metabolic complications of obesity J Clin Endocrinol Metab 1982 54:: 254–260.

Björntorp P . Regional patterns of fat distribution Ann Intern Med 1985 103:: 994–995.

Reaven GM . Role of insulin resistance in human disease Diabetes 1988 37:: 1595–1607.

Kaplan NM . The deadly quartet: upper-body obesity, glucose intolerance, hypertriglyceridemia, and hypertension Arch Intern Med 1989 149:: 1514–1520.

DeFronzo RA, Ferrannini E . Insulin resistance. A multifaceted syndrome responsible for NIDDM, obesity, hypertension, dyslipidemia, and atherosclerotic cardiovascular disease Diabetes Care 1991 14:: 173–193.

Tokunaga K, Matsuzawa Y, Ishikawa K, and Tarui S . A novel technique for the determination of fat by computed tomography Int J Obes 1983 7:: 437–445.

Fujioka S, Matsuzawa Y, Tokunaga K, and Tarui S . Contribution of intra-abdominal fat accumulation to the impairment of glucose and lipid metabolism in human obesity Metabolism 1987 36:: 54–59.

Björntorp P . The regulation of adipose tissue distribution in humans Int J Obes 1996 20:: 291–302.

WHO Expert Commitee . Physical status: the use and interpretation of anthropometry WHO Technical Repot Series no. 854. WHO: Geneva 1995.

Suzuki R, Watanabe S, Hirai Y, Akiyama K, Nishide T, Matsushima Y, Murayama H, Ohshima H, Shinomiya M, Shirai K, Saito Y, Yoshida S, Saisho M, Ohto M . Abdominal wall fat index, estimated by ultrasonography, for assessment of the ratio of visceral fat to subcutaneous fat in the abdomen. Am J Med 1993 95:: 309–314.

Gensini GG . A more meaningful scoring system for determining the severity of coronary heart disease (letter) Am J Cardiol 1983 51:: 606.

Cramp D . New automated method for measuring glucose by glucose oxidase J Clin Pathol 1967 20:: 910–912.

Hales CN, Randle PJ . Immunoassay of insulin with insulin antibody precipitate Biochem J 1963 88:: 137–146.

Allain CC, Poon LS, Chan CS, Richmond W, Fu, PC . Enzymatic determination of total serum cholesterol Clin Chem 1974 20:: 470–475.

Wahlfeld AW . Triglyceride determination after enzymatic hydrolysis. In: Bergmeyer HU (ed.) Methods of enzymatic analysis Academic Press: New York 1974 pp 1831–1835.

Albers JJ, Russell WGR, Chenng MC . Quantitation of high-density lipoproteins Lipids 1978 13:: 926–932.

Friedewald WT, Levy RI, Fredrickson DS . Estimation of the concentration of low-density lipoprotein cholesterol in plasma, without use of the preparative ultracentrifuge Clin Chem 1972 18:: 499–502.

Haffner SM, Fong D, Hazuda HP, Pugh JA, Patterson JK . Hyperinsulinemia, upper body adiposity, and cardiovascular risk factors in non-diabetics Metabolism 1988 37:: 338–345.

Pouliot MC, Després JP, Nadeau A, Moorjani S, Prud'homme D, Lupien PJ, Tremblay A, Bouchard C . Visceral obesity in men: associations with glucose tolerance, plasma insulin, and lipoprotein levels Diabetes 1992 41:: 826–834.

Larrson B, Svärdsudd K, Welin L, Wilhelmsen L, Björntorp P, Tibblin G . Abdominal adipose tissue distribution, obesity, and risk of cardiovascular disease and death: 13 year folow up of participants in the study of men born in 1913 Br Med J 1984 288:: 1401–1404.

Landin K, Krotkiewski M, Smith U . Importance of obesity for the metabolic abnormalities associated with an abdominal fat distribution Metabolism 1989 38:: 572–576.

Lapidus L, Bengtsson C, Larsson B, Pennert K, Rybo E, Sjoström L . Distribution of adipose tissue and risk of cardiovascular disease and death: a 12-year follow up of participants in the population study of women in Gothenburg, Sweden. Br Med J 1984 289:: 1257–1261.

Peiris AN, Sothmann MS, Hoffmann RG, Hennes MI, Wilson CR, Gustafson AB, Kissebah AH . Adiposity, fat distribution and cardiovasucular risk Ann Intern Med 1989 110:: 867–872.

Matsuzawa Y, Tokunaga K, Fujioka S, Tarui S . Pathophysiology of visceral fat obesity. In Oomura Y (ed.) Progress in obesity research John Libbey: London 1990 pp 309–312.

Pouliot MC, Després JP, Lemieux S, Moorjani S, Bouchard C, Tremblay A, Nadeau A, Lupien PJ . Waist circumference and abdominal sagittal diameter: best simple anthropometric indexes of abdominal visceral adipose tissue accumulation and related cardiovascular risk in men and women Am J Cardiol 1994 73:: 460–468.

James RW, Brulhart-Meynet M-C, Lehmann T, Golay A . Lipoprotein distribution and composition in obesity: their association with central obesity Int J Obes 1997 21:: 1115–1120.

Tchemof A, Lamarche B, Prud'Homme D, Nadeau A, Moorjani S, Labrie F, Lupien PJ, Després JP . The dense LDL phenotype. Association with plasma lipoprotein levels, visceral obesity, and hyperinsulinemia in men Diabetes Care 1996 19:: 629–637.

Ferrannini E, Muscelli E, Stern MP, Haffner SM . Differential impact of insulin and obesity on cardiovascular risk factors in non-diabetic subjects Int J Obes 1996 20:: 7–14.

Zamboni M, Arrmellini F, Sheiban I, De Marchi M, Todesco T, Bergamo-Andreis IA, Cominacini L, and Bosello O . Relation of body fat distribution in men and degree of coronary narrowings in coronary artery disease Am J Cardiol 1992 70:: 1135–1138.

Nakamura T, Tokunaga K, Shimomura I, Nishida M, Yoshida S, Kotani K, Waliul Islam AHM, Keno Y, Kobatake T, Nagai Y, Fujioka S, Tarui S, Matsuzawa Y . Contribution of visceral fat accumulation to the development of coronary artery disease in non-obese men Atherosclerosis 1994 107:: 239–246.

Austin MA . Plasma triglyceride as a risk factor for coronary heart disease: the epidemiologic evidence and beyond Am J Epidemiol 1989 129:: 249–259.

Zavaroni I, Bonora E, Pagliara M, Dall'Aglio E, Luchetti L, Buonanno G, Bonati PA, Bergonzani M, Gnudi L, Passeri M, Reaven G . Risk factors for coronary artery disease in healthy persons with hyperinsulinemia and normal glucose tolerance N Engl J Med 1989 320:: 702–706.

Björntorp P . "Portal" adipose tissue as a generator of risk factors for cardiovascular disease and diabetes Arteriosclerosis 1990 10:: 493–496.

Vague P, Juhan-Vague I, Chabert V, Alessi MC, Atlan C . Fat distribution and plasminogen activator inhibitor activity in nondiabetic obese women Metabolism 1989 38:: 913–915.

Alessi MC, Peiretti F, Morange P, Henry M, Nalbone G, Juhan-Vague I . Production of plasminogen activator inhibitor 1 by human adipose tissue: possible link between visceral fat accumulation and vascular disease Diabetes 1997 46:: 860–867.

Lau DCW, Schillabeer G, Li Z-H, Wong K-L, Varzaneh FE, Tough SC . Paracrine interactions in adipose tissue development and growth Int J Obes 1996 20:: S16–S25.

Hotamisligil GS, Shargill NS, Spiegelman BM . Adipose expression of tumor necrosis factor-α: direct role in obesity-linked insulin resistance Science 1993 259:: 87–91.

Hotamisligil GS, Arner P, Caro JF, Atkinson RL, Spiegelman BM . Increased adipose tissue expression of tumor necrosis factor-α in human obesity and insulin resistance J Clin Invest 1995 95:: 2409–2415.

Knopp RH, Zhu X, Bonet B . Effects of estrogen on lipoprotein metabolism and cardiovascular disease in women Atherosclerosis 1994 110:: S83–S91.

Sullivan JM . Estrogen replacement therapy Am J Med 1996 101: (4A): 56S–60S.

Bush TL . Evidence for primary and secondary prevention of coronary artery disease in women taking estrogen replacement therapy Eur Heart J 1996 17:: 9–14.

Venkov, CD, Parkin AB, Vaughan DE . Identification of authentic estrogen receptor in cultured endothelial cells. A potential mechanism for steroid hormone regulation of endothelial function Circulation 1996 94:: 727–733.

Evans DJ, Hoffmann RG, Kalkhoff RK, Kissebah AH . Relationship of androgenic activity to body fat topography, fat cell morphology, and metabolic aberrations in premenopausal women J Clin Endocrinol Metab 1983 57:: 304–310.

Evans DJ, Barth JH, Burke CW . Body fat topography in women with androgen excess Int J Obes 1988 12:: 157–162.

Haffner SM, Valdez RA, Stern MP, Katz MS . Obesity, body fat distribution and sex hormones in men Int J Obes 1993 17:: 643–649.

Mårin P, Holmäng S, Jönsson L, Sjöström L, Kvist H, Holm G, Lindstedt G, Björntorp P . The effects of testosterone treatment on body composition and metabolism in middle-aged obese men Int J Obes 1992 16:: 991–997.

Larsson B, Bengtsson C, Björntorp P, Lapidus L, Sjöström L, Svardsudd K, Tibblin G, Wedel H, Welin L, Wilhelmsen L . Is abdominal body fat distribution a major explanation for the sex difference in the incidence of myocardial infarction? The study of men born in 1913 and the study of women, Gotenberg, Sweden Am J Epidemiol 1993 135:: 266–273.
Acknowledgements
We wish to thank Drs. Yasuo Hirai, Kazuhide Akiyama, Yasuhisa Matsushima, Hitoshi Ohshima and Yoichi Kuwabara for their valuable comments.
About this article
Cite this article
Tadokoro, N., Murano, S., Nishide, T. et al. Preperitoneal fat thickness determined by ultrasonography is correlated with coronary stenosis and lipid disorders in non-obese male subjects. Int J Obes 24, 502–507 (2000). https://doi.org/10.1038/sj.ijo.0801187
Received:

Revised:

Accepted:

Published:

Issue Date:

DOI: https://doi.org/10.1038/sj.ijo.0801187
Keywords
ultrasonography

preperitoneal fat thickness

visceral fat accumulation

lipid metabolism

ischemic heart disease