Abstract
Optogenetic probes can be powerful tools for dissecting complexity in cell biology, but there is a lack of instrumentation to exploit their potential for automated, high-information-content experiments. This protocol describes the construction and use of the optoPlate-96, a platform for high-throughput three-color optogenetics experiments that allows simultaneous manipulation of common red- and blue-light-sensitive optogenetic probes. The optoPlate-96 enables illumination of individual wells in 96-well microwell plates or in groups of wells in 384-well plates. Its design ensures that there will be no cross-illumination between microwells in 96-well plates, and an active cooling system minimizes sample heating during light-intensive experiments. This protocol details the steps to assemble, test, and use the optoPlate-96. The device can be fully assembled without specialized equipment beyond a 3D printer and a laser cutter, starting from open-source design files and commercially available components. We then describe how to perform a typical optogenetics experiment using the optoPlate-96 to stimulate adherent mammalian cells. Although optoPlate-96 experiments are compatible with any plate-based readout, we describe analysis using quantitative single-cell immunofluorescence. This workflow thus allows complex optogenetics experiments (independent control of stimulation colors, intensity, dynamics, and time points) with high-dimensional outputs at single-cell resolution. Starting from 3D-printed and laser-cut components, assembly and testing of the optoPlate-96 can be accomplished in 3–4 h, at a cost of ~$600. A full optoPlate-96 experiment with immunofluorescence analysis can be performed within ~24 h, but this estimate is variable depending on the cell type and experimental parameters.
Access options
Access options
Subscribe to Journal
Get full journal access for 1 year
$495.00
only $41.25 per issue
All prices are NET prices.
VAT will be added later in the checkout.
Rent or Buy article
Get time limited or full article access on ReadCube.
from$8.99
All prices are NET prices.
Data availability
All data described in the article will be made available upon reasonable request to the corresponding author.
Code availability
All design files and code needed for optoPlate construction and operation are provided within the public GitHub repository at the following link: http://bit.ly/optoPlate96. Design files, code, and updates can also be accessed through a dedicated optoPlate-96 webpage found at http://www.bugajlab.com/optoplate-96.
Ethics declarations
Competing interests
L.J.B. and W.A.L. have submitted a patent application describing the optoPlate-96 (no. 15/651628).
Additional information
Peer review information: Nature Protocols thanks Amar Basu and other anonymous reviewer(s) for their contribution to the peer review of this work.
Publisher's note: Springer Nature remains neutral with regard to jurisdictional claims in published maps and institutional affiliations.
Related links
Key reference using this protocol
Bugaj, L. J. et al. Science 361, eaao3048 (2018): https://science.sciencemag.org/content/361/6405/eaao3048
References
1.

Repina, N. A., Rosenbloom, A., Mukherjee, A., Schaffer, D. V. & Kane, R. S. At light speed: advances in optogenetic systems for regulating cell signaling and behavior. Ann. Rev. Chem. Biomol. Eng. 8, 13–39 (2017).

2.

Salomon, M., Christie, J. M., Knieb, E., Lempert, U. & Briggs, W. R. Photochemical and mutational analysis of the FMN-binding domains of the plant blue light receptor, phototropin. Biochemistry 39, 9401–9410 (2000).

3.

Fankhauser, C. The phytochromes, a family of red/far-red absorbing photoreceptors. J. Biol. Chem. 276, 11453–11456 (2001).

4.

Adrian, M., Nijenhuis, W., Hoogstraaten, R. I., Willems, J. & Kapitein, L. C. A phytochrome-derived photoswitch for intracellular transport. ACS Synth. Biol. 6, 1248–1256 (2017).

5.

Müller, K., Engesser, R., Timmer, J., Zurbriggen, M. D. & Weber, W. Orthogonal optogenetic triple-gene control in mammalian cells. ACS Synth. Biol. 3, 796–801 (2014).

6.

Bugaj, L. J. et al. Cancer mutations and targeted drugs can disrupt dynamic signal encoding by the Ras–Erk pathway. Science 361, eaao3048 (2018).

7.

Gerhardt, K. P. et al. An open-hardware platform for optogenetics and photobiology. Sci. Rep. 6, 35363 (2016).

8.

Hannanta-anan, P. & Chow, B. Y. Optogenetic control of calcium oscillation waveform defines NFAT as an integrator of calcium load. Cell Syst. 2, 283–288 (2016).

9.

Chen, M., Mertiri, T., Holland, T. & Basu, A. S. Optical microplates for high-throughput screening of photosynthesis in lipid-producing algae. Lab Chip 12, 3870–3874 (2012).

10.

Davidson, E. A., Basu, A. S. & Bayer, T. S. Programming microbes using pulse width modulation of optical signals. J. Mol. Biol. 425, 4161–4166 (2013).

11.

Hennemann, J. et al. Optogenetic control by pulsed illumination. ChemBioChem 19, 1296–1304 (2018).

12.

Richter, F. et al. Upgrading a microplate reader for photobiology and all-optical experiments. Photochem. Photobiol. Sci. 14, 270–279 (2015).

13.

Guntas, G. et al. Engineering an improved light-induced dimer (iLID) for controlling the localization and activity of signaling proteins. Proc. Natl. Acad. Sci. USA 112, 112 (2015).

14.

Levskaya, A., Weiner, O. D., Lim, W. A. & Voigt, C. A. Spatiotemporal control of cell signalling using a light-switchable protein interaction. Nature 461, 997–1001 (2009).

15.

Chen, S. Y. et al. Optogenetic control reveals differential promoter interpretation of transcription factor nuclear translocation dynamics. Preprint at https://www.biorxiv.org/content/10.1101/548255v2 (2019).

16.

Lin, J.-R., Fallahi-Sichani, M. & Sorger, P. K. Highly multiplexed imaging of single cells using a high-throughput cyclic immunofluorescence method. Nat. Commun. 6, 8390 (2015).

17.

Gut, G., Herrmann, M. D. & Pelkmans, L. Multiplexed protein maps link subcellular organization to cellular states. Science 361, eaar7042 (2018).

18.

Carpenter, A. E. et al. CellProfiler: image analysis software for identifying and quantifying cell phenotypes. Genome Biol. 7, R100 (2006).

19.

Goglia, A. G., Wilson, M. Z., DiGiorno, D. B. & Toettcher, J. E. in Kinase Signaling Networks (eds Tan, A.-C. & Huang, P. H.) 3–20 (Springer, New York, 2017).

20.

Jones, T. R. et al. CellProfiler analyst: data exploration and analysis software for complex image-based screens. BMC Bioinformatics 9, 482 (2008).

21.

Toettcher, J. E., Gong, D., Lim, W. A. & Weiner, O. D. Light-based feedback for controlling intracellular signaling dynamics. Nat. Meth. 8, 837–839 (2011).

22.

Suh, B.-C., Inoue, T., Meyer, T. & Hille, B. Rapid chemically induced changes of PtdIns(4,5)P2 gate KCNQ ion channels. Science 314, 1454–1457 (2006).
Acknowledgements
We thank N. Repina (UC Berkeley), R. Almeida, and A. Mitchell for helpful discussions on optoPlate and software design. We thank A. Mitchell, G. O'Donoghue, and X. Xiong for testing and troubleshooting the optoPlate and operational protocols. We thank S. Laub and D. Gonzalez-Martinez for critical editing of the protocol. This work was funded by an Arnold O. Beckman Postdoctoral Fellowship (L.J.B.), the Howard Hughes Medical Institute (W.A.L), and NIH grants P50GM081879 and R01GM55040 (W.A.L).
Integrated supplementary information
Supplementary information
Supplementary Figures 1–12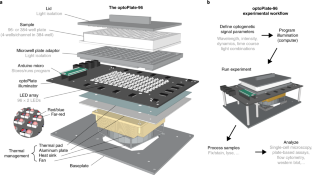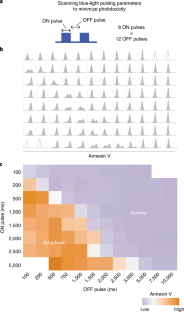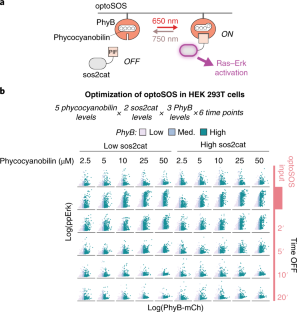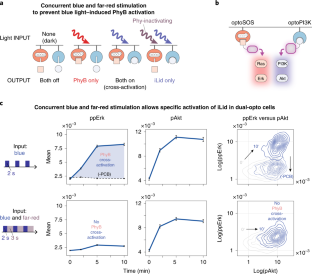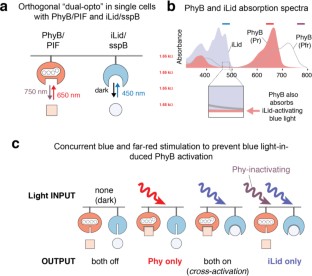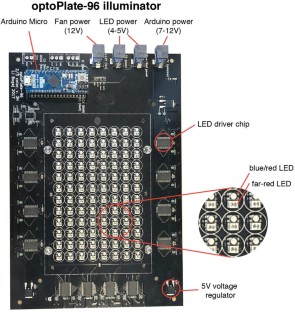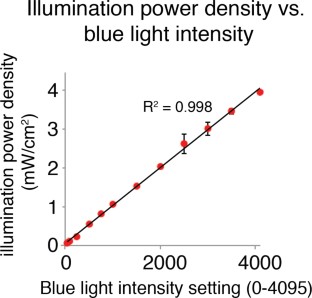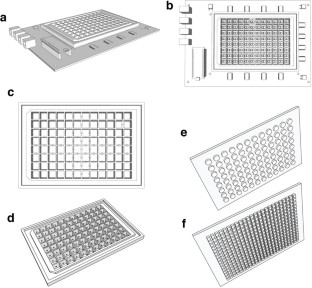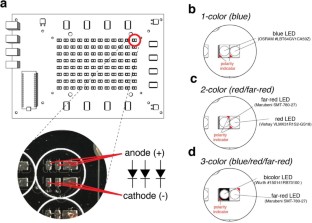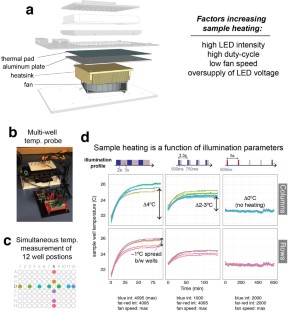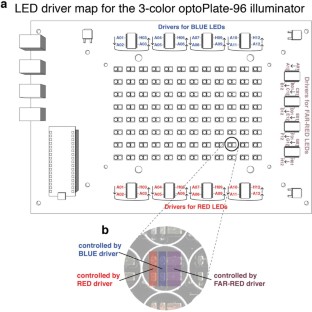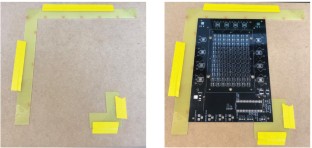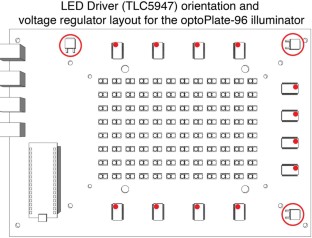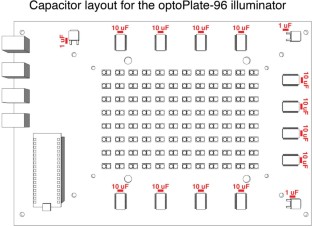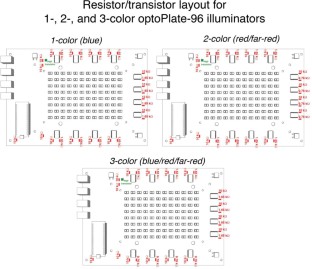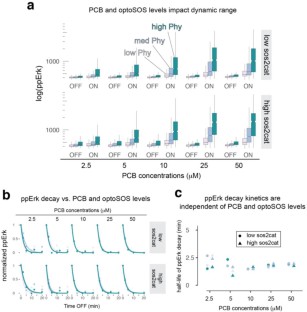 Comments
By submitting a comment you agree to abide by our Terms and Community Guidelines. If you find something abusive or that does not comply with our terms or guidelines please flag it as inappropriate.