Featured Content
Announcement

Written by the authors, read engaging accounts of the work that led to published articles.

Announcement

A tongue-in-cheek story about clarity, conciseness and context.

Announcement

Content published in an issue is now paginated.
Current Issue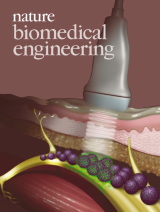 Image by Scott Finnance
Ultrasound-triggered anaesthesia
This issue highlights the use of ultrasound for the on-demand delivery of an anaesthetic, and also includes advances in nanoparticle delivery to tumours, the biocompatibility of iron oxide nanoparticles, and technology for measuring local drug kinetics in small animals.
The cover illustrates the concept of on-demand nerve block via ultrasound-triggered drug delivery of an anaesthetic (Article).
Naturejobs.com
Natureevents Directory