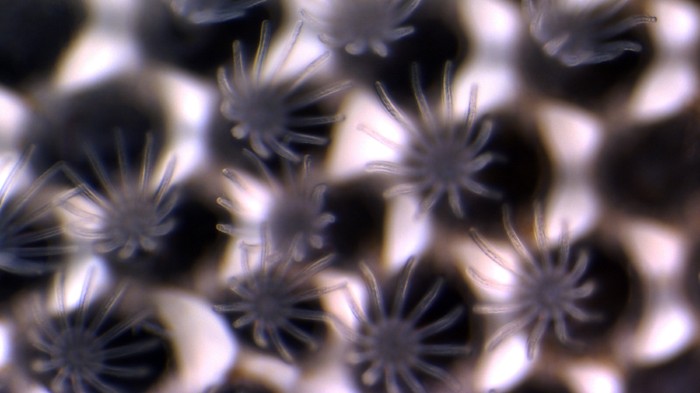 High temperatures combined with food shortages and elevated carbon dioxide levels threaten calcified marine animals.
As the levels of atmospheric CO2 rise, the gas is partly absorbed by oceans, where it reacts to form carbonic acid. The increased acidity of the seawater can weaken marine exoskeletons. To test the effects of acidification in combination with other factors, Daniel Swezey at the University of California, Davis, and his colleagues cultivated the bryozoan Jellyella tuberculata, a tiny invertebrate that lives in honeycomb-shaped colonies in warm waters around the world. They grew the organisms in water, controlling the amount of food available, and varying the water's temperature and level of CO2 to mimic different conditions along the California coast. They found that low temperatures coupled with high CO2 levels caused physiological stress in the organisms. Those in warm water with limited food formed skeletons with high magnesium levels that rapidly dissolved when exposed to acidic conditions.
This is known to happen for such skeletons in acidified waters, and so bryozoans and other organisms that build such structures could be particularly vulnerable to the effects of ocean acidification, the authors suggest.